Rambo Machete Knife (Paracord)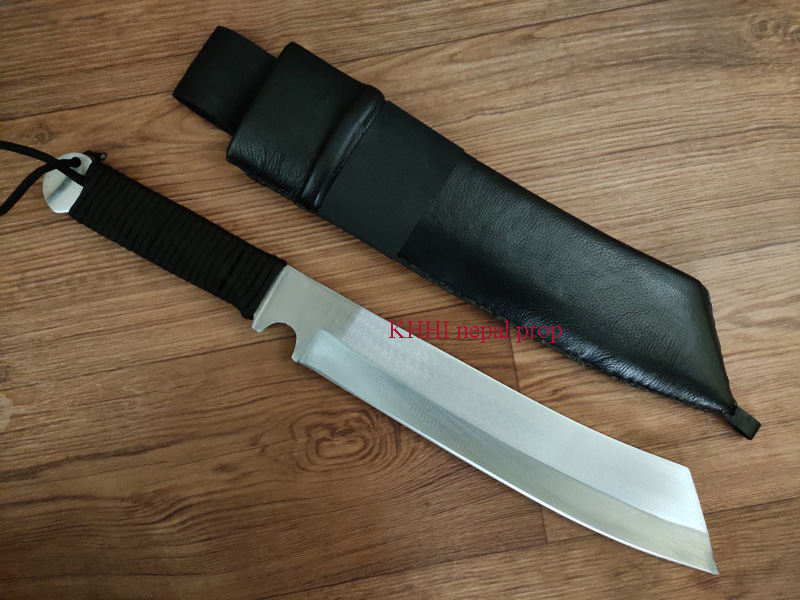 Share
Rambo Machete Knife (Paracord)
heavy duty machete comes out in style with a roar; a lethal weapon and a domestic tool..
Blade Length (in): 12.5
Handle Length (in): 5.5
Blade Steel: 52100
Handle Material: Paracord
Sheath: Black Leather
Actual Weight (gm): 775
Overall weight (gm): 915
Shipping weight (gm): 1350
Blade sharpness: Standard (very sharp)

Blade thickness (mm): 7
Edge grinding: Semi convex
View More
Sheath: Black Leather
Actual Weight (gm): 775
Overall weight (gm): 915
Shipping weight (gm): 1350
Blade sharpness: Standard (very sharp)

Blade thickness (mm): 7
Edge grinding: Semi convex
Edge Hardness: 55-57 hrc
Blade (panel) Grinding: Scandi
Blade finishing: Unpolished
Handle finishing: paracord wrapped
Tang type: Full Flat
Fixture: None
Accompanying knives/B-up: None
Place of Origin: Khukuri House, Kathmandu, Nepal
Released date: 2013-12-28
View Less
'Rambo' version Machete knife by Khukuri House ; heavy duty with paracord wrapped handle...
Khukuri House presents a new style of blade to its collection of hardcore jungle warfare and cutting tools. This blade is not the usual recurve shape familiar to kukri fans, but rather something new. The shape and size are influenced by the machete knife used by the movie character RAMBO, but it's not the exact replica.
Popular Rambo IV Machete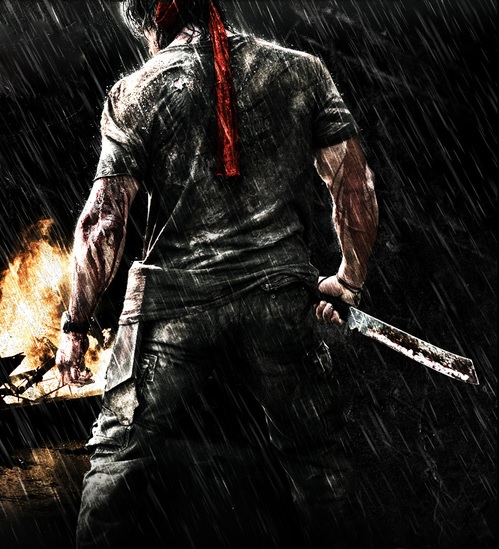 This machete; famously known as 'Rambo IV machete' is used by the movie character 'John Rambo' in the movie Rambo (2008); fourth of the Rambo series. The movie shows the use of this heavy, straight-edged chopper in the dense jungle/ forest of Thailand and Myanmar.
It was originally designed by Gil Hibben for the movie character which was later largely replicated by commercial knife makers; Khukuri House adds to the list with some modifications.
Blade, Handle & Sheath: Made similar to the Rambo IV Machete Knife
The blade is made of EN-31 industrial steel and around 12.50 inches long having taller bevel for deeper impact and to lessen weight. The thickness of the blade is 7 mm approx that goes all the way down becoming a full tang, done to give the counter balance to the blade.
The 5.5 inch long steel handle is securely wrapped in paracord using our special technique. A leather layer is also placed to thicken the handle for easy hold. The paracord comes in black/army green colour. The blade and handle is around 775 grams making it a heavy duty works special.
The Sheath is a traditional type; leather-wrapped wooden scabbard. This classy touch is given to make the knife more traditional.
It is produced by Khukuri House to satisfy the customer base where a mere kukri is bare to handle the tough heavy cutting works in the jungle.
Heavy Duty Machete; made for severe harsh use
The thick and heavy blade gives it the momentum to cut through almost anything with ease. The blade's bevel is more obtuse than a Kukri, so it does not get bound in the cut. This Heavy Duty Machete is a tool for chopping, bushcraft, and camp tasks, a hammer, for utility tasks, and as a weapon for attack and defense. This is also a domestic machete knife useful in the home, kitchen, garden, backyard, or campsite. Rambo Machete is a large knife well made to tackle dense, woody brush and for heavy-duty cuttings; widely admired by bushcrafters and survivalists; as it was so effective in the jungles of Malaysia in the hand of RAMBO.
Reviews (1)
Write a Review
Give us your valuable review on our items.
| 5th July, 2019 | Ramond Willaims
New York
---
The fixed blade knife is one of those things that many people take for granted. In fact, despite using them occasionally many never give much thought about it. The knife helps you shape items such as wooden poles for instance when making stakes This is a great inspiring knife. I am pretty much pleased with your good work. You put really very helpful blades.
---
See Other Amazing Products Too...