The relation between Gurkha and khukuri has come a long way and something that is strongly embedded right from the glorious history of Nepal. It is like synonymous where one is incomplete without another. The Gurkha and Kukri are inseparable with countless incredible stories, victorious battles and even legendary tales on it involving the two. The romance created is simply mind-blogging and something that keeps us mesmerized. A Gurkha is incomplete without a kukri and kukri becomes meaningless without a Gurkha. This flesh and blood relationship between Gurkha-Kukri has been at its pinnacle right from old Nepal till today and something that will live on forever with pride and glory. The association is like, Khukuri is the extension of the arm of a Gurkha where as Gurkha gives value and recognition to the khukuri otherwise just an ordinary knife.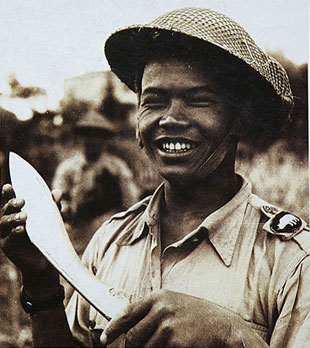 Right from the classical days when Gurkhas were first faced and documented by British till today in 21st century the Gurkha and khukuri have always stood till the test of time. They have made a special bond together, fought battle together, survived the hardship together and served a task or the mission together hand in hand; made a living together so to speak. Both have made mark for one another and a paramount relationship that is so intense, genuine and undividable. Gurkha and Khukuri have simply become a word phrase, a kind of love affair made up in heaven. The lethal combination of an angry Gurkha and a sharp khukuri becomes an indestructible force to beat off any opponent in any situation on which many tales and sayings have been forever carved on the historic pages.
" Bravest of the brave, most generous of the generous, never had country more faithful friends than you. "

- Sir Ralph Lilley Turner MC
" If a man says he is not afraid of dying, he is either lying or he is a Gurkha. "

- Sam Manekshaw (Former Indian Army Chief of Staff)
" The Gurkha is a soldier of high battle-skill, a world-famed fighting man and respected in every country where men fought alongside us in the last war. "

- Lieutenant General Sir Francis Tuker, 'While Memory Serves' (1950)
a Gurkha ??
Presently speaking, a Gurkha is a soldier who has joined the Brigade of Gurkhas of the British Army OR various Gurkha regiments of Indian Army. The ones who join British Gurkhas are Nepalese where as Gurkhas in Indian Army are Indian but Nepalese by origin. These are hardcore soldiers mainly Hindus and most belong to ethnic minority groups like Rai, Limbu, Magar, Tamang etc. These are men belonging to the hilly regions of Nepal and agriculture, cultivation and farming are their main occupation.
Historically speaking, these are people especially men from Gorkha; an army belonging to a place called Gorkha in the mid west of Nepal that lies about 120 km from the capital (Kathmandu). Gorkha was an old kingdom ruled by the great king Prithivi Narayan Shah who's army came head to head with the British (East India Company) during the territory expansion campaign in mid-late 1700's. This was the first time ever British encountered the hilly people and wasted no time in calling them Gorkhas (denizens of Gorkha). Both parties fought numerous bloody wars against each other yet develop an admiration and appreciation for one another in the process. Later after the treaty of Sagauli in 1815 Nepal and Britain signed a tri party agreement with Indian in which British could recruit Gorkhas under their flagship for their interest and benefit. After the 1947 independence of India from the British Raj, of the many regiments of Gorkha some were left to India and some were taken to Britain. The British renamed them as the BRITISH GURKHAS; with "U" instead of "O".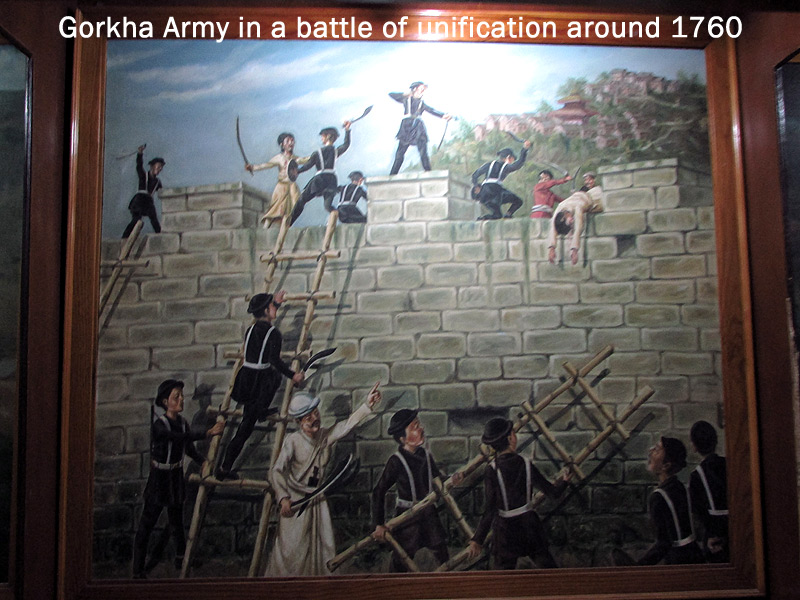 a Khukuri ??
Kukri as a "Knife" holds a great value as a very effective and durable knife that can be used for various purposes from domestic to jungle to warfare reasons. Its ability to cut, slice, hack, stab etc has been second to none and considered to be the best amongst any other knives. Khukuri is the national knife/weapon of Nepal having historic significance. It is national pride and an iconic symbol to represent the country and its glory in international fronts. Nepal was ruled by various kings and during his absence his kukri represented him. Such was the pride and value of the kukri. Even every national security forces are issued with it as an identity and emblem bestowed as recognition of their achievement. Khukuri was invented in Nepal and it played and still plays a significant role in people's lives since Nepal is 80% vegetation (forest). In Nepal, mountains, Gurkha and kukri go together as one as the national recognition and enchantment.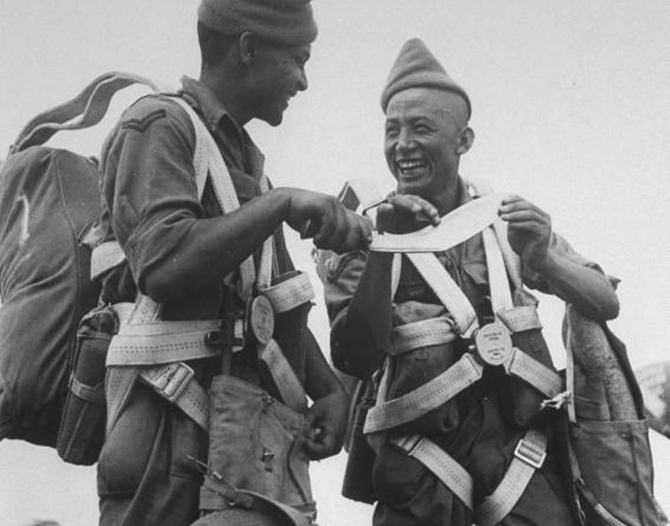 The people that most values a kukri are the poor and hilly denizens of Nepal where life is an everyday struggle in which you feed and you feed others to go about a rural life. Kukri has been a part of their domestic life/activities where a man uses right from his tender age until his days are numbered. The relationship is very prolong and the user highly depends on his khukuri to make a decent living. On the other hand, as stated above, khukuri is ID of a Gurkha. A Gurkha with a khukuri in his hand is a force to reconcile with, something not to mess with. Gurkhas are issued with the knife and it is retained throughout his army career with utmost care, respect and honor. In a battle, khukuri becomes a must, the first thing that a Gurkha would think of. It will not only give him the physical advantage but also gives him the mental calmness, the spiritual force and a sense of security as khukuri has always been a part of his culture, belief and religion. Gurkha and Khukuri share a bond that is grand, divine and inseparable.


Nepalese history in 7 major points prepared by Saroj Lama Tamang (SLT), Founder and MD of KHHI nepal
Key historic events in the formation/development of Nepal, Gurkha, and the Khukuri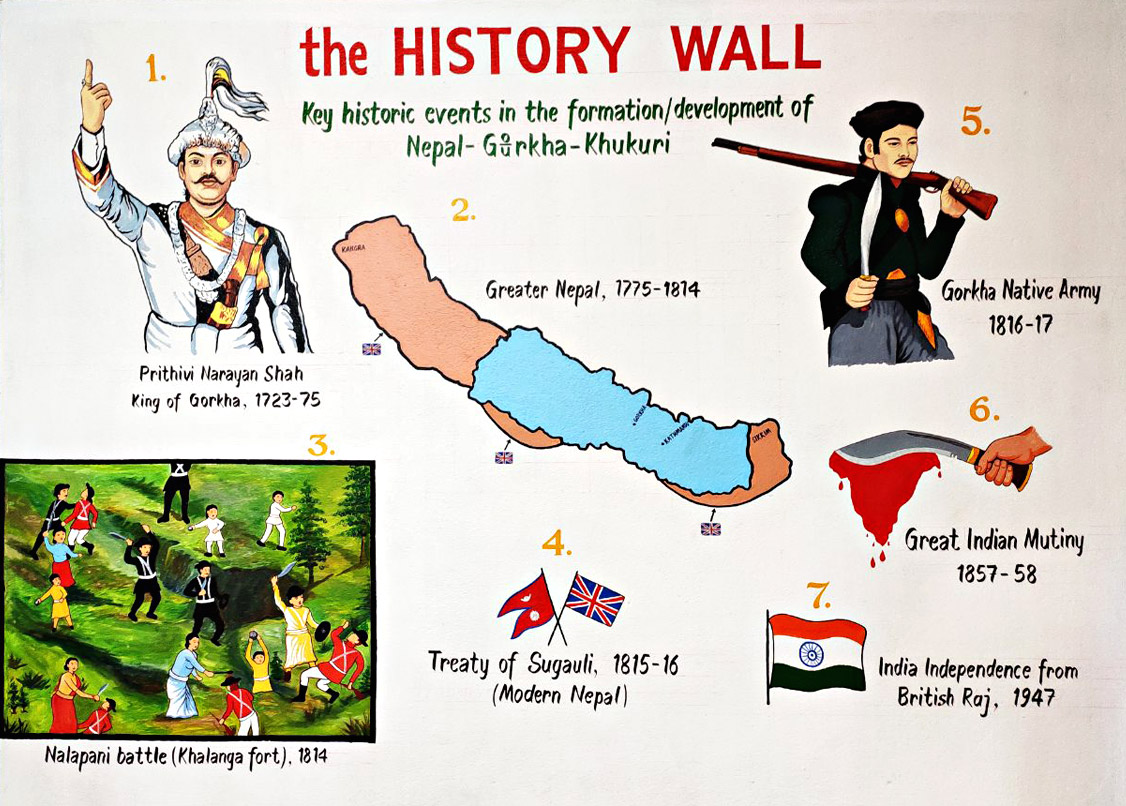 1. Prithivi Narayan Shah (king of Gorkha, 1723-75):
The most famous and celebrated king of Nepal, also known as the national father, king Shah created the modern Nepal that exists today. Born in 11th Jan 1723 as the first son of king Nara Bubal and queen Kaushaulya Devi, he ascended the throne at the early age of 20 in 1743. He had 4 wives and 5 sons. He was very clever, courageous and visionary king and was the founder of modern Nepal through his ambitious campaign of uniting all petty kingdoms scattered near and far of Gorkha under his flagship just after his coronation until 1768. Later the expansion of Nepal by his successors went as far as Sikkim in East and Kangra in the far West (Greater Nepal). His "Divya Upadesh" that he delivered to the country just before he died in 1775 in Nuwakot at the age of 52 is still followed and marked as one of the nation's auspicious possessions.
2. Greater Nepal, 1775-1814:
See the WALL. "Blue" is the present day (modern) Nepal and "Light Red" are the territories of Nepal lost to British (East India company).

3. Nalapani Battle (Khalanga Fort), 1814:
The battle of Nalapani in Khalanga Fort in Dehradun in west Nepal was the 1st battle between Gorkha-Anglo after British East India company declared war against Nepal. It took place in October 1814 and was the 1st major step between the two parties towards strong and long friendship and also diplomatic ties which subsequently led to the formation of British Gorkha Army. The Gorkha Army's "Purano Gorakh Gurn" led by the national hero, Captain Bal Bhadra Kunwar, with a garrison of just around 600 men, women and even children were ordered to hold the ground against the British that came upon marching with overwhelming force and firepower. The battle in the highland's Khalanga fort went on for more than a month which happened fairly within the war norms and in the process both earned respect and admiration for each other although adversary. British lost their General Gillespie and despite of their best effort could not gain control over the fort. Finally, they cut the water supply to the fort and consequently forced the Gorkhas to abandon it. Captain Kunwar along with his survivors around 70 in number wielding kukris in hand forced their way out of British position into the wilderness with full dignity. The British from the very war raised deep respect, admiration and gratitude and in the process created 2 obelisks in memory of their fallen comrades and their brave adversary. Here, it would be fair to call the 1st step towards long and deep love story between the two.
4. Treaty of Sugauli, 1815-16 (modern Nepal):
The treaty of Sugauli in 1815 between Nepal and British East India company due to the direct result of Gorkha-Anglo war that started in 1814 was the turning point in the history of Nepal. Nepal was compelled to sign the treaty after the defeat in Malaun Fort in mid 1815 and made to give up one third of it's territory mainly in the west front. The unjust treaty as stated by Nepal addressed the following main clauses:
Establishing the new boundary line of Nepal
Recognition of sovereignty of Nepal as an independent nation and perpetual friendship between the two
Right to recruit Gorkhas (Nepali Army) under the British flagship
British presences in Kathmandu for diplomatic ties
Political, finance, trade and cultural ties
5. Gorkha Native Army 1816-17:
A Gorkha sepoy (soldier) of/under British East India (BEI) company after the Sugauli Treaty. The first few Gurkha regiments were raised from the prisoners captured in Anglo-Gorkha war. The army was modernized and better gears and wears were provided by BEI. However it was recognized only as a backup unit or secondary native army with limited role, power and authority. Needless to say Gorkhas got less facilities and rights compared to their British counterparts.
6. The Great Indian Mutiny, 1857-58:
The Great Indian Mutiny of 1857 was the turning point in the development of Gorkhas that was already serving under the British flagship. The mutiny also known as "The Great Rebellion" or "The Revolt of 1857" happened due to various reasons like political, social and religion matter, heavy taxation on locals, high discrimination and military reason (ammunition issue) to name a few. The inhabitants were tolerant for several years but this was exploded by the cartridge issue in the Enfield rifle that challenged social beliefs resulting into the deadly mutiny which went on for 2 years from 1857-58. Thousands of Indian origin soldiers well supported by their generals of various kingdoms and separate flagships raged war against their own British officers with thousands of soldiers' casualties on both sides. The Gorkha soldiers on the other hand remained loyal and dutiful and helped the British suppressed the mutiny. They fought with great military prowess, remained utterly loyal to their superiors and exhibited courage of highest level and consequently defeated the mutineers. After the mutiny many major changes were made and eventually the company was taken over by British Crown. The Gorkha Army was upgraded and given major role, identity and recognition as an integral part of British Army. British now realizing the significance of having a 3rd army into its armory heavily increased the Gorkha force and also assigned them to key posts, and in return gave more rights, facilities, power which continues till date.
7. India Independence from British Raj, 1947:
After India got independence from the British Raj in 15th August 1947 the existing Gorkha regiments were split from British India army with 4 regiments namely the 2nd, 6th, 7th and 10th Gorkha Rifles (GR) to serve directly under British army and the rest left to serve the Indian army. This was followed by British, India and Nepal tripartite agreement in 1947 that continued the right to recruit Nepalese men under British and Indian flagship under various terms. Furthermore, the 1950 treaty between Nepal and India ensured the territorial (board lines) recognition of the two countries globally and therefore, Nepal is what it is today geographically.

I am confused. Is it kukri, khukuri or khukri ??
It actually means the same thing, just different words to call the same knife. However "Khukuri" is the original word given to call the knife when it was first made in Nepal. "Kukri" is more accepted by common people as the word was first used by British when the knife was first documented by them and came out in writing. "Khukri" is more used in Asia subcontinent mainly in India. The knife largely rotates around Nepal, British and India.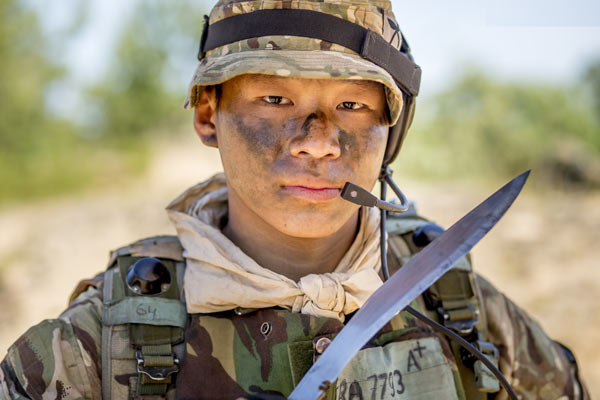 Useful Links
Best Sellers