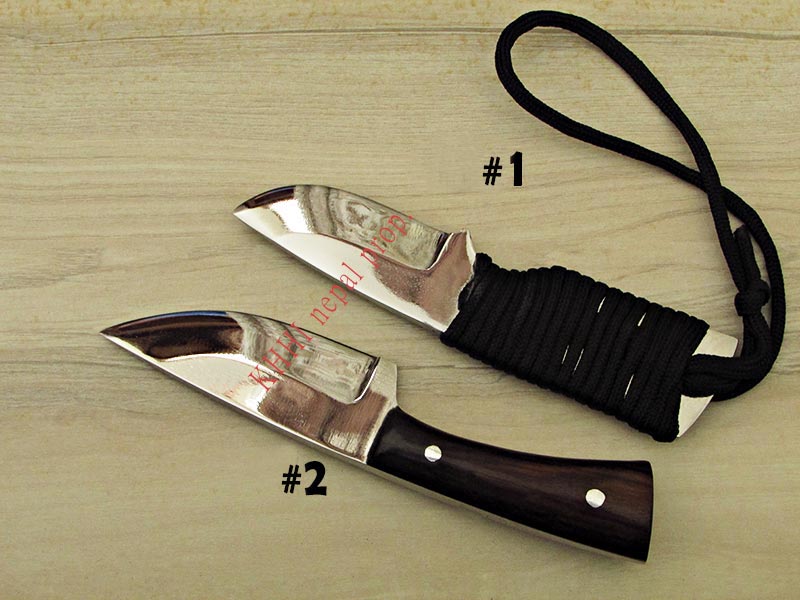 Share
Utility-Back Up Knife
heat-treated blades, handier and functional. Paracord-wrapped version and/or full-flat-tang wooden version
Blade Length (in): 3
Handle Length (in): 2.75
Blade Steel: 52100
Handle Material: Rosewood/ Paracord
Sheath: none
Actual Weight (gm): 100
Overall weight (gm): 100
Shipping weight (gm): 250
Blade sharpness: Standard (very sharp)

Blade thickness (mm): 4
Edge grinding: Convex
View More
Sheath: none
Actual Weight (gm): 100
Overall weight (gm): 100
Shipping weight (gm): 250
Blade sharpness: Standard (very sharp)

Blade thickness (mm): 4
Edge grinding: Convex
Edge Hardness: 52-54 hrc
Blade (panel) Grinding: Scandi
Blade finishing: Mirror
Tang type: Full Flat
Fixture: None
Accompanying knives/B-up: None
Place of Origin: KHHI, Kathmandu, Nepal
View Less
The best Utility and Backup knife; small, handy & functional knives...
While most Kukri comes standard with small accompanying knives, it is traditionally made small in size, weak, and not meant for any kind of extensive use. Due to many customer requests to have a better and more useful one we have created these larger, heavy-duty Backup knives. Whether for defined carving, detailed tasks, any kind of small games, or minor cutting, these knives will really perform well and be a major part of your knife system. Both blades are heat-treated for durability, hardness, and edge retention.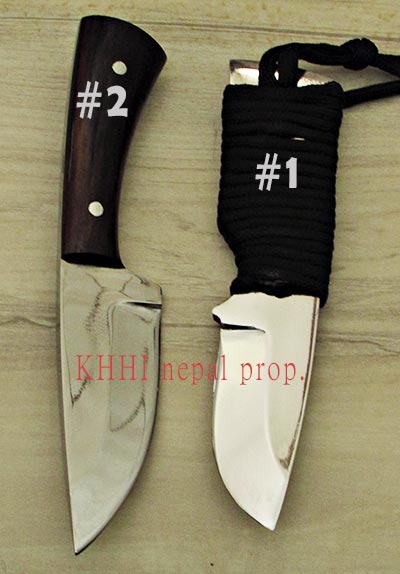 Model 1:
This flat blade is made from a single piece of 52100 High-carbon steel, with a paracord-wrapped handle. The blade is mirror polished for rust prevention and has an easy to sharpen Scandinavian-style bevel. It has a full-flat tang Paracorded handle.

Model 2:
This more traditional-looking handle with a broad 3-inch blade with a generous bevel for easy and deep cutting. It has an ergonomic full-flat tang panawal handle secured by rivets and is very comfortable and effective to use. The handle is made from rosewood.
By default, the sheath is NOT available, if you are buying the main kukri or knife we can modify the scabbard /sheath to fit these Backup knives into the throat of the sheath if you want. Please let us know how you want.

Blade size: 2.5 inches (#1) and 3 inches (#2) approx.
Handle size: around 2.75 inches
Blade Thickness: 4 mm approx.
Weight: around 100 gms (Blade+Handle)

Note: Price is for either Back-Up knife. Please mention which model you want in the "Your Message" field of the Checkout Page. If you want to buy both then make the quantity double. Recommended to buy along with other products to minimize shipping cost.
Reviews (0)
Write a Review
Give us your valuable review on our items.
See Other Amazing Products Too...