British Army Service Kukri (Training/Combat)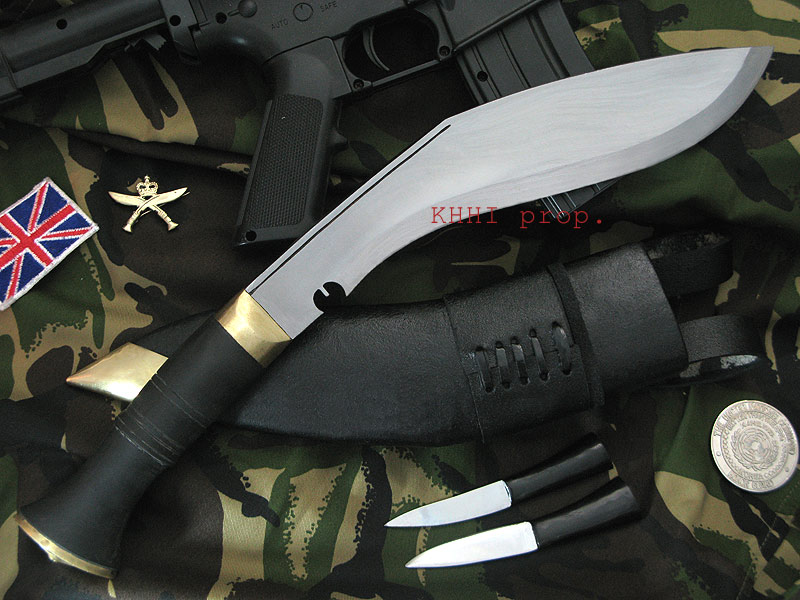 Share
British Army Service Kukri (Training/Combat)
The official Service No.2 Kukri issued to British Gurkha Army (Gurkhas)
Blade Length (in): 10.5
Handle Length (in): 5
Blade Steel: 5160
Handle Material: Buffalo Horn
Sheath: Black Leather
Actual Weight (gm): 600
Overall weight (gm): 800
Shipping weight (gm): 1150
Blade sharpness: Standard (very sharp)

Blade thickness (mm): 9.5
Edge grinding: Semi convex
View More
Sheath: Black Leather
Actual Weight (gm): 600
Overall weight (gm): 800
Shipping weight (gm): 1150
Blade sharpness: Standard (very sharp)

Blade thickness (mm): 9.5
Edge grinding: Semi convex
Edge Hardness: 55-57 hrc
Blade (panel) Grinding: Full Flat
Blade finishing: Unpolished
Handle finishing: Unpolished
Tang type: Stick
Fixture: Brass
Accompanying knives/B-up: Karda Chakmak
Place of Origin: KHHI, Kathmandu, Nepal
View Less
This blade is the exact model selected by the BGN (British Gurkhas Nepal) as the official Service No.2 Kukri for recruit, and its reproduced by Khukuri House
How it came into existence?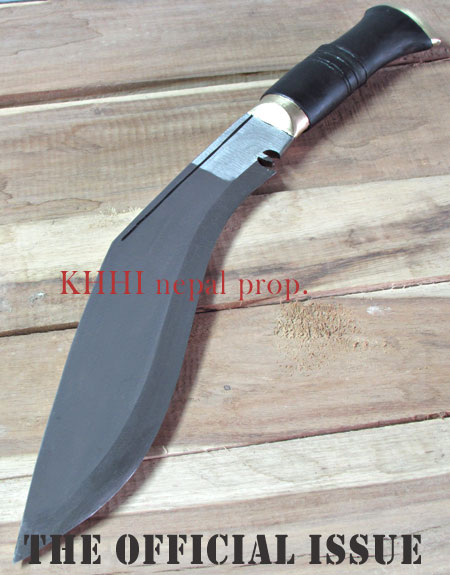 Before the 1990s, British Gurkhas were only issued with only one kukri; and was expected for both purposes; for the parade as well as for training and exercise (field knife). Using Kukri during hardcore military training will definitely make it dirty and it took considerable effort to keep the Kukri clean to the military's standards; so some Gurkha's started seeking out a second Kukri to bring with them into the field. Similar to how soldiers don't wear no.1 uniform boot but they have different hard-use combat boots for the dirty job.
Some soldiers personally purchased a secondary Kukri for Jungle training and combat use from outside sources. Those kukris were unofficially referred to as the 'No.2 Sarkhari kukri' or just 'Jungle Kukri'. Because this was happening so often and bringing some uneasiness while training; in the 1990s, the BGN command decided to issue 2 kukris to new recruits. This meant that Gurkhas could have one kept in pristine condition for parade duty (the Service No.1) only and one for field operations (the Service No.2) called here as the "Training/Combat Kukri."


As Kukris are hand-forged, the pattern is constantly changing even though by bit. We have based this kukri under the exact model made by us for BGN back in the 1990s as the Service No.2 (Training/Combat). The kukri is identical to the Service No.1 except for one key factor; because it is meant for field operations and combat, it does not go through the polishing process on either the blade or the handle and even the brass fixtures. This is advantageous in 2 ways; first - the unpolished blade has the best available hardness and is not weakened by the heat inherent in the polishing process, Second- the unpolished horn handle improves grip, even when wet, and is easier to maintain. Some Gurkhas even added the camouflage fabric to the sheath so that it can blend into their combat gear. This is as authentic as it gets while continuing the legendary history of the Gurkhas. 

Size of blade: 10.5 inch approx.
Materials: Water buffalo leather scabbard, unpolished water buffalo horn handle, 2 x small knives
 
Watch How Kukuris are made.
Reviews (1)
Write a Review
Give us your valuable review on our items.
| 3rd May, 2022 | steven hughes
The Quay, Flintshire, Wales
---
Excellent.
---
See Other Amazing Products Too...