Nepal APF Service Khukuri (Paramilitary)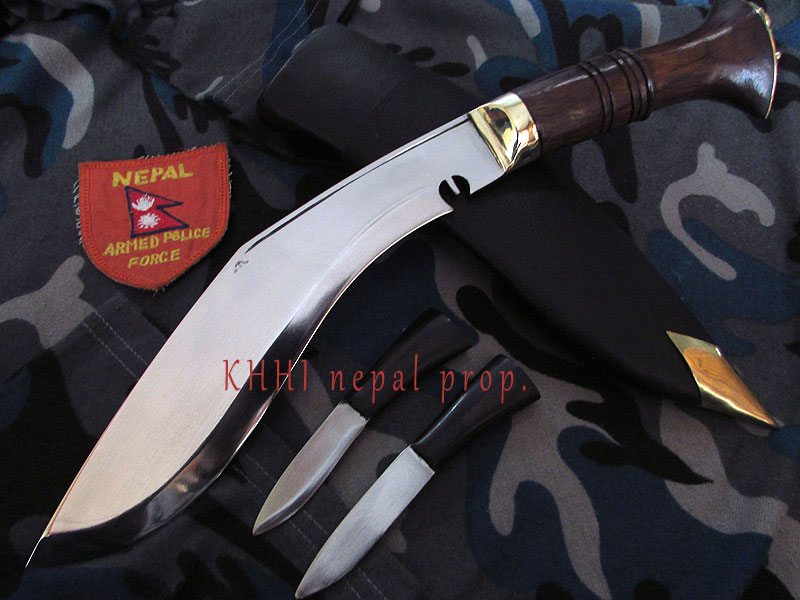 Share
Nepal APF Service Khukuri (Paramilitary)
An Official Dress and Duty kukri knife but also occasionally used for training and/or conflict/warfare purpose..
Blade Length (in): 9
Handle Length (in): 5
Blade Steel: 5160
Handle Material: Rosewood
Sheath: Black Leather
Actual Weight (gm): 485
Overall weight (gm): 670
Shipping weight (gm): 950
Blade sharpness: Standard (very sharp)

Blade thickness (mm): 9
Edge grinding: Semi convex
View More
Sheath: Black Leather
Actual Weight (gm): 485
Overall weight (gm): 670
Shipping weight (gm): 950
Blade sharpness: Standard (very sharp)

Blade thickness (mm): 9
Edge grinding: Semi convex
Edge Hardness: 55-57 hrc
Blade (panel) Grinding: Full Flat
Blade finishing: Polished
Handle finishing: Polished
Tang type: Stick
Fixture: Brass
Accompanying knives/B-up: Karda Chakmak
Place of Origin: KHHI, Kathmandu, Nepal
Released date: 2016-04-17
View Less
the official APF (Armed Police Force) Khukuri ( Dress/Duty/Conflict knife)
Like any national security force of Nepal, even APF has its own standard service khukuri issued to the new recruits after the official training. This kukri is both; a duty and dressed knife but also occasionally used for training or warfare/conflict purposes. This khukuri is carried until Lower Rank Officer. APF service khukuri is same as the "Nepal Police" version except it has its own monogram at the back of its hilt (see photo). Its shape and style is traditional.
Blade is 9 inches long, a little fatter than regular versions, and is well polished. No stampings of any sort is done in the blade.
The handle is made from wood, is about 5 inch long (over-all) and has brass fixtures (bolster and butt cap). APF's own monogram is fitted in the butt cap as "ID" of the knife which is the unique feature of this khukuri.
Black leather sheath having a brass tip and belt frog is used as the cover of the blade.
One set of traditional accompanying knives, called the Karda (small knife) and Chakmak (Sharpener), complete the set.
APF; the 1st paramilitary force of Nepal raised to save the nation...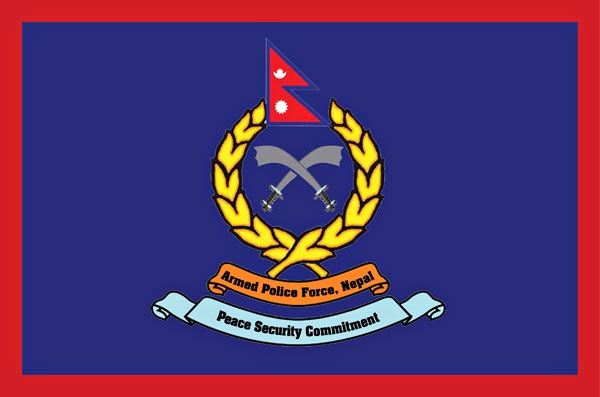 The Armed Police Force of Nepal (APF) is the junior-most security force of Nepal raised to encounter the political tension of the country several years ago in early 2000. The then king Gyanendra ensuing armed resistance and criminal activity escalating from the conflict started by communist ideology party (Moist) established a complete new paramilitary force to combat the critical situation. Subsequently, the Armed Police Force was founded on the 24th of October 2001 and Late Krishna Mohan Shrestha became the first ever chief (Additional Inspector General of Police) of the force. Now that the conflict is over of late APF role has been diverted to other tasks like protecting the national border, security to special people and economic zones, natural disaster response and prevention task force and as counter terrorism and intelligence unit, etc. Please visit the APF official website APF official website to know more in detail.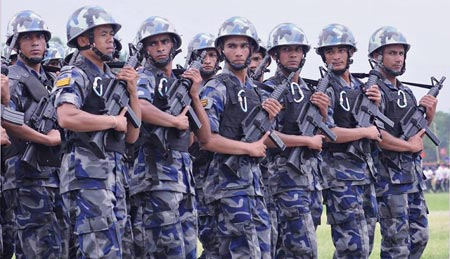 Reviews (1)
Write a Review
Give us your valuable review on our items.
quality and professionalism
| 20th April, 2023 | Glenn Whittaker
Queensland, Australia
---
Dear Sir/Madam
I would just like to thank you for the fast and prompt delivery of my Traditional Army and Classic knifes and sheath. The workmanship that has been put into the knife by Rana Bahadur Biswokarma is exceptional. I am extremely happy with the quality and professionalism that the company has shown from the onset of ordering the knife and the literature that comes with it to explain its maintenance and care.
I have already recommended your company to a few of my ex-serving military mates who are also impressed with the finished product. Once again thank you very much. I will hold in pride of place amongst my other military memories.
Regards,
Glenn Whittaker- Australia.
---
See Other Amazing Products Too...