Nepal Police Issue Khukuri (Prahari)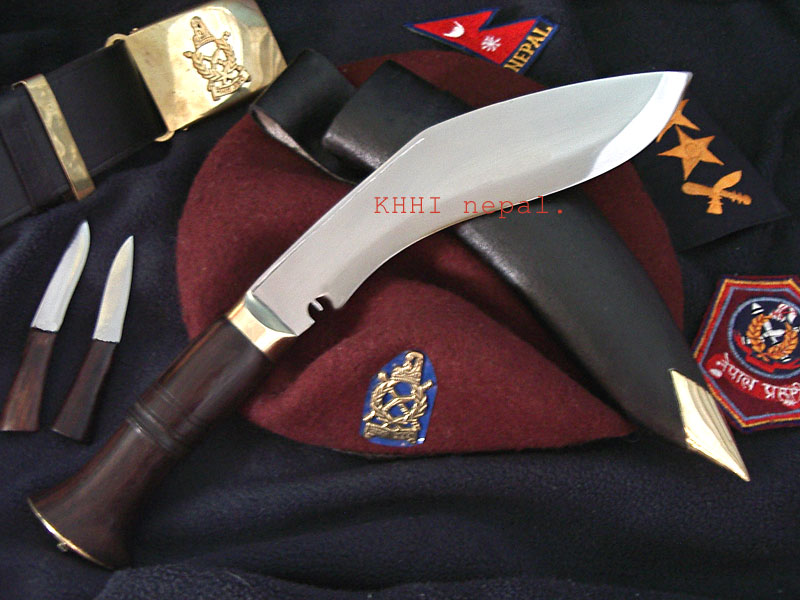 Share
Nepal Police Issue Khukuri (Prahari)
Nepal Police khukuri is a standard service issue knife for the new recruits; a prize posession and partner to tackle criminals..
Blade Length (in): 9
Handle Length (in): 5
Blade Steel: 5160
Handle Material: Rosewood
Sheath: Water buffalo leather
Actual Weight (gm): 470
Overall weight (gm): 650
Shipping weight (gm): 950
Blade sharpness: Standard (very sharp)

Blade thickness (mm): 8.5
Edge grinding: Semi convex
View More
Sheath: Water buffalo leather
Actual Weight (gm): 470
Overall weight (gm): 650
Shipping weight (gm): 950
Blade sharpness: Standard (very sharp)

Blade thickness (mm): 8.5
Edge grinding: Semi convex
Edge Hardness: 55-57 hrc
Blade (panel) Grinding: Full Flat
Blade finishing: Polished
Handle finishing: Polished
Tang type: Stick
Fixture: Brass
Accompanying knives/B-up: Karda Chakmak
Place of Origin: Dharan (Eastern Nepal)
View Less
"Prahari" is a word in Nepalese literature used to denote "Police". Since this particular khukuri is meant for Nepal police ('Nepal Prahari' in Nepali) the name Prahari is entitled.
Nepal Police and its Khukuri (Prahari) in brief
Nepal Police is issued with a service khukuri like any other national security force of the country. The new in-takes get an official khukuri once the training is completed which here is addressed as the "Nepal Police Issue Khukuri". This khukuri is retained throughout the subordinate-class career and regularly inspected by senior officers. It is a prized possession and honor to the jawan to carry the khukuri and its pride. It is also a reminder of his loyal and long service to the country and its people after retirement. It is one of the famous knives because of its close association with the force. Nepal Police has its own particular type of khukuri that is a bit different than the army version.

Blade: The blade measures 9 inches and falls under the fatty version and thus somewhat heavier. It is bit more curved and has a robust look. The feature of the blade is traditional having a single fuller (khol) and a typical notch.
Handle: The handle is made from Indian rosewood in typical khukuri handle format. It measures around 4.5" and has a thick brass plate fixtures. The handle is bit broader due to the follow through of the broad blade. The long handle makes it easy and comfortable to handle(use).
Sheath: The sheath is simple/traditional having 2 small knives at the back. Like it's army counterpart it comes with 1 x KARDA (small knife) and 1 x CHAKMAK (sharpener). All handles come in wood to give a matching overall look. A brass tip and belt frog are fitted to the sheath.

A brief look into the history of Nepal Police ...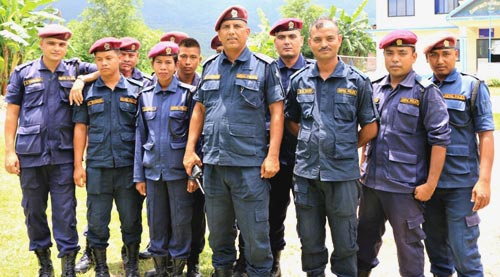 Nepal Police is an integral security force of national security. The organization is relatively new yet in this short period has proven to be the backbone of the country. It has been playing a vital role in providing security, containing crime, and in the overall development of the nation
Prior to 1864 AD the Police institution dates back to the ancient times as does the history and language of Nepal. During the "Rana" Regime (1864-1951 AD) the Police Organization was conceived and gradual progression took place towards systemizing and modernizing policing. During the period 1951 till 1990 different major developments took place in the national police department particularly after the down fall of the Rana regime. The Police Head Quarters was established in 1952 in Kathmandu, Mr. Toran Shamsher J.B.Rana became the first Inspector General of Police, the Police Act came into effect in 1956, the Police Regulation came into effect in 1959, the establishment of the Central Police Training Centre came in 1963, Police personnel started getting deployed in UN Mission from 1991 and other central developments took place. Nepal police like any other security force in a country are primarily assigned and designed for public security, safety, safeguarding, prosecuting, rescuing, and other various policing activities executed competently with dignity, pride, courage.
The current Head of the Nepal Police is IGP Mr. Dhiraj Pratap Singh since May 02, 2022.
Know more about Nepal Police in details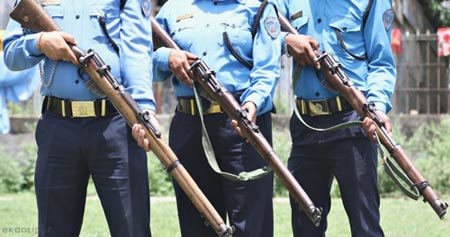 Reviews (0)
Write a Review
Give us your valuable review on our items.
See Other Amazing Products Too...