Gorkha Military Issue WW2 Kukri (MK2)
Gorkha Military Issue WW2 Kukri (MK2)
The second in the prestigious line of military issued khukuris to the Gorkhas/Gurkhas; a tribute to the legendary war kukri for all kukri fanatics..
Blade Length (in): 13
Handle Length (in): 4.5
Blade Steel: 5160
Handle Material: Rosewood
Sheath: Water buffalo leather
Actual Weight (gm): 700
Overall weight (gm): 885
Shipping weight (gm): 1300
Blade sharpness: Standard (very sharp)

Blade thickness (mm): 8
Edge grinding: Semi convex
View More
Sheath: Water buffalo leather
Actual Weight (gm): 700
Overall weight (gm): 885
Shipping weight (gm): 1300
Blade sharpness: Standard (very sharp)

Blade thickness (mm): 8
Edge grinding: Semi convex
Edge Hardness: 55-57 hrc
Blade (panel) Grinding: Full Flat
Blade finishing: Unpolished
Handle finishing: Polished
Tang type: Full Flat
Fixture: Iron
Accompanying knives/B-up: None
Place of Origin: KHHI, Kathmandu, Nepal
Released date: 2009-01-01
View Less
Also Buy These As Set
MK2 kukri brief history ... the largest produced kukri of all the standard issues
This is a KHHI's version of one of the variants of original MK2 (Military Kukri 2). KHHI pays its tribute and reproduces this legendary war kukri for all kukri fanatics.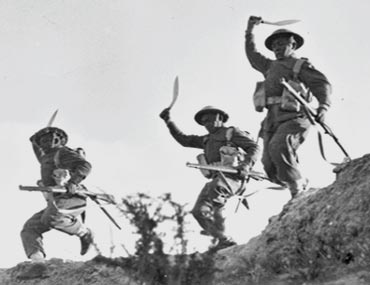 Learning from the experiences of numerous wars and military campaigns, British Army began issuing MK2 (military kukri 2nd) to Gorkhas as early as 1915. This model was mass-produced consistently from 1915 all the way into 1944-45 (WW2). KHHI's extensive research on Military Kukris shows that this particular model is probably the third major model of Gorkhas' service kukris since the Great Indian Mutiny of 1857 (Delhi Siege). After the mutiny British realized the importance of having a neutral army (from 3rd country) like Gorkhas and were thus upgraded from native army to national force. Gorkhas were given more command, role, respect, and were better dressed and equipped. It is our belief that the official service kukri era started from here and MK2 is likely to come on 3rd down the line.
During the war especially in WW2 British started recruiting more and more Gorkhas to accomplish their war mission, sometimes thousands at a time. The demand for Kukris also skyrocketed with many companies in India mass producing it to keep up with the army demand. Historical samples found on original MK2s show that that the Kukri was initially manufactured by many local companies and individuals in India. After the First World War and later, during WW2, well-known companies like ATD (Army Traders Dahradun), Pioneer Calcutta and others started producing kukris on a massive scale. Most of the original MK2s are stamped with the manufacturer's name, the inspector's name, and even the year it was manufactured and a 'Broad arrow' mark pointing up to symbolize official British military issue. Some even had the leather sheath stamped while few of them had the handle stamped by official mark. The marking is confusing (hard to figure it out) but definitely tells its the official piece.
Why MK2?? MK2 as a knife...
MILITARY
The MK2 faced and succeeded numerous wars and campaigns for the British Army through the hands of Gorkhas. Its decisive swing generating a lethal blow sent enemies tumbling down the ground while it cemented its name and of his master forever in the glorious pages of history. MK2 proved in the hands of Gorkha as the most feared knife that changed the course of battle and hence became the world's most famous knife of the modern times, and also the feared knife at the sametime.

LOCAL
While we recommend this knife as a collection or displayer piece due to its historical/military significance, we also highly suggest it as one very effective and functional knife. MK2 has all the features and qualities to be one very useful knife for any field or domestic works. Its dominant blade profile (flawless curve having deep belly and broad chest) would simply make it's way through anything with ease. The full flat tang panawal handle that is very durable (reliable) and its comfortable grip make using a satisfying experience and second to none. We know you will just LOVE IT :)

ORIGIN: KHHI, Kathmandu, Nepal (released on 1st Jan 2009)

:: You can also buy this MK2 Kukri available under PRIMITIVE MAKING ( age-old, rare & extinct kukri making method). It is made using pure skill, bare hands, days of hard labor, basic smithing tools, and natural raw materials::
Reviews (0)
Write a Review
Give us your valuable review on our items.
See Other Amazing Products Too...