British Gurkha Kukris (2013 Army Issue)
British Gurkha Kukris (2013 Army Issue)
The official British Gurkha Issue Kukri (BSI) set for the year 2013... (BOTH knives + free accessories)
Blade Length (in): 10.25
Handle Length (in): 5.5
Blade Steel: 5160
Handle Material: Horn
Sheath: Black Leather
Actual Weight (gm): 600
Overall weight (gm): 750
Shipping weight (gm): 2200
Blade sharpness: Standard (very sharp)

Blade thickness (mm): 10
Edge grinding: Semi convex
View More
Sheath: Black Leather
Actual Weight (gm): 600
Overall weight (gm): 750
Shipping weight (gm): 2200
Blade sharpness: Standard (very sharp)

Blade thickness (mm): 10
Edge grinding: Semi convex
Edge Hardness: 55-57 hrc
Blade (panel) Grinding: Full Flat
Blade finishing: Polished
Handle finishing: Polished
Tang type: Stick
Fixture: Brass
Accompanying knives/B-up: Karda Chakmak
View Less
Also Buy These As Set
2013 British Gurkha Army Official Issue Service Kukris Set (Both Service No.1 & Service No.2 Khukuri)
In 2013 KHHI again won the contract to supply 300 Kukris to the new British Gurkhas recruits who will later join the illustrious force called the "Brigade of Gurkhas" after their grueling 9 months training. Competition was fierce but KHHI's reputation as the foremost Kukri maker in Nepal won us this prestigious assignment. As always, we are very proud to be the official supplier of Kukris to the legendary British Gurkhas even for 2013. We were also awarded the contract to make and supply 200 Gurkha cap badges for the new intakes. We have also attached a snap shot of the original contract paper given to us by the army.
The 2013 annual contract includes both the identical Service kukri blades but in different leather sheaths. One is glossy patent leather sheath meant for duty and parade (dress knife) where as the other one is Normal leather sheath for training and exercise, otherwise the same. Both blades have buffalo horn handle and come with shinny brass fixtures. Both kukris have the two accompanying knives called KARDA and CHAKMAK. Both service kukris are typical army model/issue from previous years.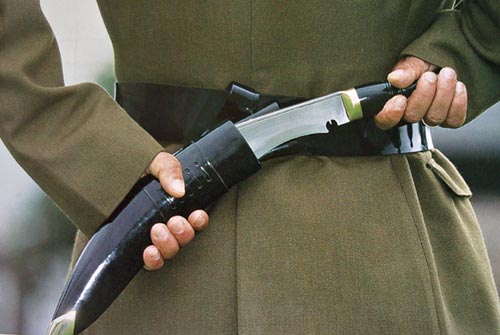 What is Service No.1 kukri for ??
Service No.1 because it is the primary knife carried by soldiers all the time. It is a dressed knife that will go in his belt on his official no.1 dress. The sheath along with the blade must be very shiny and well looked after. The kukri is an important part of the uniform and something that distinguishes a Gurkha from other soldiers (units). The kukri is regularly inspected by senior officers. A Gurkha works hard to maintain his kukri after all its not easy to carry the honor and legacy of this legendary knife.

What is Service No.2 kukri for ??
Service no.2 kukri that came into the army arena quite late (only in early 2000) is a training, exercise and combat knife. it is a field knife for the soldiers. It is wore in no.2 dress or also known as the combat/jungle uniform. Service no.2 kukri sees a lot of cutting, hacking, slicing etc as expected by any knife. Some also take it to battle fields should the need be. Unlike the late years' no.2 khukuri, in 2013's army demand for service no.2 was required in full polished format. This is something unusual for the purpose in our opinion.

In addition to the Kukris (2 pcs), this package also includes the following complimentary items: An original Cap badge (same issued to the new recruits), a Gurkha Book and a special Display Stand.
The Gurkhas By Mike Chappell: This extraordinary book is one of the most comprehensive books ever written about the Gurkhas. The book covers a period dating starting from the 18th century to the modern days. The book goes into great detail about the history, origin, and exploits of the Gurkhas, from their early service in the British Army in the Indian Mutiny through both world wars, as well as their later services after Indian Independence/Partition. The book contains many B&W photos, drawings and sketches. It's a must see for all Gurkha fans and fanatics.
Display Stand: A unique wooden display stand that holds both; the Kukri blade and its sheath. It also has the engraved (itched) insignia of the following Gurkha regiments:
1. Queen's Gurkha signals
2. 10th Princess Mary's Own Gurkha Rifles
3. 6th Queen Elizabeth Own Gurkha Rifles
4. 2nd King Edward VII's Own Gurkha Rifles
5. 7th Duke of Edinburgh Own Gurkha Rifles
6. Gurkha Transport Regiment
7. Queen's Engineer Regiment
Also engraved is the Gurkha motto "It is better to die than to be a coward"

What's Included?
>> 2 Kukris and 2 scabbards with small knives
>> display stand
>> cap badge
>> Gurkha book
Reviews (0)
Write a Review
Give us your valuable review on our items.
See Other Amazing Products Too...