Traditional Khukuri Scabbard (DAP/ Sheath)
Traditional Khukuri Scabbard (DAP/ Sheath)
An extra scabbard can come very handy when we are talking about sharp edge knives..
Blade Length (in):
Handle Length (in):
Blade Steel: None
Handle Material:
Actual Weight (gm): 250
Overall weight (gm): 250
Shipping weight (gm): 500
View More
Actual Weight (gm): 250
Overall weight (gm): 250
Shipping weight (gm): 500
Blade sharpness: None

Edge grinding: None
Edge Hardness: None
Blade (panel) Grinding: None
Blade finishing: None
Tang type: None
Fixture: None
Accompanying knives/B-up: Karda Chakmak
View Less
Also Buy These As Set
Protect and showcase your kukri; a secondary item yet a significant one. Complete your kukri now!!
It's always a good idea to have a spare. It shows your character and makes sure you are never left out. It works the same with a khukuri blade. Moreover its one very fine and sharp blade so back up is must. You can't let the edge bite you or your loved ones.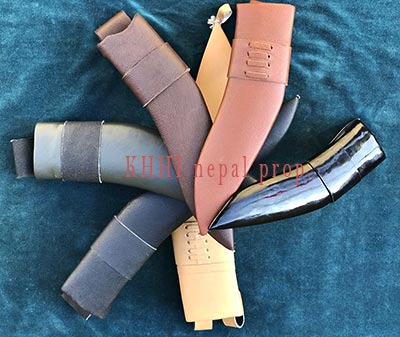 Our scabbards are hand crafted by well treated domestic animals' skin stretched over a wooden frame. The leather is mainly colored with black paint (most common and in-demand color) although we offer other various colors too (see photo). Our scabbards include a traditional metallic Kothi, or chape. It also includes a Karda, knife, and Chakmak, sharpener, as well as a leather farus, frog.
Because the scabbards are made from soft materials like leather and wood it can get damaged in many ways. Due to weather, drying out, moisture, negligence or even just unknowingly, one may end up with a damaged scabbard. Another possibility is that the sheath may damage by improperly drawing or handling since a Kukri is really sharp (Please see Maintenance- Unsheathing your Kukri for more information). Or you could just lose it like that. Hence a spare sheath is always a good thing to have in store. It sets your mind in relax mode.
By default this scabbard comes in BLACK color with 2 small Accompanying Knives (karda and chakmak), Metallic kothi (chape) and a Leather Frog (belt loop/holder)
Note:
For sizes below 6inch and above 15inch please contact us
If you prefer other color than black (default) then do mention in YOUR MESSAGE field in "Checkout Page"
See how the scabbard are made by hands
Reviews (0)
Write a Review
Give us your valuable review on our items.
See Other Amazing Products Too...