Tactical-Survival Ultra Modern knife (Viper)
Tactical-Survival Ultra Modern knife (Viper)
Fierce look but with the touch of elegance. A fine survival tool born is now a hunter's favorite and KHHIs bestselling knife...
Blade Length (in): 8
Handle Length (in): 6.25
Blade Steel: 52100
Handle Material: Rosewood
Sheath: KYDEX
Actual Weight (gm): 550
Overall weight (gm): 685
Shipping weight (gm): 1100
Blade sharpness: Super (paper cut)

Blade thickness (mm): 6.5
Edge grinding: Convex
View More
Sheath: KYDEX
Actual Weight (gm): 550
Overall weight (gm): 685
Shipping weight (gm): 1100
Blade sharpness: Super (paper cut)

Blade thickness (mm): 6.5
Edge grinding: Convex
Edge Hardness: 55-57 hrc
Blade (panel) Grinding: Scandi
Blade finishing: Mirror
Handle finishing: Full tang with rivets
Tang type: Full Flat
Fixture: None
Accompanying knives/B-up: None
Place of Origin: KHHI, Kathmandu, Nepal
Released date: 2018-09-04
View Less
Also Buy These As Set
Viper Knife ; Best Tactical-Survival Tool with Ultra Modern Design
The Birth: A passionate adventure looking for multipurpose knife that becomes his friend and a fighter in the wilderness, led into the making of Viper Knife. Kevin Kraus, explored and consulted knife experts from different parts of the world to come out with exclusive design of a knife that could become his dream knife. Something that comes handy while camping and hunting, easy to carry, durable and a look that no one can deny its beauty. The birth of Viper Knife became possible after Kevin met KHHI experts. After rigorous discussions over email and chats, this fine survival tool was born that became hunters favorite and KHHIs bestselling knife.
The Blade: Fierce look but with the touch of elegance, this 8inch blade is a pride to carry. The flat belly and the curve makes it a chopping knife however with the pointed strong edge this knife has the ability to pierce any objects or subject that comes on its way. Inspired from different Italian and Persian daggers, survival tool stands out from other knives.
It has outstanding notch and the pommel, notch is different from other regular knives and or khukuris. The notch at the upper edge looks like a fang and has multiple functions, from can opener to, striking an objects and even lifting pots from fire by their handle. The other end looks like an open notch but also works as finger coil when used as piercing. The tang goes right through the handle. The pommel has a lanyard hole that can be used to tie the string.
The Handle: The size of the handle is 6.25inch to be precise for easy handling. Compatible with a beautiful blade, the handle is equally visual appealing, durable with better grip for comfortable carry. It has a guard that prevents palm from slipping towards the sharp fang, has a grip with ridges and removable screw in case one wants to have paracord instead of wood. The flare at the bottom of the handle is a continue section from the blade and not only has a lanyard hole but the flare also works as a hammer to hit hard in any objects.
The Sheath: To match with the quality and perfection of this survival knife, what can be better than the kydex sheath? This sheath has multifunction carriage and can be carried as per ones convenience. It comes with the button strap that keeps the kukri secured from wobbling around.
Reviews (1)
Write a Review
Give us your valuable review on our items.
its so magical in hands
| 22nd July, 2019 | Shyam Gurung Aka Laure
United Kingdom
---
I desperately needed a knife for multipurpose works and hiking trips. I am a Nepali and my first thought was to buy a Kukri, but after seeing this knife I change my mind. Now I know its a worth. I can get kukri easily at any time. First time when I hold it gave me different energy and thought. I was a little afraid but happier and eager to use it. I clicked this photo after unpacking. Love u all for making this incredible knife. I am giving it a personal pet name.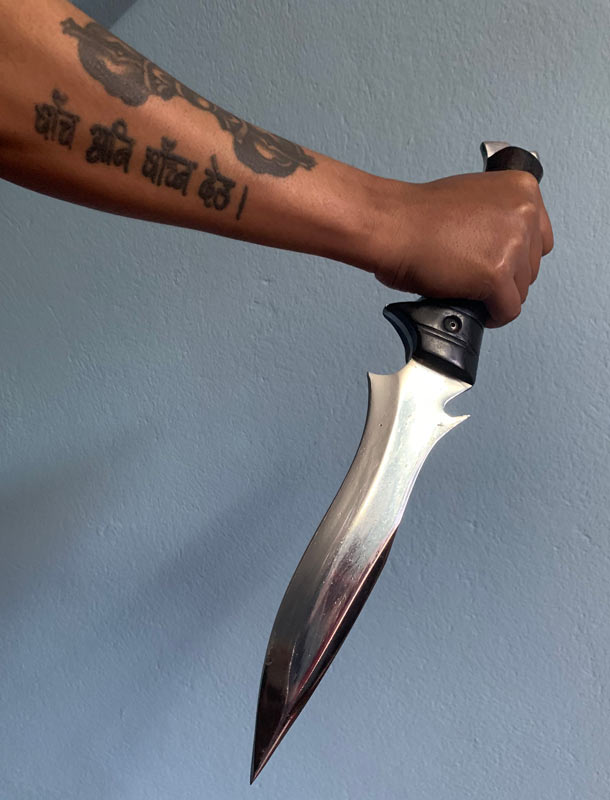 ---
See Other Amazing Products Too...