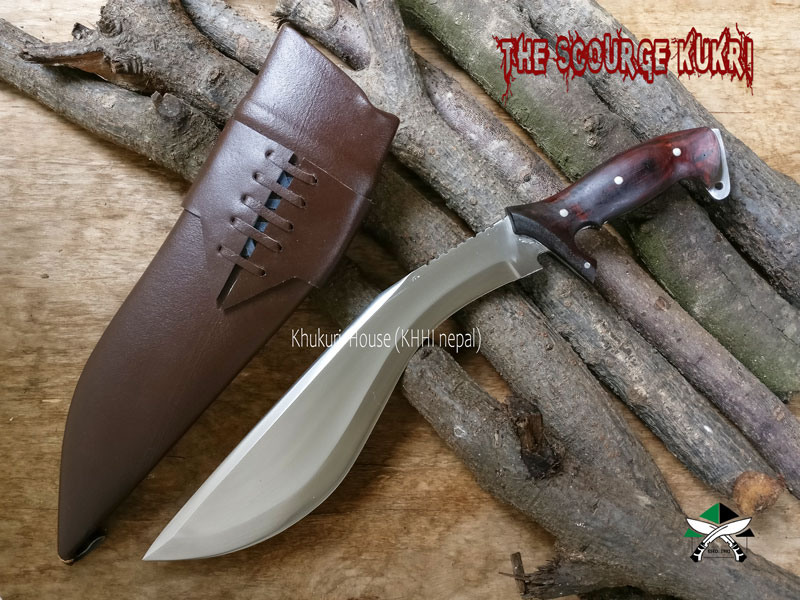 Share
the Scourge Kukri
When the deads awaken and creeps towards you, Scourge kukri becomes the only answer to be the Survivor and Savior..
Blade Length (in): 13
Handle Length (in): 6
Blade Steel: 52100
Handle Material: Rosewood
Sheath: Brown leather
Actual Weight (gm): 775
Overall weight (gm): 1000
Shipping weight (gm): 1450
Blade sharpness: Standard (very sharp)

Blade thickness (mm): 7-8
Edge grinding: Semi convex
View More
Sheath: Brown leather
Actual Weight (gm): 775
Overall weight (gm): 1000
Shipping weight (gm): 1450
Blade sharpness: Standard (very sharp)

Blade thickness (mm): 7-8
Edge grinding: Semi convex
Edge Hardness: 55-57 hrc
Blade (panel) Grinding: Full Flat
Blade finishing: Semi Polished
Handle finishing: Unpolished
Tang type: Full Flat
Fixture: None
Accompanying knives/B-up: None
Place of Origin: Khukuri House, Nepal
Released date: 2013-03-26
Blank price (USD): 79.99
View Less
Are you prepared enough to be the Last Man Standing ?? the Scourge kukri may be the answer..
We are very proud to be creator of this amazing kukri-bowie knife. BE AWARE OF IMITATION.. there are too many copies in the market :(

the KNIFE's Trailer ...It was the sound of shuffling steps and deep, throaty moans that stirred him from his slumber and sent him stumbling drowsily to the window. But it was the stench of rotting flesh that told him that something big was happening. He whipped the curtains aside to confirm his suspicions: an undead face bared its few yellowed teeth and dragged its eight remaining skeletal fingers down the glass. In one fluid movement, he spun and removed Scourge from his bedside drawer. He slid the blade free of its sheath and grinned wolfishly as it gleamed in his hands. "Finally," he smiled, turning to face the zombie crashing through his bedroom window."

Scourge (skurj) as a word:
A source of widespread dreadful affliction and devastation, such as is caused by pestilence or war. When the undead walk the earth or your country falls into a state of anarchy and chaos, then this knife is all you need to make sure you survive anything the end of the world as we know it can throw at you.

Why the Scourge Kukri ??
The Scourge uses a traditional kukri as a time-tested platform for an apocalyptic companion. While it keeps all the properties which makes kukris famous, the modern alterations are what unlocks the knife's true potential as a weapon and tool that you can rely on when faced with an unrelenting scourge.
A hybrid combination and power of traditional kukri and modern bowie; Zombie Apocalyptic Knife for Zombie FREE zone!!
Blade: The sweeping, unique blade is a full 13" long, giving enough reach to keep distance between you and any wandering corpses. The scourge is very well balanced making it lively in combat, while the 7-8 mm blade width provides great heft and durability. Its hefty wide chest generates a lethal blow when swung. The entire back edge from the point to the "knee" of the spine is ground to a sharpened edge (or an unsharpened edge if you so choose). This allows this kukri to perform stabs, lunges and backhand thrusts like no other kukri. The integral guard ensures that your hands stay safe and comfortable while performing all manner of tasks. The ridges on the back of the spine can be used for cutting square notches, which are invaluable for making traps as well as acting as an ideal surface for striking fire steels against in survival situations. Finally, the traditional Cho or blood drip's shape has been altered so that now it can also be used as a bottle opener when you need to relax after a hard day of hacking down trees or hacking up the infected. (WARNING: clean zombie blood off prior to cracking open a cold one.)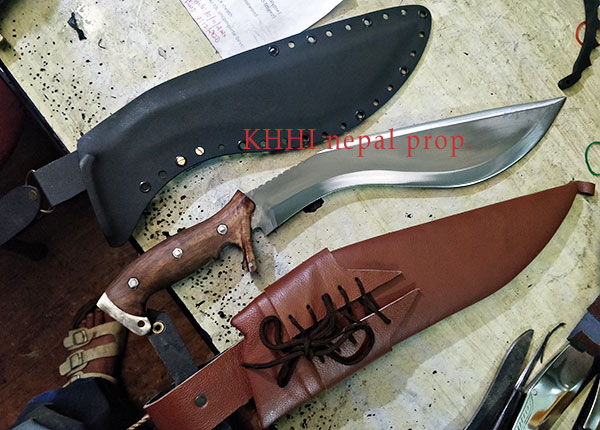 Handle: This particular full tang handle is a first for Khukuri House, as the rosewood scales are carved ergonomically to match the contours of the human hand. This provides greater grip retention with less effort, meaning less fatigue when performing tasks around your camp or hacking through hordes of the living dead. The over-sized handle has been specially designed with multiple hand grips in mind. Grip the handle close to the guard to angle the blade better for penetration during thrusts and for a more controlled balance. Hold it closer to the pommel for greater force and reach, ideal for splitting wood or cleaving a zombie's face in two. The Scourge's pommel is formed into a massive skull crusher. This devastating point can focus all the weight of the kukri onto a zombie's head, ensuring that you're never left without an offensive option when put into a compromising position. This skull-crusher also features a lanyard hole in which a lanyard thong can be inserted thru to wrap around the user's wrist. This makes sure you never leave behind the knife.


Sheath : The sheath is made different which comes as a added bonus of the knife. It is crafted comfortably for easy draw-in draw-out and has the attached belt loop that also makes carrying easy. The sheath is made stylish, very attractive with very nice looking chape and use of shoe lace in the front.
SPECS: (SEE THE BLUEPRINT IMAGE TO KNOW EVERY PART IN DETAIL)
Size of Blade: 13 inches approx.
Size of handle: 5.5-6 inches approx.
Weight of knife (blade + handle): 775 gms approx.

Material: Stylized sheath, sharpened/ false back edge, ergonomic rosewood handle, integral finger guard, bottle opener cho, firesteel notches, skull crusher, hammer pommel section, lanyard hole

Origin: Khukuri House, Kathmandu, Nepal (released on 26th March 2013)
Reviews (2)
Write a Review
Give us your valuable review on our items.
Dangerous beauty!!!!
| 24th April, 2020 | Olivier
France
---
Impressive double-edged knife (you have to be careful, because you can forget about it!). It is heavy in hand, but balanced. Good grip. The guard is "full tang"!! Suffice to say that it's solid! And we receive the photos of the manufacturing. It's great. I recommend!!
---
Edge in front not so good
| 29th December, 2019 | Mario
Germany
---
This Khukuri is heavy, and the edge of the handle feels as is going to break not too sure about the double edge sharp areas you got to be careful cutting anything as you swerve and whatever you hit will get cut Iknow that's is why is call the zombie I guess ., the leather case has come apart in different great as it's not suitable to carry around seem flimsy. Would not really recommend unless this is a must in your arsenal
---
See Other Amazing Products Too...