ChainPure Khukuri (Gurkhas' favourite Knife)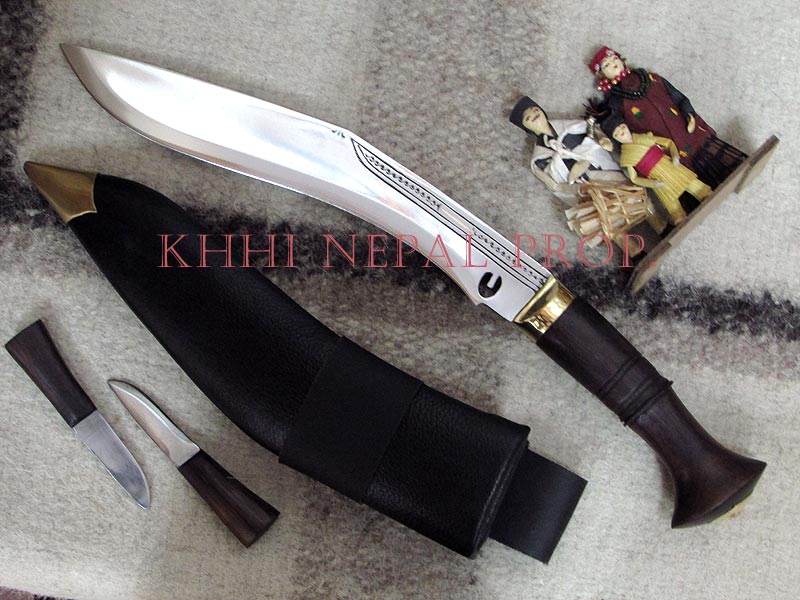 Share
ChainPure Khukuri (Gurkhas' favourite Knife)
Chainpure, the domestic knife of farmers in the villages of Nepal; is also Gurkhas' new favourite knife..
Blade Length (in): 10
Handle Length (in): 5
Blade Steel: 5160
Handle Material: Indian rosewood
Sheath: Water buffalo leather
Actual Weight (gm): 450
Overall weight (gm): 650
Shipping weight (gm): 950
Blade sharpness: Standard (very sharp)

Blade thickness (mm): 8
Edge grinding: Semi convex
View More
Sheath: Water buffalo leather
Actual Weight (gm): 450
Overall weight (gm): 650
Shipping weight (gm): 950
Blade sharpness: Standard (very sharp)

Blade thickness (mm): 8
Edge grinding: Semi convex
Edge Hardness: 55-57 hrc
Blade (panel) Grinding: Full Flat
Blade finishing: Polished
Handle finishing: Polished
Tang type: Stick
Fixture: Brass
Accompanying knives/B-up: Karda Chakmak
Place of Origin: Chainpur, Nepal
View Less
Chainpure khukuri is popular in Nepal as a useful domestic knife for everyday use...
modern Gurkhas are fond of Chainpure which has made it more famous...

Light, effective, durable.. forged for everyday domestic and household purpose ...
The "Chainpure" name is named after the hometown of Chainpur village located in the Eastern part of Nepal where this knife is exclusively made. Kukris belonging to Chainpur are slimmer and lighter hence very easy to work with and carry around. Since the kukri is specially designed as an everyday household knife-cum-tool for the farmers, its light and slender features help its owner accomplish the job in quick time with less effort. Its a significant part of a farmer's everyday life to perform his daily rural duty as a bread winner.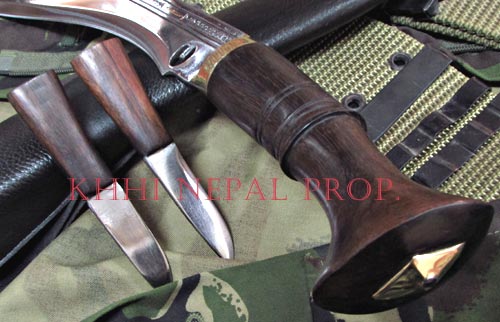 Blade: The blade is slender and more on the pointed side with patterns along the upper shoulder to beautify the look. It has a pronounced peak in the center of the spine to denote the mountains (Himalayas) that is holy to the man. The sleek blade profile cuts weight and makes cutting easy as it exposes the sweet point. The blade is made bit straighter to facilitate stabbing.
Notch: The notch of this kukri is made different, like a see-through hole in the shape of a cow's hoof, which is regarded holy in Nepal. The hole or notch also symbolizes the Symbol of Fertility, OM, symbol of lord Shiva. Hindus also believe that the unique and religious notch bring good luck, fortune, prosperity, and salvation. A nozzle is also forged just in front of the notch to work as a blood dripper.
Handle: The Chainpure also has a different handle. The regular metallic bolster is discarded and replaced by an ace-shaped keeper to secure the tang at the butt section. Fine contours of the handle provide easy and stronghold. It has a well flared up butt to assist in grip. The regular rings and ridge support better handling.
Sheath: Sheath is kept traditional, made with buffalo leather and holds Karda and Chakmak.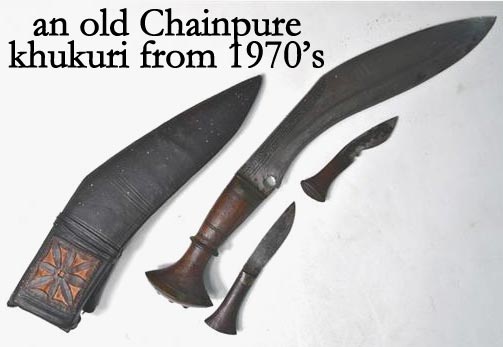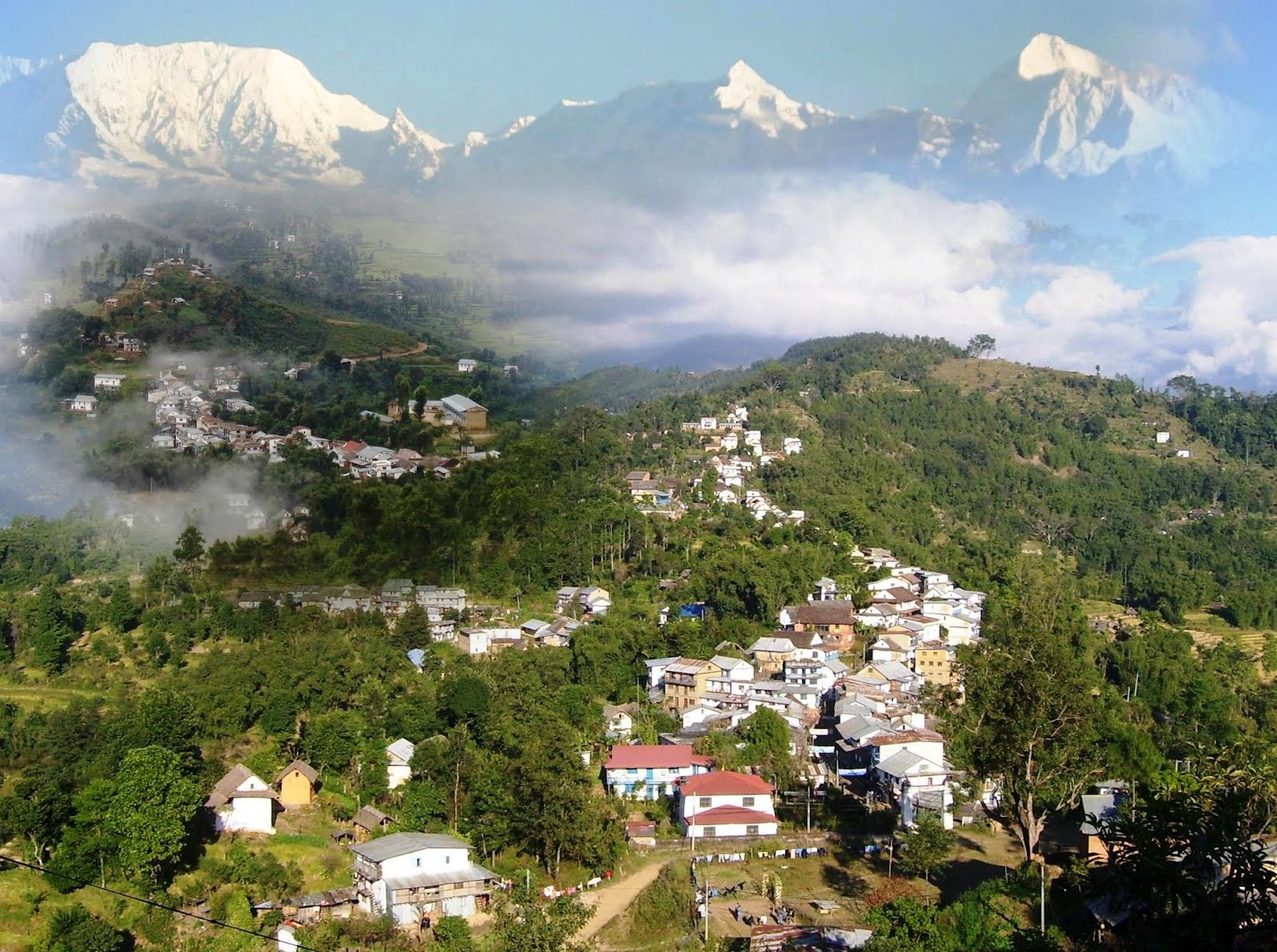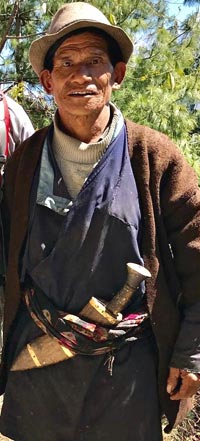 As far as the history of Chainpure kukri goes... a very little is known... its lost in time. Lack of documentations, no images or even old photos showing the khukuri give us no clue about the historical facts. Its obvious that the kukri was either not popular or was not made in those old days or even did exist then perhaps was used in very limited scale in limited places with very little human access. The knife probably originated around 1950's but this cannot be independently verified. The kukri only got popular around late 1980's, thanks to the standardization of kukri market and accessibility of various medias. Gurkhas carrying the knife in various places for various military objectives also helped famed the kukri quite a bit. Chainpure has come long way from being a typical farmer's knife to becoming a soldier's battle front knife.
the ChainPure Khukuri: Gurkhas' new favorite knife..
New Gurkha soldiers are really getting fond of this knife and widely using it as their no.2 knife instead of the official version. For field, training, exercise and even in combative purpose soldiers can make their choice and carry what they prefer. Most of them opt for the khukuri but of course in various sizes as they prefer, but staying with the "Chainpure" format. The shape of the khukuri is sleek, pointed and less curved with good balanced weight hence its very effective cutting and stabbing knife (very crucial for close counter fights). The handle is also very comfortable and provides strong grip because of its flared up bottom. Also the "No typical notch" becomes an advantage of the blade as some soldiers say it's pointed ends pick up things causing nuisance. Nonetheless most would go for a modern sheath made from Kydex or with any kind of Western Leather sheath. It is also the official standard No.2 issue pattern of the famous Singapore Gurkha Police Force.

CARRY A CHAINPURE TO CONTINUE THE GURKHAS' COMRADESHIP...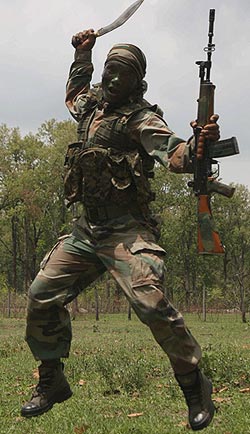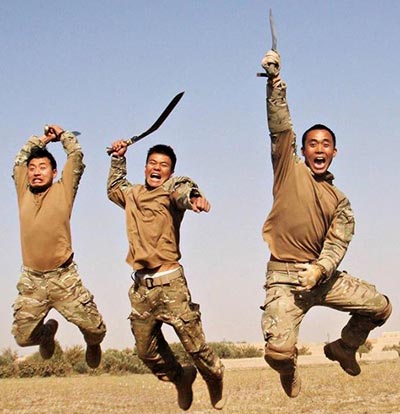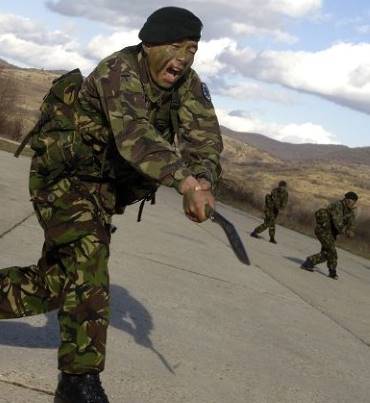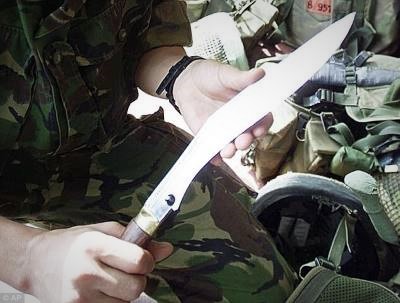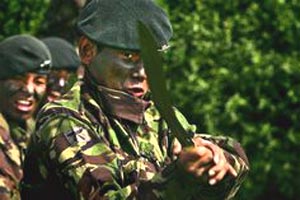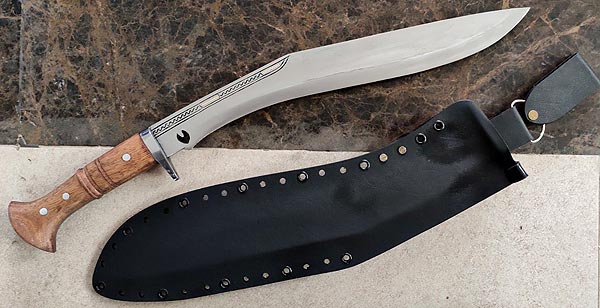 Size of blade: 10 inch approx.
Materials: Water buffalo leather scabbard, Indian rosewood handle, 2 x small knives
Origin: Chainpur, far Eastern Nepal (now made at Khukuri House)

Reviews (1)
Write a Review
Give us your valuable review on our items.
Chainpure 10"
| 15th January, 2020 | Waldemar Lemos
126 Yanyula Drive/Anula
---
Excellent Design. Very Comfortable to Handle. Excellent Price for an Amazing Khukuri. I Really Appreciate the KAMI for His Work of Art. This KHUKURI is my Family Now. Thank you to KAMI ARJUN BARAILY.
The Delivery from DHL company just arrived at my House with the Military 10" (Camouflage) KHUKURI. Thank you for this Beautiful KHUKURI. I now own this KHUKURI and the 10" Domestic (Chainpure) KHUKURI. Beautiful Work of Art. I Really Appreciate This Knives.
---
See Other Amazing Products Too...