Military Kothimora Kukri (Gurkha Tribute)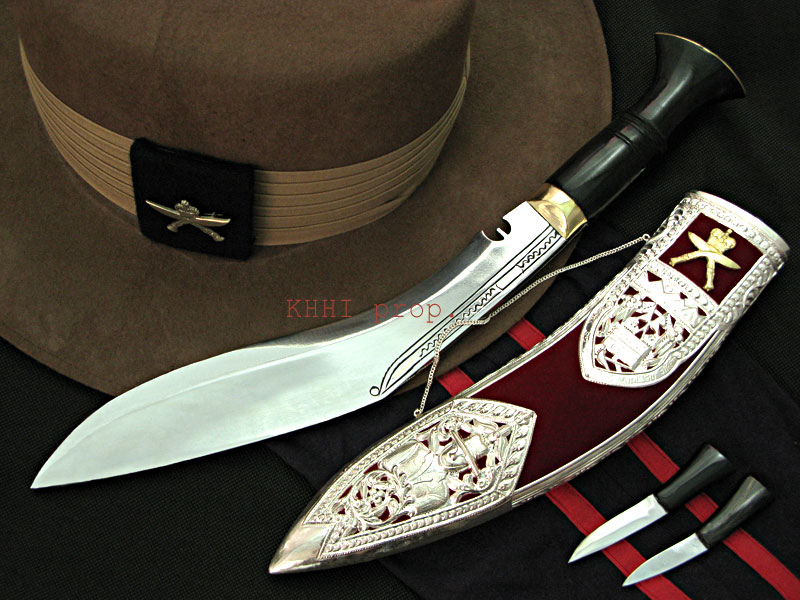 Share
Military Kothimora Kukri (Gurkha Tribute)
Great service deserves an equally great tribute. Admire and appreciate it with this beautiful Kothimora...
Blade Length (in): 10.5
Handle Length (in): 5
Blade Steel: 5160
Handle Material: Horn
Sheath: Pure Silver
Actual Weight (gm): 550
Overall weight (gm): 735
Shipping weight (gm): 1035
Blade sharpness: Standard (very sharp)

Blade thickness (mm): 8.5
Edge grinding: Semi convex
View More
Sheath: Pure Silver
Actual Weight (gm): 550
Overall weight (gm): 735
Shipping weight (gm): 1035
Blade sharpness: Standard (very sharp)

Blade thickness (mm): 8.5
Edge grinding: Semi convex
Edge Hardness: 55-57 hrc
Blade (panel) Grinding: Full Flat
Blade finishing: Mirror
Handle finishing: Polished
Tang type: Stick
Fixture: Brass
Accompanying knives/B-up: Karda Chakmak
View Less
Military Kothimora Kukri is presented as a tribute of service to the Gurkha Soldiers; a perfect gift for those in uniform...
Kothimora or Kothimoda kukri in British Gurkhas has a long tradition of giving it away as a token or memento of appreciation from the army/comrades to the retiring officers. A special silver scabbard kothimora kukri often mounted with the regimental cap badge is given as a gift to honor the retiring officer for his long, loyal and extra ordinary service to the army. Military Kothimora Kukri is not an official army kukri but the personnel come together on their own and gift this kukri to their colleague. This is customary that started in Brigade of Gurkhas somewhere around late 1950's. This special khukuri from his friends will remind him of his army life, regiment, colleagues and all the hardship, skill and success he had in his army career as a worthy soldier/man. This exclusive knife will remain with the receiver throughout his life and beyond.

Khukuri House embracing the exact theme came up with this innovative "Military Kothimora Kukri" for this very occasion and for the very man himself. Its sheath is made from pure silver filigree beautifully showcasing a Gurkha's background, his tradition, his faith. This kukri truly honors the man and shines in the occasion. Also a special traditional styled fully functional kukri blade is fitted in the sheath that nicely backs up the sheath and the occasion.
How a Kothimora is made? What does the silver sheath include?
On the scabbard nearby the throat, his "Regimental cap badge" mounted (gold plated), for which he gave most of his adulthood and at the same time accomplished so much. The central carving/molding section defines him, his root, his culture and his background. "Hills and mountains" with the sun rising up at top, is where he lives - "Laligunras" or "Rhododendron" which he grew up seeing and playing - His small "Hay thatched mud-made home" where his heart always is - His "Halo" or "oxen-drawn plough" by which he makes a living and looks after his family – a set of "Two Nepalese crossed flags" refers to his unconditional love for his country and countrymen - Last but most important, his principle and also the famous Gurkha proverb, "Kaphar hunu bhanda marnu nai jaati" or "Better to die than to be a coward" in English, that he lives and dies by it; courage over cowardliness and death over shameful life. The bottom front tip (chape) section exhibits a typical "Gurkha" in uniform with his famous and signature Gurkha Hat. This figure is decorated by flowers and leaves and overlaid by circular carvings in boundary, to pay tribute and respect to the honorary man.
Right behind the Gurkha figure is a "Khukuri" displayed over paddy plant, the signifier of a Gurkha (the Gurkha Knife) and his livelihood. The khukuri, synonyms of a Gurkha with which he created history and upheld the extraordinary Gurkha legacy. It is a traditional domestic and a fierce weapon at the same time in a hand of a Gurkha. A Gurkha without a khukuri is unimaginable and incomplete. Thus a "khukuri" is exhibited in the Kothimora as without it it would not have been complete. Attractive traditional carvings are also imprinted all over the scabbard to beautify and adorn the whole look. A silver chain is also fixed in the front edge of the scabbard to further enhance the beauty that also gives an attractive look when put on stand for display. All the silver work is laid out over a special smooth velvet background that varies according to the regiment's regimental color.

Military Kothimora Kukri (Gurkha Tribute) comes with a standard kukri knife made from high quality materials and made by skilled Kamis. The blade is very much usable and carries all the features required to be a perfect working and ware fare kukri. The high polished fixtures and well done horn handle brilliantly suits the scabbard. It is an outstanding tribute to this amazing soldier and his legacy that the whole world knows him as the legendary Gurkha.

Normal Tree branch Stand comes free with this kukri.

Size of blade: 10.5 inch approx.
Materials: Pure Silver scabbard, buffalo horn handle, gold plated regimental cap badge, special smooth velvet, 2 x small knives
Released on: 14th July 2008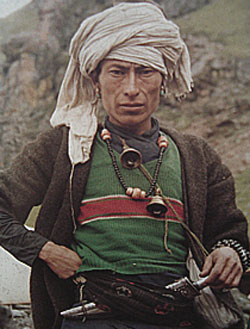 [a villager with Kothimora; This interesting photo taken in mid-1980's shows a hill man with Kothimora kukri. He is probably carrying the kukri to not only use it but also to express his social status. He most likely belongs to the higher end of a social community (structure)]

Reviews (0)
Write a Review
Give us your valuable review on our items.
See Other Amazing Products Too...