Dragon Decorated Blade (Bhojpure Kukri)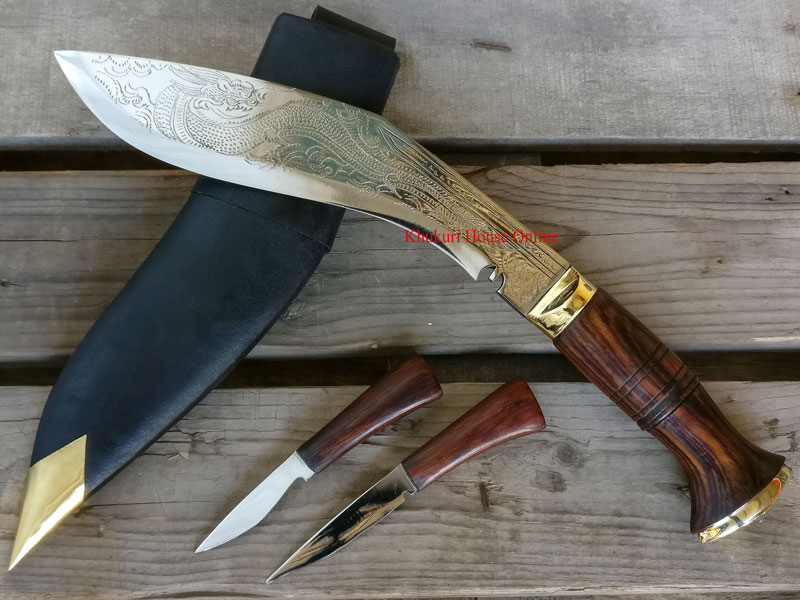 Share
Dragon Decorated Blade (Bhojpure Kukri)
Famous Bhojpure kukri gets its blade beautifully decorated by Dragon carving..
Blade Length (in): 10
Handle Length (in): 5.5
Blade Steel: 5160
Handle Material: Rosewood
Sheath: Water buffalo leather
Actual Weight (gm): 575
Overall weight (gm): 825
Shipping weight (gm): 1175
Blade sharpness: Standard (very sharp)

Blade thickness (mm): 10
Edge grinding: Semi convex
View More
Sheath: Water buffalo leather
Actual Weight (gm): 575
Overall weight (gm): 825
Shipping weight (gm): 1175
Blade sharpness: Standard (very sharp)

Blade thickness (mm): 10
Edge grinding: Semi convex
Edge Hardness: 55-57 hrc
Blade (panel) Grinding: Full Flat
Blade finishing: Polished
Handle finishing: Polished
Tang type: Stick
Fixture: Brass
Accompanying knives/B-up: Karda Chakmak
Place of Origin: Bhojpur
View Less
A perfect gift & display kukri. Also, an occasional performer when duty calls...
The blade of the famous Bhojpure kukri is further decorated with the hand carved Dragon on both sides to make it more beautiful and iconic.
Birth of Dragon Kukri
Khukuri House (KH) initiated the production of the dragon kukris back in 1990's, when Lalit Kumar Lama (the ex-Gurkha) was heading the charge. He realized kukri's became popular as a souvenir craft in western society and decided to give new look and showcase the Nepalese craftsmanship. The dragon carving is done to make the blade more attractive and beautiful as a present or to showcase.
The dragon also symbolizes power, strength, and good luck in East Asian Culture. The dragon carving in Nepal is mostly done in Kathmandu valley, in the Newar Community, who are well known for their artistic cultural history. They carve wood, metals, and stones with basic tools and bare hands. This particular kukri is also carved by a local popularly known as 'Dragon Man'.
popular 'Dragon-man' carving dragon on the blade.
Details of the kukri; blade, handle and sheath
Blade: This kukri is 10 inches (approx.) longer however wider and heavier than the standard army knives. The blade is also made thicker to ease and quicken the cutting action. Since it is basically a cutting knife it is made very simple. It is a modernized version of the Bhojpure kukri these days. It has well polished overall finishing done to give better look and appeal. The blade is carved with Dragon on both sides to give artistic look.
Handle: The handle is kept simple for everyday use. It has rosewood handle with brass pommel fixed at the bottom and bolster in between the handle and blade. The brass fixtures which are also well polished give fine look to the handle.
Scabbard: Sheath of this kukri is simple and traditional made of black leather from water buffalo hide. The brass chape is fixed at the tip to give a matching look but also protects the tip of the kukri. The scabbard is designed in a traditional way to include two small knives along with.
Accompanying Knives: 2 small traditional knives, Karda and Chakmak, come with the main kukri. Since origin these two mini knives have accompanied the kukri, used mainly for sharpening and doing small works.
The story behind the name 'Bhojpure'
This Kukri gets its name from a far eastern hilly village Bhojpur in Nepal, where farming is the prime source of livelihood and is equally famous for its locally made kukris that are used every day in village life. There are a lot of different kukris made in this village however "the BhojPure" originated about few centuries ago is the most famous of all. It is more than just a cutting weapon for a farmer. Kukri in this part of the place is his everyday partner and like his guardian angel.
Major Use/ Purpose
A complete functional kukri for cutting and utility works; dragon carved blade performs as a regular functional kukri
Traditional use in festivals, rituals, marriage in Nepali Culture and society; evil hunter and safeguarding its companion
An ideal gift kukri; presentable kukri due to the beautifully carved blade; an honored showcase item
Reviews (0)
Write a Review
Give us your valuable review on our items.
See Other Amazing Products Too...