Famous BhojPure Khukuri (Iconic)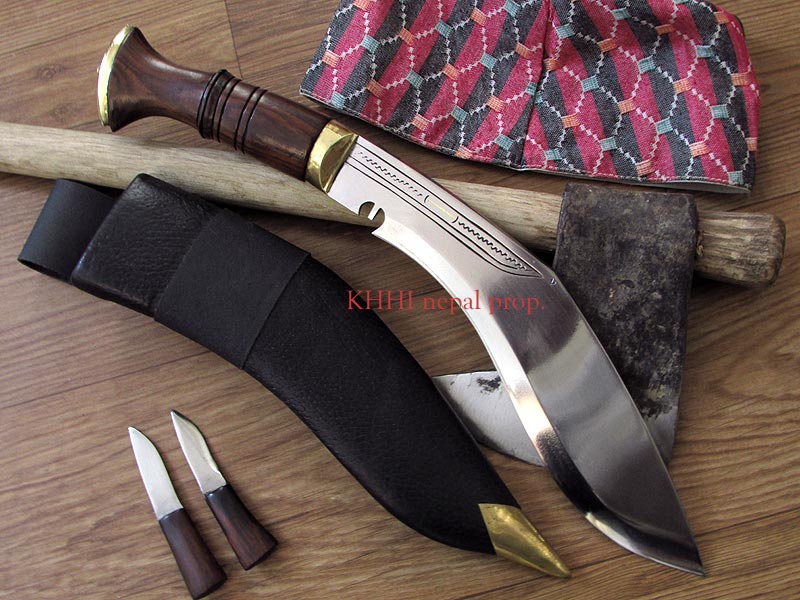 Share
Famous BhojPure Khukuri (Iconic)
the most famous and iconic kukri, heartily loved by all Nepalese..
Blade Length (in): 10
Handle Length (in): 5.5
Blade Steel: 5160
Handle Material: Rosewood
Sheath: Water buffalo leather
Actual Weight (gm): 575
Overall weight (gm): 825
Shipping weight (gm): 1125
Blade sharpness: Standard (very sharp)

Blade thickness (mm): 10
Edge grinding: Semi convex
View More
Sheath: Water buffalo leather
Actual Weight (gm): 575
Overall weight (gm): 825
Shipping weight (gm): 1125
Blade sharpness: Standard (very sharp)

Blade thickness (mm): 10
Edge grinding: Semi convex
Edge Hardness: 55-57 hrc
Blade (panel) Grinding: Full Flat
Blade finishing: Polished
Handle finishing: Polished
Tang type: Rat-Tail
Fixture: Brass
Accompanying knives/B-up: Karda Chakmak
Place of Origin: Bhojpur
View Less
BhojPure - a Famous and Iconic khukuri of Nepal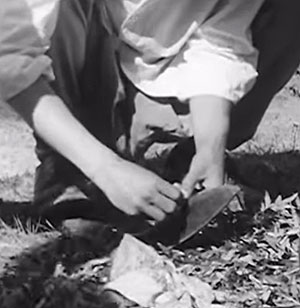 Bhojpure is probably the most famous khukuri of Nepal. Bhojpur is a small village in far eastern Nepal where people live a quiet farmer's life in co-ordination with the nature, a kind of "live and let live" type of aurora. Their everyday routine of performing household choirs and various farming activities that involve a sharp edge is accomplished by a locally forged kukri; the "BhojPure". Along with other essentials farmers carry their personal BhojPure Kukris, and by it do just about anything that is required from a sharp edge and metallic tool to make a successful living.
The HISTORY of Bhojpure and similar kukri goes long time back but sadly no exact dates and details as it was never documented. It should have been in the hands of users since mankind first came to know about this amazing knife. Here we could be talking about ancient times around 500 BCE when Kirants ruled. We all know they carried long knives and they were typical farmers. The old Bhojpures were longer, broader and came with steel fixtures and most often half tang in the handle. It was crude, very basic but most useful to farmers, something they could really depend on. The "BhojPure" khukuri offered here is a modern version that came into existence in around 1980's. Unlike its forefathers it is fancier and a bit modernized to adapt with the change of time, conditions and demand.

Original century-old kukri, the Bhojpure;
widely used by all people from all professions for all works that have need for a sharp edge.

Blade: It is 10 inch long on the broader side of blade profile with polished finishing. The blade is fatter, heavier, thicker than army models. This adds to weight and thus powerful swing making cutting easy, quick and lethal. The blade has some designs on both sides by the bolster near the spine as shown in the image. It has a regular bevel and typical notch like most kukris.

Handle: The handle is traditional in parawal version (rat-tail tang) and comes in wood. The hidden goes inside the wood and comes thru the other end hence it is FULL tang. Epoxy mixed with wood dust, brass pommel, bolster and keeper are used to complete the handle fixture. This typical handle format having several rings and a center ridge provides easy and strong grip.

Sheath: It has a normal black leather scabbard with a carry frog. The set up is traditional having wooden frames inside wrapped by leather from outside with small knives' housing at the back of the throat. A brass tip is fitted in the tip of the sheath. This protects the tip and also gives a matching look with the handle.

Small knives: Bhojpure comes with two traditional accompanying knives, KARDA and CHAKMAK. Karda is a small knife meant for small games (cutting) where as Chakmak has both edges blunt which can be used as an emergency sharpener. However both of these are last optional knives.

Reviews (1)
Write a Review
Give us your valuable review on our items.
| 5th June, 2019 | Anshul Soni
Indore, M. P., India
---
It was my childhood wish to have a khukuri, when i was small i use to make wooden khukuris to play, but now because of u people specially Gopal Ji, i have my own Iconic Bhojpure khukuri thank u so much best of luck to Gopal Ji, Mr Tamang and rakhu thank u once again..
---
See Other Amazing Products Too...