15 inch Large Machete Kukri (Chitlange)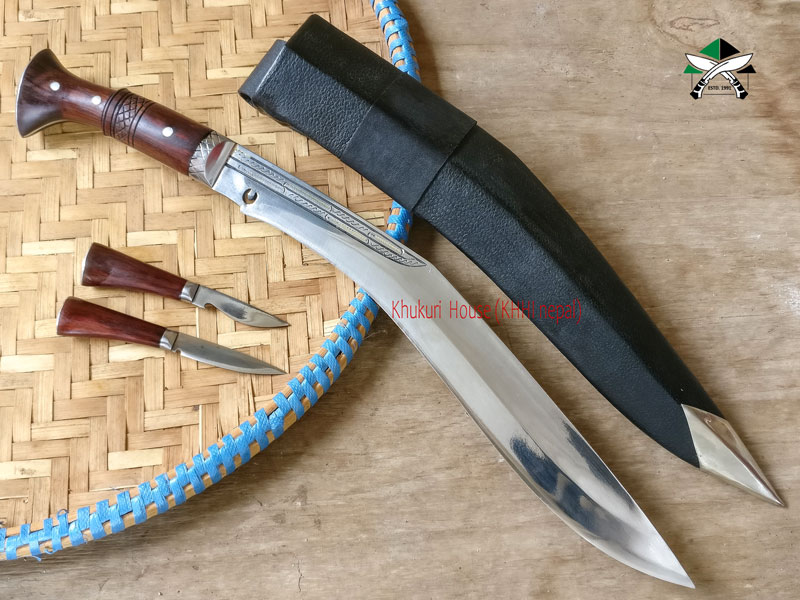 Share
15 inch Large Machete Kukri (Chitlange)
Kukri in full machete size for various circumstances and situations, in famous Chitlange format...
Blade Length (in): 15
Handle Length (in): 6
Blade Steel: 5160
Handle Material: Indian rosewood
Sheath: black leather
Actual Weight (gm): 775
Overall weight (gm): 1100
Shipping weight (gm): 1600
Blade sharpness: Standard (very sharp)

Blade thickness (mm): 9
Edge grinding: Convex
View More
Sheath: black leather
Actual Weight (gm): 775
Overall weight (gm): 1100
Shipping weight (gm): 1600
Blade sharpness: Standard (very sharp)

Blade thickness (mm): 9
Edge grinding: Convex
Edge Hardness: 55-57 hrc
Blade (panel) Grinding: Hollow
Blade finishing: Polished
Handle finishing: Polished
Tang type: Full Flat
Fixture: Iron
Accompanying knives/B-up: Karda Chakmak
Place of Origin: Chainpur, Nepal
View Less
Use it n' feel the difference; be a proud owner of the Large Machete Kukri today!
Chitlange kukris are well known for their beautiful look, very functional blade, and well balanced weight. Its LARGE yet LIGHT.
This machete sized kukri comes in the classy "Chitlange" version but modified for better performance and finer look. This large kukri-machete belongs to the Chainpure family. Chitlanges originated in 'Chitlang" which is a small village in Nepal that is renowned for its kukris. This 15" long blade size is specifically picked up for better coverage and reach. The main objective here is to cover more area of the object or also to strike from fairly far distance. This range in the blade makes it both, a brutal lethal knife yet a subtle domestic knife at the same time. A perfect piece for wilderness or warfare, be it in jungle terrains or behind the enemy lines.
What makes this Chitlange the Ultimate Machete Kukri?
The blade (15 inch) is made longer for better coverage/reach. The large bevel that is crafted from tip area towards the notch makes this kukri special. It cuts deep and can penetrate well inside an object making any cutting tasks quick and easy. The panel of the blade is also forged shallow (deep fuller like) mainly for 2 reasons. 1) To cut down weight and give a balanced feel to the blade 2) to withstand the impact felt by the edge during hard strikes as the hollow grounding observes the tension created in impact. The kukri has its own signature see thru hole in the ricasso in the shape of a cow's hoof. The nozzle in front of the hole is a blood dripper. The blade has hand engraved patterns and in-lays done to decorate the kukri. Chitlange kukri has great religious and cultural value.

The handle is a Panawal (full flat riveted tang) type, hence very solid and durable. It has a typical kukri style handle profile that gives easy and secured grip. The middle ridge and number of rings (straight and cross) present in the handle also assist in better holding. The full flat tang goes all the way down to the bottom of the handle which is fixed (completed) by butt cap and its keeper. Both the blade and handle are well polished for smart look.

Sheath: The black leather case is given a fresh new touch where the front body (Panel) is crafted triangular unlike other sheaths. This is actually the signature of a Chitlange kukri. This not only gives a better look but also helps in easy operation of the sheath (draw in-out). The metallic tip fixed in the scabbard adds beauty and protects the leather.

Accompanying Knives: Special type of Small knives are fitted that come with metallic fixtures. This totally matched with the mother blade. One is a small utility knife called KARDA and the other one is a sharpener called CHAKMAK. Karda has sharp edge while Chakmak has blunt edges to make sharpening possible.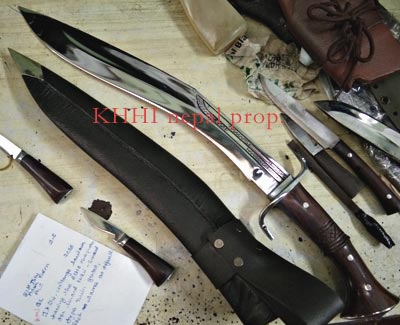 Reviews (0)
Write a Review
Give us your valuable review on our items.
See Other Amazing Products Too...