Nepal Dhankute Horn Khukuri (Ornate)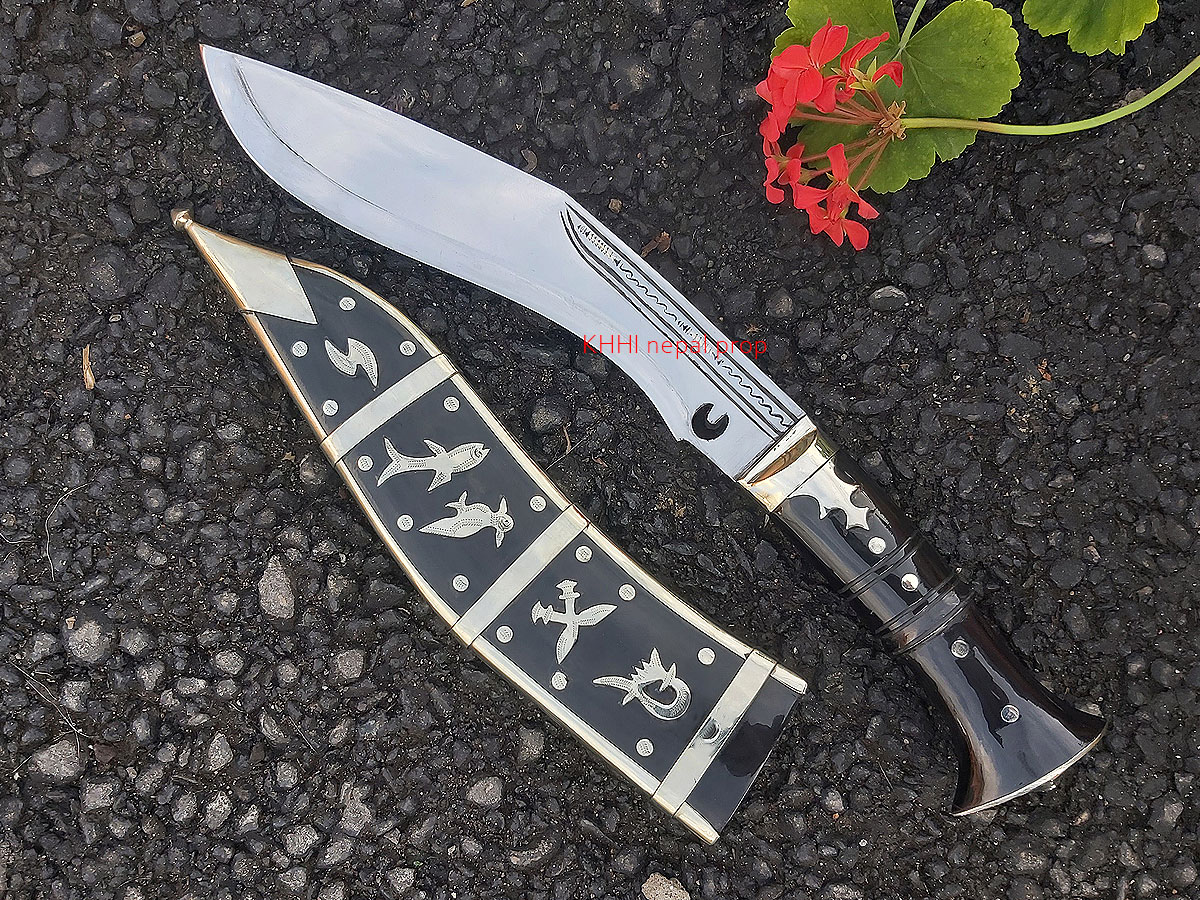 Share
Nepal Dhankute Horn Khukuri (Ornate)
An exclusive Dhankute kukri from Dhankuta village, Nepal with decorated horn sheath depicting various national symbols and images..
Blade Length (in): 9
Handle Length (in): 5
Blade Steel: 5160
Handle Material: Horn
Sheath: Water Buffalo horn
Actual Weight (gm): 350
Overall weight (gm): 550
Shipping weight (gm): 850
Blade sharpness: Standard (very sharp)

Blade thickness (mm): 7
Edge grinding: Semi convex
View More
Sheath: Water Buffalo horn
Actual Weight (gm): 350
Overall weight (gm): 550
Shipping weight (gm): 850
Blade sharpness: Standard (very sharp)

Blade thickness (mm): 7
Edge grinding: Semi convex
Edge Hardness: 55-57 hrc
Blade (panel) Grinding: Full Flat
Blade finishing: Polished
Handle finishing: Polished
Tang type: Stick
Fixture: Brass
Accompanying knives/B-up: None
Place of Origin: Dhankuta
View Less
Ornate kukri; Nepali Dhankute Khukuri with traditionally decorated horn scabbard and horn handle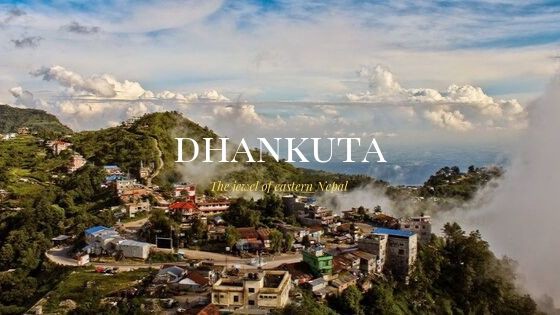 Named after the small hilly village of Dhankuta in eastern Nepal, this Kukri is renowned for its iconic scabbard. Its exclusive scabbards made out of natural materials like horn and wood represents the village and country as a whole. It originated long time ago but sadly details and facts are lost amidst the ever changing time and human negligence. It is only after late 1950's Dhankute kukris started to emerge in main stream and people started to document it. The kukri was actually created to full fill the necessity which later became a work of art for the makers and a recognition of the village. Dhankute people are mainly farmers, always surrounded by plants and animals. Their main animal, water buffalo, is one of the main sources of livelihood. When a buffalo dies its horn is used to make the kukri's sheath and handle. Initially the sheath was a need which gradually became craft; an exhibition of art, and soon a profession. The trend continued for years and people perfected their talent.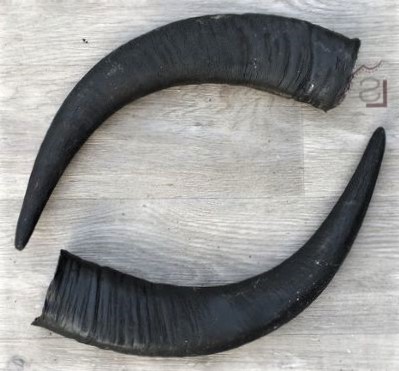 "Nepal Dhankute Horn Khukuri (Ornate)" is mainly for decorative purpose but it can also be used with no issue. The blade is very much usable as it contains all the ingredients and process of a perfect cutting knife. The balance and feel is superb. The knife is best suited for light and regular work. The shape of the kukri falls on the slender profile making it light and handy. The scabbard on the other hand is its prime feature that adds value and uniqueness to the kukri. Dhankute people are well known for their craftsmanship which can be clearly seen on this kukri knife. The natural buffalo horn is painstakingly worked for hours before it finally comes in the desired shape (a kukri's sheath). Then it is beautifully decorated by various metal fixtures and images to complete the sheath. The outcome is pure class and something to get proud of. The DhanKute kukri is the culmination of that great skill hence named 'Ornate' due to its well decorated (ornamented) scabbard.

The sheath gives life to the kukri and images in it give soul. The symbols are mainly national figures but other religious and cultural images are also mounted which entirely depends on the maker's mood and personality. It may vary from scabbard to scabbard but mainly include:
Gurkha insignia (crossed Kukris)
Crown of the King, Shree-pech
The national fish, Aasla
The national bird, Danfe
Symbol of a temple (Pashupati Chaana)
The holy sword: Trishul (Trident)
The national flower, Lali Gurans (Rhododendron) commonly called as 'LaliGuras'
Mountains (Himalayas)
Holy River (Bagmati)
the OM sign of Hinduism
Map of Nepal
Flag of Nepal
Khukuri itself

** Please note images in scabbard may differ **

Size of blade: 8-9-10-11 inches (depending on the size of natural horn available)
Materials: Water buffalo horn scabbard and handle, brass/white metal bindings on edge and body
Origin: Dhankuta, Eastern Nepal

Reviews (0)
Write a Review
Give us your valuable review on our items.
See Other Amazing Products Too...