Gurkha Army Current Issue Service Khukuris (2020)
Gurkha Army Current Issue Service Khukuris (2020)
Gurkha Army Current Issue Service Kukri for the year 2020; 432 intakes; 2 khukuris for each soldier..
Blade Length (in): 10.25
Handle Length (in): 5.25
Blade Steel: 5160
Handle Material: Buffalo Horn
Sheath: Patent / Normal Leather
Actual Weight (gm): 515
Overall weight (gm): 725
Shipping weight (gm): 1125
Blade sharpness: Standard (very sharp)

Blade thickness (mm): 9
Edge grinding: Semi convex
View More
Sheath: Patent / Normal Leather
Actual Weight (gm): 515
Overall weight (gm): 725
Shipping weight (gm): 1125
Blade sharpness: Standard (very sharp)

Blade thickness (mm): 9
Edge grinding: Semi convex
Edge Hardness: 55-57 hrc
Blade (panel) Grinding: Full Flat
Blade finishing: Polished
Handle finishing: Polished / Unpolished
Tang type: Rat-Tail
Fixture: Brass
Accompanying knives/B-up: Karda Chakmak
Place of Origin: KHHI, Kathmandu, Nepal
Released date: 2020-04-01
View Less
Also Buy These As Set
New Gurkha Army Service Khukuris (2020); the current issue..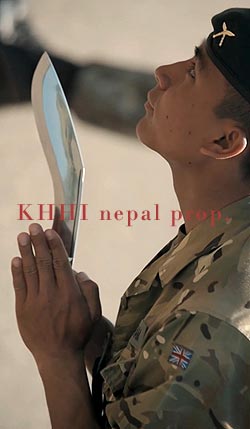 brief info ..
These are actually called BSI (British Standard Issue) or BAS (British Army Standard) sometimes. It is also known as MK5 (Military Khukuri 5th) in the Khukuri communities. This particular type of kukri knife is issued to new intakes (recruits) of the Brigade of Gurkhas of British Army. These official army khukuris are obtained from different local makers through the annual open tender organized by BGN (British Gurkhas Nepal, stationed in Nepal to serve British Army, UK). All the supplied khukuris from various competitors are well inspected before it is approved by a panel of British and Gurkha officers at BGN. Then the selected party is notified and things are undertaken as per the terms of the contract. Unlike previous years, the official khukuris of this year are engraved (stamped) with "INTAKE" (in one side) and 2020 (in other side) of each side of the blade. This year recruitment and selection process was delayed or rather happened later than it used to be. It started in the end of 2019 and completed by Jan 2020 end. There were a total number of 432 seats which is the highest number in recent years. There were two khukuris and a cap badge meant for each new recruit. As usual, Service No.1 khukuri for parade and duty (dress knife) and Service No.2 for using (training and combat knife). Similarly the usual cap badge of "Gurkha Company" in Catterick in UK under which the new intakes will train for 9 months before they become proper Gurkha soldiers. All the official khukuris particularly from early 2000 have been very identical except for few minor detail in shape, size and weight. This is majorly due to the knife being 100% handmade and supplied by various contractors each year.
KHHI nepal's 2020 BSI army knives
The "New Gurkha Army Service Khukuris (2020)" are the exact reproduction of the official issue by KHHI Nepal done for public procurement. It is actually made better than the originals under strict quality control and system of the company. It is superior because it is not mass produced under limited time and made by various level of bladesmiths (makers) unlike with the supplier. We are very proud to offer these historic army knives to our buyers.

KHUKURIS explained >> know the knives…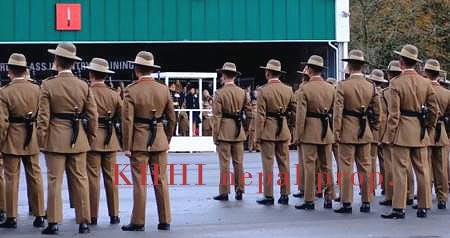 Service #1 (Full Polished with Shiny Patent Leather Sheath):
Issued as a Dress Knife for official duty and for parades and special army events. It is in fact a knife that remains with the soldier almost every time. Service no.1 khukuri is the prime khukuri that needs to be maintained very well as it is inspected every now and then. It carries the essence, charm and identity of a Gurkha. It is mostly worn in the center back of the waist. In an event called "Khukuri JaanchPass" soldier has to withdraw his khukuri from his back and submit the blade to his senior for inspection.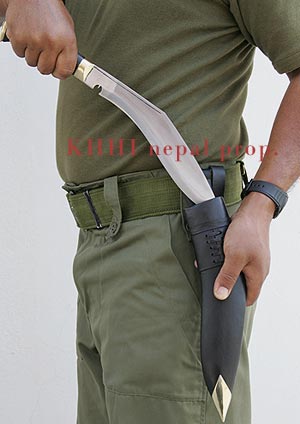 Service #2 (Unpolished with Dull Leather Sheath):
Issued as a utility knife for training and warfare activities. It is identical to no.1 however total unpolished finishing is adapted in it since it is used. The unpolished blade gives durability and avoids attraction to enemies whereas the unpolished handle gives stronger grip. Sometime its sheath is camouflaged by suitable fabric to blend the khukuri with the carrier's uniform. Unlike, the Service No.1 this khukuri is usually worn at the right side of the waist.

IMP NOTE::
Price is for ONLY 1 khukuri. Please mention which one in YOUR MESSAGE field in CHECKOUT page if you have bought only 1 piece. To buy both make quantity 2. 5 x FREE items with each khukuri (see the list above).

FREE items that come along with each khukuri >>
1. Gurkha Regimental Poster: 35.5 x 25.5 cm displaying all regimental cap badges of Gurkhas (post 1947)
2. Nepali national cap: The prestigious nepal cap (topi). This is the bhaadgaule version
3. Famous Cross Khukuri Cap/Hat Badge
4. Iconic Gurkha Badge that is wearable (Gurkha hat over Khukuri blade)
5. Locally made and very famous "Sancho" herbal healing oil for cold, cough, rheumatism, stuffy nose, fatigue, bodyache, muscular ache, headache, neuralgia, sprain, itching, cut and bruises


The HISTORY ..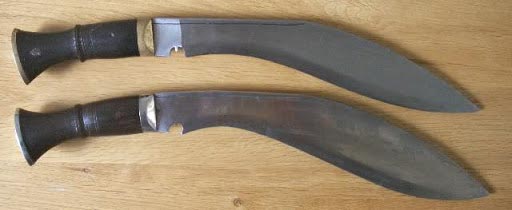 The history of service (BSI or well known as MK5) khukuri goes back to Indian Independence in 1947 when the "Brigade of Gurkhas" was formed by British Army from British Indian Army Gorkha regiments like 2, 6, 7 and 10th. However the 1st (proto) official pattern came to use only from late 1950's (ca 59-60) when British Gurkha Recruiting Center (Depot) was established in Dharan (east Nepal) to serve the British Army from Nepal. This is where the service kukri knife actually took a major development. Before that, between 1947-1958, any definite official pattern could not come out which are normally addressed as "Interim" khukuris in khukuri communities. It ranged from 10-11" in much simpler profile than its predecessors and were locally made in places like Gorakhpore, Barrackpore, Lehra and few in Dharan too. By the time first BSI was finally designed and approved it was recognized as a secondary weapon hence its features and usage were limited to more as a recognition item and utility tool. Each soldier was given one piece. The pattern continues till today but over its long years in service many variants came along from very poorly made to high qualitative ones. From early 1990's issuance of 2 pcs BSIs [no1 (duty/parade) and No2 (training/combat)] started. Today's BSI 2019-20 is the latest (current) service khukuris belonging to the British Gurkhas that has direct tie to the 1960's mother pattern. Horn handle, Brass fixtures, Twin loop frog, Karda (small knife) + Chakmak (Sharpening knife) have always been the common features of all BSI variants form then till today.

see the MAKING of BSI in this video. These are how most khukuris including the BSIs are made at KHHI Nepal
Reviews (2)
Write a Review
Give us your valuable review on our items.
| 22nd December, 2020 | Gergely
---
Dear Usha and KHHI,
I received my kukri and unwrapped it today.
I must say you have exceeded my expectations in all ways.
The kukri itself is a perfect mix of deadly beauty, it is really master crafted from blade to handle. The whole thing is very very practical yet beautiful. It cries for being used. I believe it will serve for a whole lifetime.
I'm also satisfied with the scabbard. Also thanks for the little bottle of Sancho and badges, it is a very welcome gift.
I will certainly be shopping again soon in your shop!
Best regards
Gergely
---
Highest quality gurkha army knives
| 16th November, 2020 | Pete Baggott
Folkestone, United Kingdom
---
Fantastic knife better than I expected will be buying from here again nothing to worry about with these people very perlite and very professional and top highest quality products and more thank you for my top experience will be back for more soon
---
See Other Amazing Products Too...