Multipurpose General Kukri (Mike King)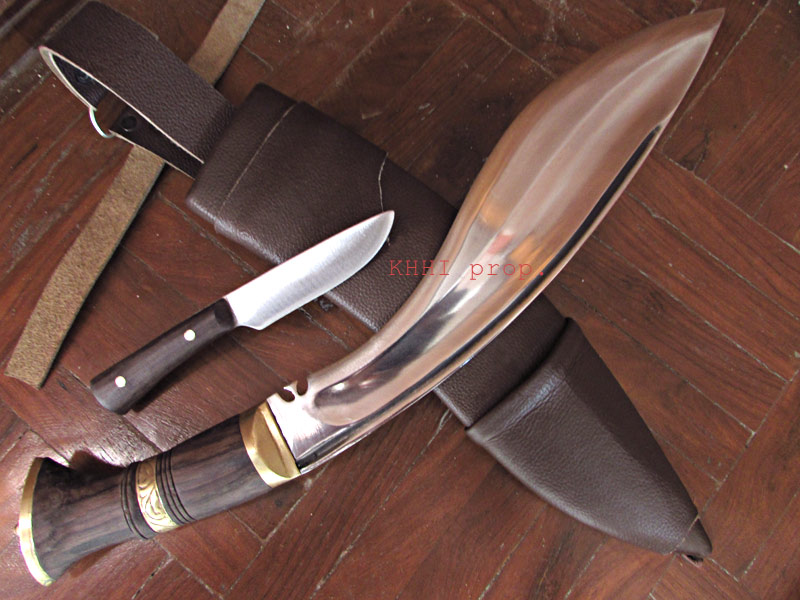 Share
Multipurpose General Kukri (Mike King)
Multipurpose General Kukri; a special project between Mr. King and Khukuri House, undertaken to make an ultimate all rounder knife..
Blade Length (in): 12
Handle Length (in): 5
Blade Steel: 5160
Handle Material: Indian rosewood
Sheath: Reddish-Brown leather
Actual Weight (gm): 525
Overall weight (gm): 810
Shipping weight (gm): 1200
Blade sharpness: Standard (very sharp)

Blade thickness (mm): 7
Edge grinding: Convex
View More
Sheath: Reddish-Brown leather
Actual Weight (gm): 525
Overall weight (gm): 810
Shipping weight (gm): 1200
Blade sharpness: Standard (very sharp)

Blade thickness (mm): 7
Edge grinding: Convex
Edge Hardness: 55-57 hrc
Blade (panel) Grinding: Hollow
Blade finishing: Mirror
Handle finishing: Unpolished
Tang type: Stick
Fixture: Brass
Accompanying knives/B-up: Back up knife
Place of Origin: Khukuri House, Kathmandu, Nepal
View Less
Multipurpose General Khukuri | Designer Mike King's Special Kukri Knife
To mark the milestone of being in business for 3 decades as the World's leading and original manufacturer of Traditional Nepalese Khukuri knives and to also celebrate the complete renovation of our old website khukurihouseonline (KHo), we would like to announce the addition of our exclusive kukri knife, the "Multi-Purpose General Khukuri (Mike King)! which is truly the answer and solution for all your cutting related issues in a knife. Its a dedicated multi tool and functional knife well designed and made for all kinds of games, tasks and works. The need of the right knife ends here for you...

The MPGK has been especially designed for use by Military and Outdoor professionals who always have a need for a good all-round multi-purpose bushcraft tool. Having said that it is also a common man's friend in hand should he require a sharp edge to cut or hack or slice. The kukri comes handy just about anywhere from kitchen to backyard to greeneries to deep into wilderness where ever a knife is desired.
It was designed and conceptualized by Mike King (Ex UK Special Forces / Fire Service) who is a knife enthusiast and collector. He owns several of Khukuri House models but he wanted more. Hence he tied up with Khukuri House, Nepal, and materialize his special knife project that he wanted not only for himself but also for people who seek for a good traditional very effective, and efficient kukri; a kind of knife for all and for everything. The addition of a backup knife gave strength, depth, and variation to the kukri on the other hand.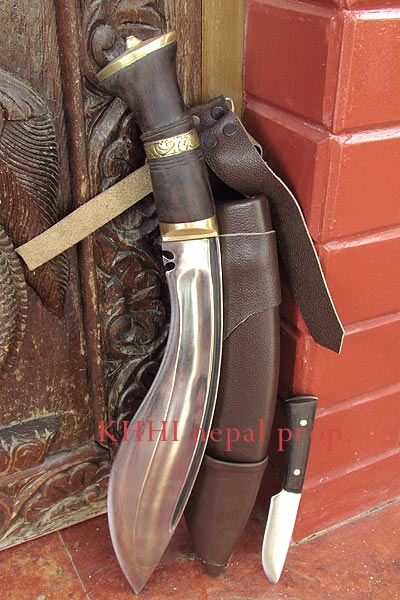 Technical explanation of Mike King's Kukri
The traditional Nepalese Khukuri shape has been retained for the BLADE but there are several design and manufacture features that have been integrated to help reduce the weight of this multi-purpose khukuri down to 525gms. The 5160 carbon steel is skillfully Hollow Grind (grounded) and made shallow to control overweight and give a great balance. This also works as chirra to back up the sharp edge and give durability by reducing the stress felt by it when cutting. Similarly its bevel is another extra feature which is not regular (see photo). It is forged taller in the sweet spot area to cut deeper. This uneven bevel also gives a unique and dashing look. The spine is 7mm thickness with distal taper. This gives good balance and great feel hence very comfortable to handle. The unique bottle-neck notch and longer fuller just below spine that runs along the body give it a signature look to the kukri.
The HANDLE on the other handle is typical but crafted slightly fatter for better hold even for larger hands. The fixture is full tang Stick version accomplished by thick brass pommel and bolster on each side. It is very strong and gives excellent support to the robust blade. The center brass binding that is done artistically in the middle of the wooden handle adds value and uniqueness to the overall set up.
The sheath is customized to give a unique and outstanding look. The traditional look of the scabbard is completely replaced. A unique strap button in the frog keeps everything together.

To compliment this khukuri there is also a solid companion knife (6.75" OAL) made from the same materials as the mother blade. The blade is full 3.5" long having a panawal version handle hand made for any finer tasks (small games) such as skinning, whittling, carving, crafting etc that may be difficult through mother blade. The companion knife is housed on the front (for easy access) of the sheath.
Reviews (2)
Write a Review
Give us your valuable review on our items.
| 27th December, 2021 | Will Burrows
Suffolk, England, East Anglia, UK
---
Gorgeous knife. I've had a few khukris and got this for my son. It feels considerably lighter than standard, but is bigger and very beautiful. The leather sheath is more practical, really sturdy and generally of the highest quality. The small knife is practical and really useful. It's all-in-all a wonderful version of the khukri and a tour de force of the makers' art. Congratulations to the designer and makers, and thank you very much.
---
Excellent working tool and artistic piece
| 27th February, 2019 | Robert Menard
Wisconsin, USA
---
I have one of the first 6 of these Khukuri that was offered by KHHI, designed by Mike King. I ordered it in Sept, 2017 as a trial run. Mine was made by Parshuram Biswakarma. I have put this knife to the test in the woods and fields around my home, summer and winter, including cutting frozen wood. The blade has never shown any hint of chipping and is an excellent cutter. It is heavy enough to do some heavy work an light enough to use all day long. Edge retention is as good as any knife I have ever worked with, combining razor sharpness with 5160 durability. The accessory knife is the best of all the khukri small knives and the sheath is designed well with the accessory knife on the lower, outside of the sheath, so it does not force the sheath out away from the body. The traditional sheath is modified to have some loops and snaps, making it more versatile in how it is carried. The snap loop makes it easy to take on and off without undoing your belt. The price of this knife is fantastic. A similar knife, especially handmade by an artisan, in the USA, would cost well over $500 USD. This is a perfect purchase
---
See Other Amazing Products Too...