British Military Kukri WW2 (MK3)
British Military Kukri WW2 (MK3)
The third Kukri knife issued to Gorkhas during 2nd World War (MK3); it is still being used by various Gorkha units in the Indian Army...
Blade Length (in): 13
Handle Length (in): 5
Blade Steel: 5160
Handle Material: Rosewood
Sheath: Water buffalo leather
Actual Weight (gm): 675
Overall weight (gm): 850
Shipping weight (gm): 1300
Blade sharpness: Standard (very sharp)

Blade thickness (mm): 7
Edge grinding: Semi convex
View More
Sheath: Water buffalo leather
Actual Weight (gm): 675
Overall weight (gm): 850
Shipping weight (gm): 1300
Blade sharpness: Standard (very sharp)

Blade thickness (mm): 7
Edge grinding: Semi convex
Edge Hardness: 55-57 hrc
Blade (panel) Grinding: Full Flat
Blade finishing: Polished
Handle finishing: Polished
Tang type: Full Flat
Fixture: Iron
Accompanying knives/B-up: None
Place of Origin: KHHI, Kathmandu, Nepal
Released date: 2009-02-02
View Less
Also Buy These As Set
Why MK3 kukri ?? its history and significance...
Gorkhas armed with the MK3 (military kukri 3rd) in World War days demonstrated such courage and military prowess that no enemy could ever beat. Their extraordinary military competence and determination to fight till death for duty and honor eternally enshrined themselves in the history book forever. These legends and almost unbelievable tales of the man and his kukri remain and will remain with mankind forever. With the MK3 in Gorkhas' hands they were the unstoppable force in the battle field with the zeal to kill or to die; duty before death. This reinforced the Gorkha's fearsome reputation during the Second World War and beyond and forever cemented themselves as the most feared soldiers of modern times.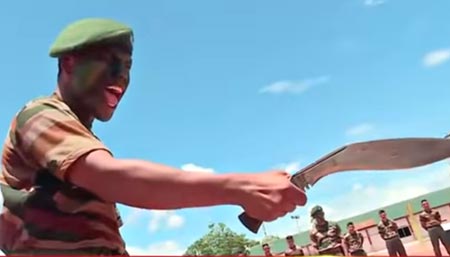 The documents study and research done by KHHI nepal point to the fact that this kukri is likely the fourth major prototype/model officially provided to the Gorkhas by British officers. After they were officially recognized (realized) under the British flagship, thanks to the Great Indian Mutiny of 1857, series of kukri were issued to the newly raised Gorkha units. Amongst them, MK3 is probably the 4th official issue given the new recruits by the army during world war 2nd (WW2) days hence the name. It was mass produced during World War II, especially the last three years MK3 hit huge number due to massive number of recruitment done to tackle the unrest. This pattern is still being used by various Gorkha units in the Indian Army.



MK3, a lethal war kukri knife >> replicated by Khukuri House
MK3 here is a reproduced version of the originals by Khukuri House, Nepal. A genuine effort has been put to make it the same in KHHI's variant. MK3 is13" long blade and has a well polished blade. The blade is pointed and narrow in shape and has an aggressive look overall. It also has a traditional Cho notch. The hourglass-shaped wooden handle offers an excellent grip. The full flat tang of the blade goes all the way through the unique handle and is secured by rivets on both sides. It is further fixed by thick iron plate on the butt. To cut down on manufacturing time and costs, the metal bolster is not included as like the originals. The flat panel black buffalo leather sheath is identical to the previous issue, MK3. It has a very good reach and weighs slightly on the heavier side for effective thrust and swing after all its meant to destroy. Along being a lethal war knife it is also a cool field knife. Highly recommended for collection as a historic icon plus as knife that can really cut.

"BE A PROUD OWNER OF THE HISTORIC KNIFE TODAY!"

Mr. Saroj Lama Tamang (SLT), the man behind KHHI nepal and its sites, is a history lover and great fan of the Kukri. He has been with khukuri for over 20 years and has huge experience in this field. He is very fond of MK3 and says .."Well I must say that MK3 definitely tops my list of the 'Best 5 Kukris' of all time. This is particularly because of it's special features, great feel, and effectual advantages it has over other khukuris. I really like the blade profile and geometry of this knife. The shape is beautiful having large shallow fuller that not only balances the weight but also gives strength to the edge by reducing tension felt by the edge while ramming. While the handle is very easy made to nicely accommodate a human hand. Overall it is very well thought of and well executed as both, a lethal knife and a subtle working tool. I know you will LOVE it too".

Reviews (3)
Write a Review
Give us your valuable review on our items.
Outstanding
| 17th July, 2021 | Richard Anderson
7149 Golf Colony Court #103
---
I own this knife. It is an amazing piece of quite functional equipment. I have purchased numerous items from KHHI and have been overwhelmingly impressed with each piece. I even had them make me a custom spear recently which was well worth the wait. Everything I have gotten from them has been magnificent and exceeded my expectations.
---
A true work of art
| 3rd June, 2021 | Randy Moses
---
To date the most comfortable of all khukuris i have handled.....extremely well balanced and the handle feels like it belongs in my hand.....my compliments to Mr. Baraily,the maker
---
| 14th September, 2019 | Sebastian Hart
Connellsville, USA
---
A outstanding blade
---
See Other Amazing Products Too...