MK5 Gurkha Official Issue Khukuri (post 1947 independence)
MK5 Gurkha Official Issue Khukuri (post 1947 independence)
An official service Khukuri issued to the Brigade of Gurkhas, post-1947 India independence; a reigning champion from late 1950's till now...
Blade Length (in): 10.25
Handle Length (in): 5
Blade Steel: 5160
Handle Material: Horn
Sheath: Black Leather
Actual Weight (gm): 530
Overall weight (gm): 750
Shipping weight (gm): 1050
Blade sharpness: Standard (very sharp)

Blade thickness (mm): 8
Edge grinding: Semi convex
View More
Sheath: Black Leather
Actual Weight (gm): 530
Overall weight (gm): 750
Shipping weight (gm): 1050
Blade sharpness: Standard (very sharp)

Blade thickness (mm): 8
Edge grinding: Semi convex
Edge Hardness: 55-57 hrc
Blade (panel) Grinding: Full Flat
Blade finishing: RAW
Handle finishing: Unpolished
Tang type: Stick
Fixture: Brass
Accompanying knives/B-up: Karda Chakmak
Place of Origin: Dharan (Eastern Nepal)
View Less
Also Buy These As Set
MK5 Khukuri; 5th official service kukri issued to the British Gurkhas
'MK5' or 'Military Kukri the 5th' is the Official service kukri, issued to the British Gurkhas post-1947 India independence, for military purpose. MK5 is the first test of kukri to the "Brigade of Gurkhas" that was completely changed than its predecessors.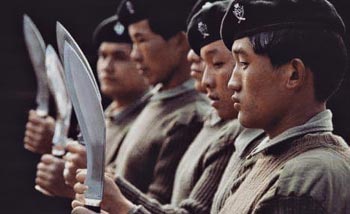 Khukuri House has done extensive study and exploration on the issue of MK5 service kukri. Its the longest reigning kukri that first came in production in late 1950s and who's variants still rule right until now. The official pattern was done in Dharan Recruting Center in East Nepal when it was established in 1958. The documented historical sources and archived photos show that the MK5 production ran across for almost 4 decades since it was 1st created. The exact copy followed from ca 1958-60 to late 1980's and then its variants continue till date to the current year's soldiers. After the World Wars and with the modernization and advancement of military gears the kukri's primary role as a main weapon was restricted to a mere back-up / utility knife or rather as an iconic symbol. It was seen more as an inseparable integrity of a Gurkha portraying his self-identity, stature of courage, honor, and pride; a symbolic force. Thus to recognize the very fact, MK5 was issued to each new recruits as an ID and for official usage. The kukri was mainly objected as a Dress Knife to carry in parades, on duty and for other light military activities like training and exercises. Hence the size was reduced to 10 inch, and style and shape were significantly changed from the old family. MK5 kukris were made much simpler and conventional.

MK5 is the first recognized service (official issue) kukri to hit the production post-1947 independence of India for the Brigade of Gurkhas (British). It originated in Dharan, Eastern Nepal in British Gurkhas Training Centre. In late 1950's (ca 1958-60) MK5 production started in Dharan with the help of some army officers and local contractors in the center. "Origin" and "Date" were also stamped initially for a few batches but somehow was discarded or ignored in later years.

MK5 as a knife ..its background
Although MK5 was supposedly to be a "Dress/Parade Knife", it did not meet the standard set up by army officials for parade. MK5 was the weakest (poorest) of all standard Issues. Recruits were forced to clean the blade and scabbard in order to give good look to the khukuri. Blade was ugly, very roughly grounded, unpolished and sometimes blacktopped. Scabbard was made from raw buffalo hide and had a pale look. Recruits thus had to literally finish the kukri with whatever resources available. This trend continued until late 1960's after when soldier started to replace the rawhide by patent leather bought from local workshops at the suggestion of their superior. The blades, however, were mostly self-polished by the carrier.
Blade: The MK5 offered here is the reproduced version of the original ones issued in 1970's. The blade's shape, size and finishing are ditto as it used to come back then. It is 10 inches long kukri made in typical kukri profile and has raw black finishing.

Handle: MK5 has horn handle with brass fixtures (Kanzo and Chapri) like any other standard issue kukris. A rat tail tang goes through the horn handle (hidden) which is peened over at the brass pommel. This typical kukri handle goes well with the typical blade.

Sheath: The sheath is made of water buffalo leather where twin belt-loop frog is fitted for the belt to go through. It has a brass tip in the front to protect the tip of the leather. The accompanying knives; Karda and Chakmak that go at the throat are also an part of the sheath.

MK5 holds a very strong historical significance and holds a special place in the development of Gurkha issue kukris. Being an identity of the carrier along with being a dependable tool it is also an excellent working everyday kukri. It is an all-purpose utility knife that has all the characters of an assault knife + a field knife.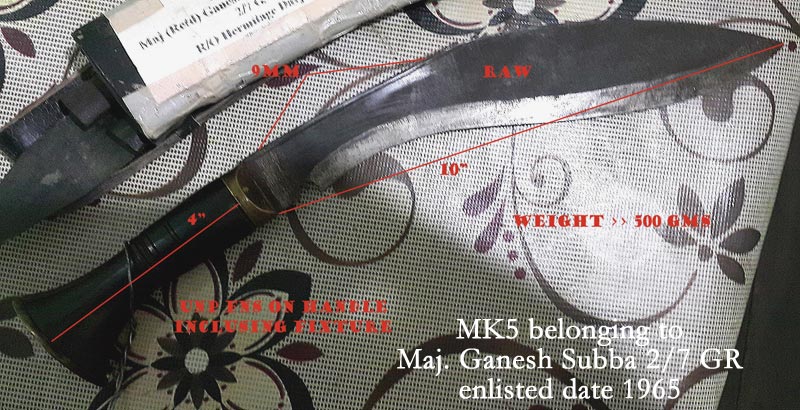 Reviews (0)
Write a Review
Give us your valuable review on our items.
See Other Amazing Products Too...