SiruPate Panawal FFT Kukri (Jaunty)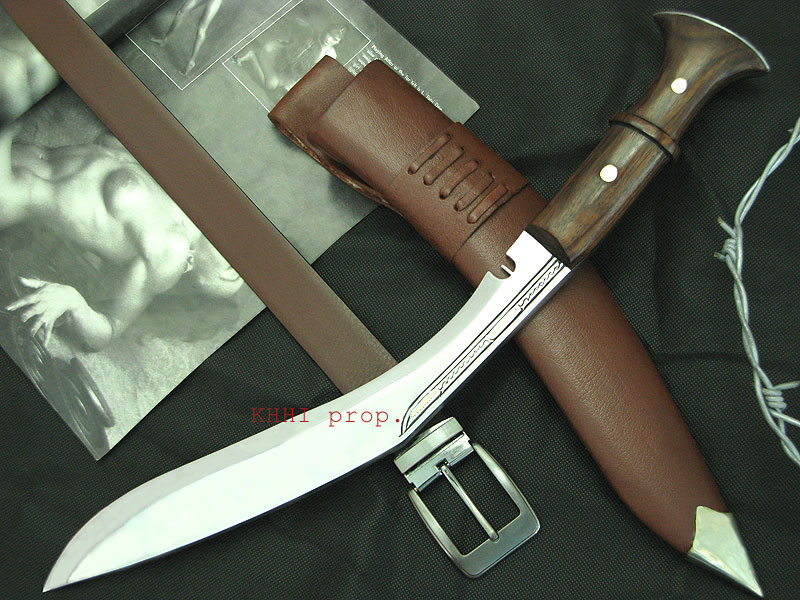 SiruPate Panawal FFT Kukri (Jaunty)
A double faced blade with jaunty look yet with fierce motive…
Blade Length (in): 12
Handle Length (in): 5
Blade Steel: 5160
Handle Material: Rosewood
Sheath: Brown Leather Scabbard
Actual Weight (gm): 610
Overall weight (gm): 775
Shipping weight (gm): 1125
Blade sharpness: Standard (very sharp)

Blade thickness (mm): 8
Edge grinding: Semi convex
View More
Sheath: Brown Leather Scabbard
Actual Weight (gm): 610
Overall weight (gm): 775
Shipping weight (gm): 1125
Blade sharpness: Standard (very sharp)

Blade thickness (mm): 8
Edge grinding: Semi convex
Edge Hardness: 55-57 hrc
Blade (panel) Grinding: Full Flat
Blade finishing: Polished
Handle finishing: Polished
Tang type: Full Flat
Fixture: Iron
Accompanying knives/B-up: None
Place of Origin: Khukui House, Patan
View Less
"Siru" word is derived from nepali language which means "slender" and "pate" means "leaf", so the word literally means slender leaves which is dainty, jaunty and sophisticated. Sirupate is a leaf found in the hilly regions of Nepal and this blade is inspired by the shape of this leaf, slim and sleek. Sirupate Panawal FFT is a 2-in-one blade, made for display and for work.
This 12" long polished blade is modified giving it just one broad (bulky) ridge, it is forged narrow so the weight is reduced and is easy to carry. Though the blade is slender, this jaunty kukri is made stronger with the hard core handle for heavy work.
Handle FFT (Full Flat Tang)
It has a famous panawal type handle with full flat tang going right inside with rivets fitted strongly at the side to keep it intact. The two pieces of rose wood is stuck together with glue and later strengthened by the rivets. The handle makes the kukri look sexy and solid; a perfectly beautiful one. Both the pommel and bolster are made from iron plate to withstand the heavy impact taken by the blade.
The sheath is given brown color to match the brown rosewood handle. The scabbard is made with fasten up frog to hold the sheath in the belt, it has also single lace and a metal tip to smarten the sheath.
Reviews (0)
Write a Review
Give us your valuable review on our items.
See Other Amazing Products Too...