Famous World War Khukuri (Legendary)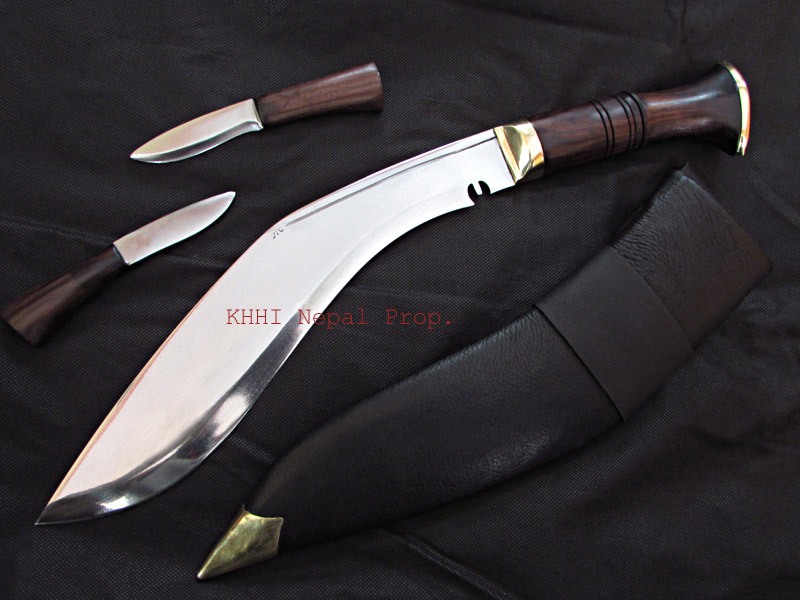 Famous World War Khukuri (Legendary)
This famous khukuri was used by soldiers in world war era; they took this kukri back from their villages...
Blade Length (in): 11
Handle Length (in): 5.5
Blade Steel: 5160
Handle Material: Rosewood
Sheath: Water buffalo leather
Actual Weight (gm): 625
Overall weight (gm): 825
Shipping weight (gm): 1175
Blade sharpness: Standard (very sharp)

Blade thickness (mm): 10
Edge grinding: Semi convex
View More
Sheath: Water buffalo leather
Actual Weight (gm): 625
Overall weight (gm): 825
Shipping weight (gm): 1175
Blade sharpness: Standard (very sharp)

Blade thickness (mm): 10
Edge grinding: Semi convex
Edge Hardness: 55-57 hrc
Blade (panel) Grinding: Full Flat
Blade finishing: Polished
Handle finishing: Polished
Tang type: Full Flat
Fixture: Brass
Accompanying knives/B-up: Karda Chakmak
Place of Origin: Dharan, Eastern Nepal
View Less
Also Buy These As Set
Legends Choice; famed and famous khukuri of War Era
The historic relationship between Gurkhas and the British has come a long way. From the beginning of intense battles against each other to mutual understanding of friendship and trust to making the Gorkhas a part of British Army, the kukri knife has played a significant role, be it against the British or for the British by Gorkhas. When British recognized the kukri and made it a part of Gorkhas' uniform its reputation soared which last well until today.

The formation of various Gorkha regiments/units after it was amalgamated to British flagship back in the 19th century brought many kukris into limelight. The "Famous World War Khukuri (Legendary)" type is one of them and believed to have been used by British Gorkhas towards the end of 2nd world war. It is not an issue version and/or not officially supplied but because of its more effective size, shape and feel recruits were widely found using the kukri during the war-torn days on their own. It is learned that Gorkhas used to personally bring in this kukri from their villages when returning back from their official leave (private purchase). They found it more useful and easier to carry than the service one. They highly preferred the kukri to carry when their service one was lost/damaged.

What makes it a personal favorite among the war heroes.. very easy and effective shape and size, and well balanced weight makes it popular among the Gurkhas. A lethal weapon and a versatile tool it is ...

Blade: This 11 inch kukri has a beautiful shape with no peak in its spine. The belly is narrow and enlarges as it moves towards the upper (head) portion. The knife carries more of its weight at the front area, nonetheless, the overall weight is well balanced and effective. The blade is well polished.

Handle: The rat tang of the blade goes through the handle and is peened over at the brass pommel at the base of the hilt. World War has a typical kukri style wooden handle. Brass metal is used to make bolster and butt cap.

Sheath: World War has a basic sheath made from wooden frame inside and wrapped with buffalo hide from outside. A simple single belt leather loop frog is fitted for the belt to go through. The sheath comes with two traditional accompanying knives; the small utility knife called KARDA, and the emergency sharpener called CHAKMAK.

This is a very common and popular in local Nepali khukuri market that has high demand. There are many models (types) made based on this particular due to its appealing shape and effective outcome.

:: This khukuri is also available under PRIMITIVE MAKING where it is made by pure skill, bare hands, days of hard labor and natural raw materials. To buy under this age-old making click Primitive World War (Historic) kukri link of our main site::


Reviews (1)
Write a Review
Give us your valuable review on our items.
Amazing
| 18th June, 2020 | Brittany Davis
Anderson, USA
---
I bought this for my husband, for Father's Day, and he is in love. Amazing quality. Beautiful craftsmanship. Amazing time shipment. Thank you!!
---
See Other Amazing Products Too...