Gurkha Service no.1 Kukri (pre 1990 Duty/Parade Knife)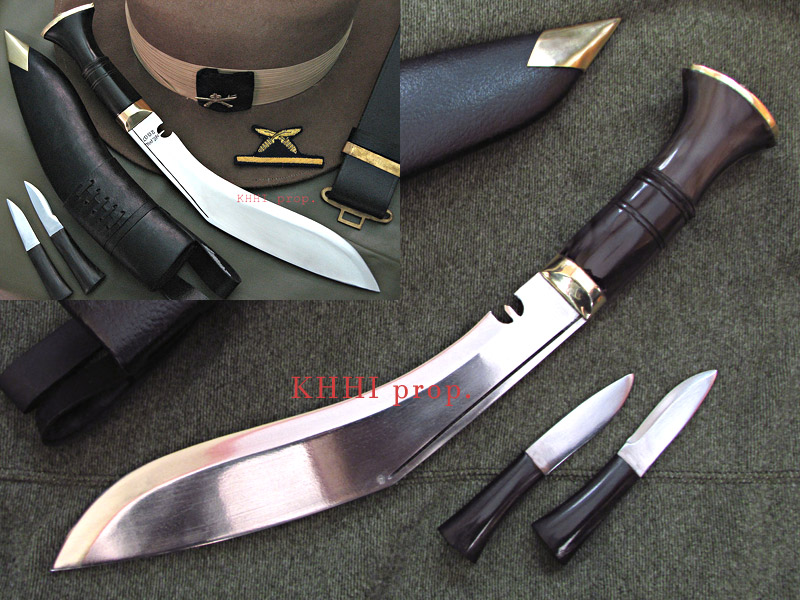 Share
Gurkha Service no.1 Kukri (pre 1990 Duty/Parade Knife)
a standard issue kukri of the British Gurkhas whose mother format is still being used/issued today even after so long time..
Blade Length (in): 10.5
Handle Length (in): 5.5
Blade Steel: 5160
Handle Material: Horn
Sheath: Black Leather
Actual Weight (gm): 550
Overall weight (gm): 750
Shipping weight (gm): 1050
Blade sharpness: Standard (very sharp)

Blade thickness (mm): 9
Edge grinding: Semi convex
View More
Sheath: Black Leather
Actual Weight (gm): 550
Overall weight (gm): 750
Shipping weight (gm): 1050
Blade sharpness: Standard (very sharp)

Blade thickness (mm): 9
Edge grinding: Semi convex
Edge Hardness: 55-57 hrc
Blade (panel) Grinding: Full Flat
Blade finishing: Polished
Handle finishing: Polished
Tang type: Stick
Fixture: Brass
Accompanying knives/B-up: Karda Chakmak
Place of Origin: Dharan (Eastern Nepal)
View Less
The pride & prestige of a Gurkha soldier; the Service no.1 Kukri Knife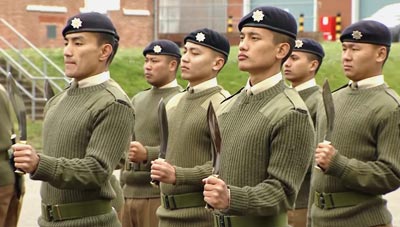 "Gurkha Service No1" is the better version of "MK5 (military kukri 5th)" that came into production as a standard issue during the late 1980s. Due to its better finishing, features, and raw materials over his predecessor, it has a very close tie with the Gurkhas. All the current BSI models (British Standard Issue) are based on this "Gurkha Service no.1" kukri model. It is the most common kukri in the Nepali local Kukri market and obviously the most sought kukri amongst Nepalese. Its also called the "Sarkari Kukri" (means government) due to its close association with the British government.

From the formation of the 1st Gurkha Unit back in 1814 until now Gurkhas have been issued with a number of different kukris with notable modification according to the time, condition and requirement. Amongst which this "Service No.1" is probably the most famous of all due to its handy size, easy carriage, and better finishing. It is both a Duty and Parade (Dress) knife for the soldiers.

Production history; its origin and value.. as an official issue Gurkha Kukri.
It was during the 1980's the production of Service No.1 khukuri started and soon massive production for the military had begun. Mr. Til Bahadur Biswakarma (TB BK) who was a Gurkha himself belonging to the 10th PMOGR's armor division actually created this better version after his retirement. Being a Gurkha and a "Bishwakarma (born kukri maker)" himself he corrected the shape and size and more importantly improved the overall quality and finishing of the current issue in his home town in Dharan (East Nepal). He then came to Kathmandu in 1988-89 with the new version and presented in front of the selectors who were working on the annual khukuri contract for that year. This complete new makeover of the kukri instantly pleased the military officers and was selected as the new BSI for the new recruits. Mr. BK went back to Dharan for the production and set up the first organized kukri factory in Nepal. He also teamed up with Mr. Lalit Kumar Lama (Tamang), also an ex Gurkha from the same unit, to look after sales, supply, and support to the army. The army asked all batch to be engraved by NEPAL (origin of the country) on one side and DATE (year of the contract/enlistment) on the other side of the blade. Mr. Lama later opened "Khukuri House (KH)" in Ekantakuna, Kathmandu in 1991 to commence business in an organized way. And thus the legend was born, a master's creation from the master, whose mother format is still being used/issued today even after so long time.

Making of Service no.1 Kukri explained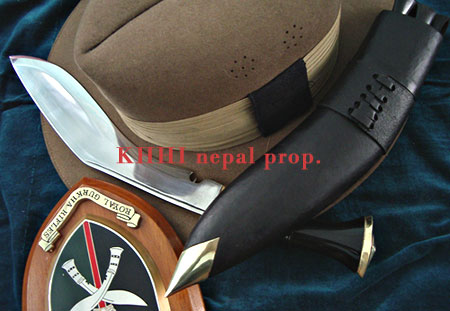 Blade: The blade of Service no.1 Kukri is well polished. The size and style is slightly modified than that of MK5. Its perfect size and range, the well balanced weight, smart finishing, and effective features make it an ideal military knife + a utility knife. It can be used for just about anything that involves cutting. It has a typical re-curve kukri shape.

Handle: The handle is typical and like its counterparts made from Buffalo Horn to match with the dress specially the boot and belt. A rat tail tang goes through the handle (hidden) which is peened over at the brass pommel.

Sheath: It has a traditional leather sheath, where the wooden planks are covered by buffalo leather hide. The scabbard comes with two small knives at the back (Karda; small knife and Chakmak; sharpener). A leather frog (farus) from thick leather is also fitted to carry the knife.


This khukuri is also available for purchase under Primitive Kukri Making (age-old method) where it is made by expert & skilled kami using primitive tools, bare hands, days of hard labor, and extinct natural raw materials.
Reviews (6)
Write a Review
Give us your valuable review on our items.
Excellent quality
| 19th April, 2023 | Michael Reilly
Gloucestershire, United Kingdom
---
Safely and securely delivered, this excellent, high quality knife exceeded expectations. The workmanship is beautiful - both knife, scabbard and accessories.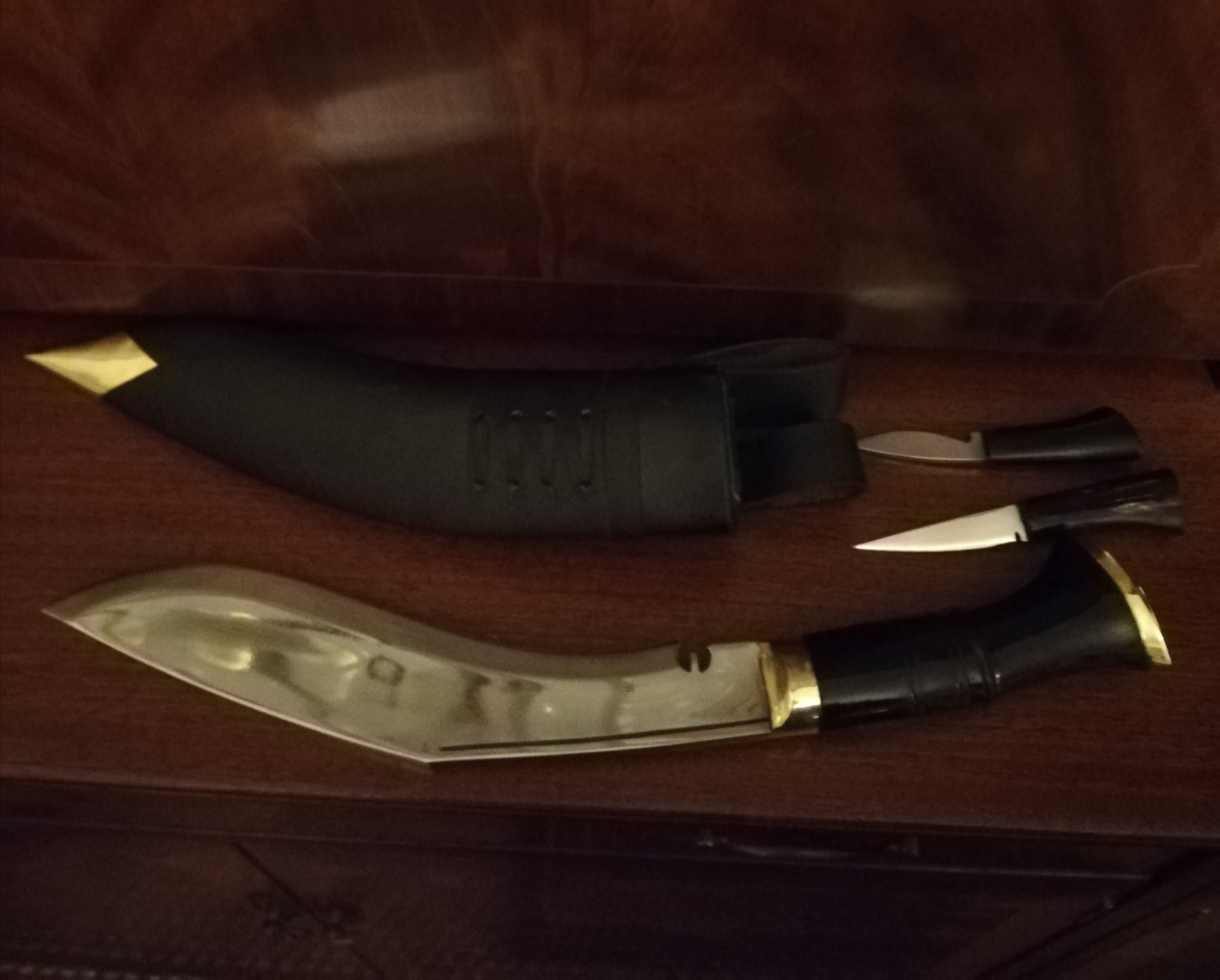 ---
Magnificent, beautiful & frightening
| 20th March, 2023 | Michael Reilly
Stafford, United Kingdom
---
My kukri KHO9920789 arrived safely and securely packaged. The craftsmanship is awesome. It is a weapon of gravitas and authority: beautiful, lethal, magnificent and frightening and needs respect. I'm thoroughly pleased. It is weighty, sharp and made with expertise and insight. Thank you most sincerely
---
| 29th March, 2021 | BIBOST YVES
---
I am very satisfied, this is exactly what I expected ! thank you very much, and a special mention for the craftman BHAKTA BDR B.K Y. BIBOST
---
Masterfully made kukhri
| 26th September, 2020 | Stuart Petersen
Southampton, UK
---
Well worth the wait during the pandemic, this kukhri is beautifully made and so is the scabbard! Very happy with the quality of it all, if only everyone made things with this much skill and care.
---
| 30th July, 2020 | Murdo Iain MacKenzie
United Kingdom
---
Dear Folks
The Kukri arrived today, exceeded expectations. A very well made and elegant blade. My sincere compliments to the craftsman, please pass the message on to him. He knows his stuff... I am certain I will order again in the future, perhaps a heavier blade as it is not intended as a decoration. Very impressed. Just wanted a comparison with my existing blade initially.
Very pleased indeed.
Regards
Murdo MacKenzie (15832)
---
Load More Review
See Other Amazing Products Too...