Gorkha King Prithvi Khukuri (Unified Nepal)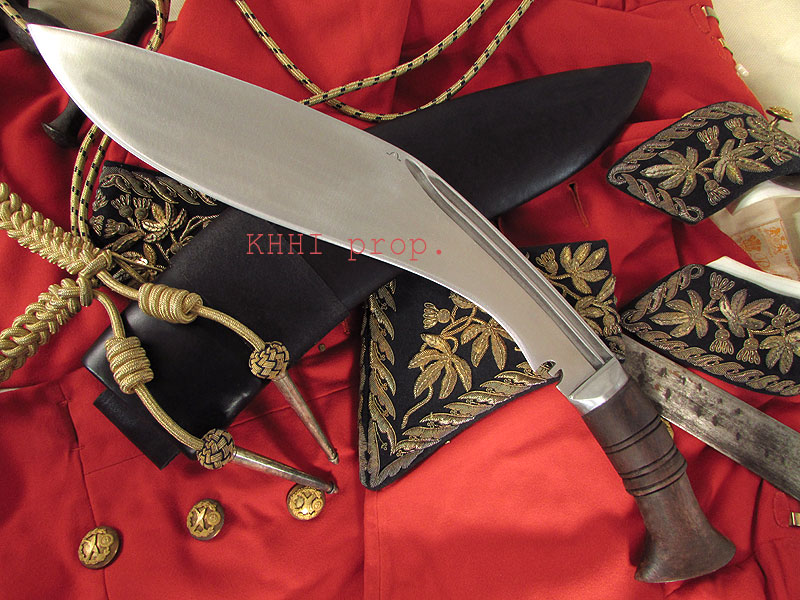 Share
Gorkha King Prithvi Khukuri (Unified Nepal)
Reproduced version of the personal kukri owned-used by the king of Gorkha, Prithvi Narayan Shah, in Nepal unification campaigns..
Blade Length (in): 15
Handle Length (in): 4.5
Blade Steel: 5160
Handle Material: Rosewood
Sheath: Black Leather
Actual Weight (gm): 850
Overall weight (gm): 1075
Shipping weight (gm): 1500
Blade sharpness: Standard (very sharp)

Blade thickness (mm): 11-12
Edge grinding: Semi convex
View More
Sheath: Black Leather
Actual Weight (gm): 850
Overall weight (gm): 1075
Shipping weight (gm): 1500
Blade sharpness: Standard (very sharp)

Blade thickness (mm): 11-12
Edge grinding: Semi convex
Edge Hardness: 55-57 hrc
Blade (panel) Grinding: Slope
Blade finishing: Unpolished
Handle finishing: Unpolished
Tang type: Half
Fixture: Iron
Accompanying knives/B-up: None
Place of Origin: Khukuri House, Kathmandu, Nepal
Released date: 2017-01-30
View Less
King Prithvi; a khukuri used by the great Gorkha King for unified Nepal in 18th century
the rise of a kingdom, the glory of an army and honor of a weapon.. a symbol of unity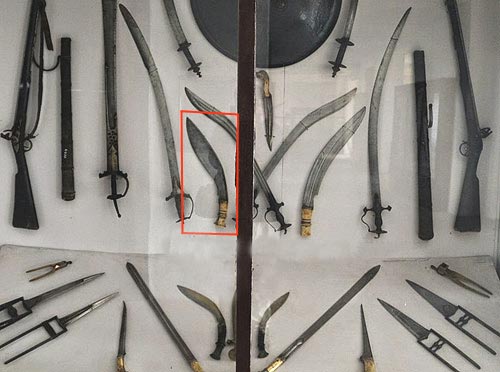 In the mid 1700s, one man dared to dream of converting a small kingdom into one great nation under his flagship. The man was no other than our beloved king, Prithvi Narayan Shah (PNS), and to pay our deepest tribute to the great man, the "Gorkha King Prithvi Khukuri" has been released by Khukuri House. It is in every sense we feel so proud to come up with this kukri due to the sentiments, pride and patriotism attached to the man and his weapon.

The royal kukri went thru series of violence, pain, blood and hardship before finally realizing the ambition and peace established. The khukuri is the exact repro of the original piece displayed in the National museum in Chauni in Kathmandu, Nepal. The live kukri was thoroughly studied and measured from every angle before it was materialized. Only the master craftsman gets to make the knife so as to honor the man, his deeds and his weapon from our side. King Prithvi continues to live within us through the khukuri and the great nation he bestowed upon us.

Father of the Gorkhas: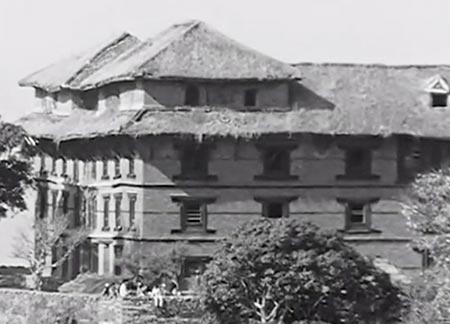 The great king was also the founder of the legendary army called the GORKHAS (Gurkha Army) or Gorkhali Sainik in Nepalese. The army continued its unification and expansion campaigns even after his death and created the GREATER NEPAL which was three times bigger than the present Nepal. In the process it permanently established itself as one of the most feared and successful armies of the world. The credit goes to the king since he was not only brave (warrior) but also very clever, visionary and humble at the same time. It is indeed our utmost honor and profoundness to be associated with the man's weapon and to the man himself in some way.

His majesty's 'KHUKURI' knife...
Robust body and heavy weight in typical khukuri shape >> very strong; powerful and deadly swing
Full flat grind (grounding), long slope blade profile with secondary edge >> strength, clean stroke, deep cut
Traditional khukuri handle having stick tail tang fixture inside the handle >> strong and secure
Ridge and rings carved out of the wood >> better grip and retention
Regular black leather scabbard with a belt loop (frog) >> safety and convenient carriage

Blade: 15 inches almost I Handle: 4.5 inches almost (wood portion only) I Blade Thickness: 11-12 mm approx. (distal taper) I Weight: 850 gms approx. (Blade+Handle) I 2 x deep fullers by the handle, iron bolster, unpolished finishing I
While this is meant to be a collector's item the kukri is fine cutting knife. It has very good reach, its well balanced, fully functional, lethal yet subtle, sharp and strong. Its also is an excellent example of an 18th century kukri. It also exhibits the high standards of Khukuri House as a high class maker.

IMP NOTE: Do mention which handle (BROWN or CREAM) you prefer when ordering. CUSTOM version shown in the photo is available only on order. Price is USD 175.00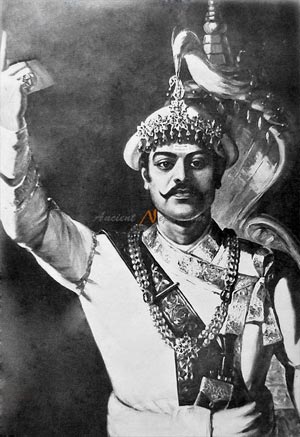 Prithivi Narayan Shah (king of Gorkha, 1723-75)
The most famous and celebrated king of Nepal, also known as the national father, king Shah created the modern Nepal that exists today. Born in 11th Jan 1723 as the first son of king Nara Bubal and queen Kaushaulya Devi, he ascended the throne at the early age of 20 in 1743. He had 4 wives and 5 sons. He was very clever, courageous and visionary king and was the founder of modern Nepal through his ambitious campaign of uniting all petty kingdoms scattered near and far of Gorkha under his flagship just after his coronation until 1768. Later the expansion of Nepal by his successors went as far as Sikkim in East and Kangra in the far West (Greater Nepal). His "Divya Upadesh" that he delivered to the country just before he died in 1775 in Nuwakot at the age of 52 is still followed and marked as one of the nation's auspicious possessions.

To know more about him, see: Prithvi Narayan Shah

JAI DESH JAI NARESH !!
Hail to the King Hail to the Country !!
Reviews (0)
Write a Review
Give us your valuable review on our items.
See Other Amazing Products Too...