New Generation Kukri (McCurdy, US)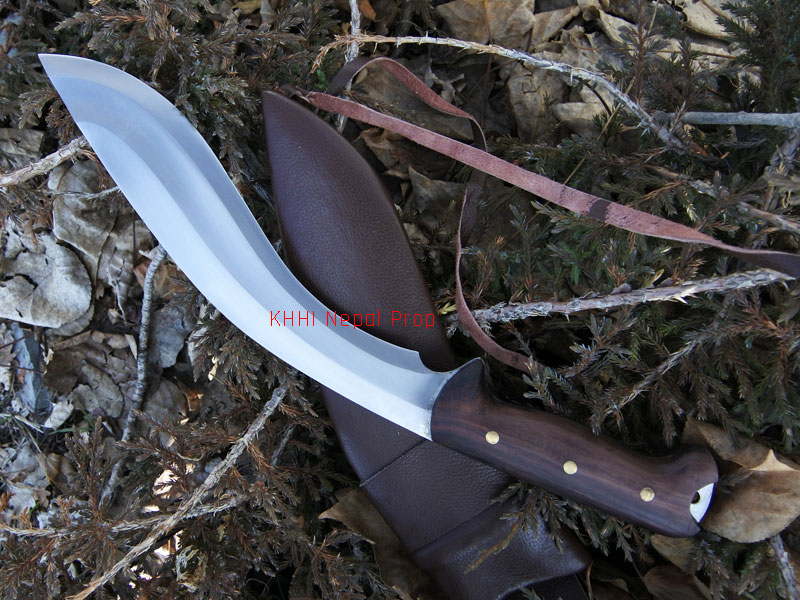 Share
New Generation Kukri (McCurdy, US)
A modern yet a classical piece ... Best of both worlds; a work of art to decor + an all-arounder for all cutting works... Designers Pride...
Blade Length (in): 11
Handle Length (in): 5
Blade Steel: 52100
Handle Material: Rosewood
Sheath: Brown leather
Actual Weight (gm): 700
Overall weight (gm): 875
Shipping weight (gm): 1250
Blade sharpness: Standard (very sharp)

Blade thickness (mm): 8
Edge grinding: Semi convex
View More
Sheath: Brown leather
Actual Weight (gm): 700
Overall weight (gm): 875
Shipping weight (gm): 1250
Blade sharpness: Standard (very sharp)

Blade thickness (mm): 8
Edge grinding: Semi convex
Edge Hardness: 52-54 hrc
Blade (panel) Grinding: Chirra
Blade finishing: Semi Polished
Handle finishing: Polished
Tang type: Full Flat
Fixture: None
Accompanying knives/B-up: None
Place of Origin: Khukuri House, Kathmandu, Nepal
Released date: 2014-05-08
View Less
McCurdy Kukri for the new and upcoming generations... the future is in your hand
Designer & Name of Kukri :
Khukuri House is proud to showcase the creation of designer Mr. John McCurdy from USA who is a very good friend and loyal customer since 2007. A robust and lethal looking blade fitted by a creatively designed and comfortable handle forged for new people who are not too satisfied with the traditional kukri format especially the handle hence the name 'New Generation Kukri'. McCurdy's design has the combination of a traditional blade with a contemporary handle for optimum performance and a completely new style kukri for the new generation. It is actually the best of both worlds; a work of art, a decor piece, that can also be used as an all-around rough utility knife. This kukri gets the title McCurdy, US to honor the designer's name and the country he belongs to.

What makes this a 'New Generation Kukri'?
Blade: Designer John McCurdy decided on the 'classic and famous World War ' shape for the blade. Chirra/fuller is forged in it to work like an "I-Beam" used in construction. This reduces the weight while maintaining the strength and rigidity of the blade. The chirra also absorbs shock and reduces the tension felt by the edge. The unpolished (matt) blade not only looks good but it means that the blade has a better temper than versions subjected to polishing. This blade type is also very hard to forge.

Handle: It has a unique handle shape which is modern and made as comfortable as possible for a human hand. The upper portion acts as a finger guard, to prevent the hand from sliding onto the blade, while the lower section ensures the blade doesn't slip out of the hand during heavy chopping. The contours and corners give a very easy hold even in heavy motion. The full flat tang emerges at the bottom to form a lanyard hole, where a retention strap can be attached. The handle scales are strongly secured to the tang by epoxy and three brass rivets. It is made of rosewood, modern design compared to traditonal one, and its very comfortable to hold.

Sheath: It comes with a simple looking traditional kukri scabbard. The Kukri is devoid of any flashy fixtures and comes with a sturdy and functional sheath. It features a basic belt-loop as well as a lanyard loop at the chape to tuck and tie the kukri in the body.

Engraving: Each blade is engraved by McCURDY, NEPAL on one side. This effort is done to distinguish and honor the designer and country of origin of kukri knife.

Blade size: 11 inches approx. (semi-polished)
Handle size: 5 inches approx. (unpolished)
Blade Thickness: 8 mm approx. (V spine)

Reviews (2)
Write a Review
Give us your valuable review on our items.
Perfect
| 4th January, 2022 | Michael Simpkin
Michigan state, USA
---
I couldn't be happier with this knife. The sheath is really nice and holds the kukri very well. Though rosewood handles are absolutely beautiful and the craftsmanship is top notch. Would highly recommend to anybody looking for a good knife
---
Fantastic blade...
| 18th February, 2020 | A.D. Mann
---
This is a fantastic knife. The spine of the blade is close to half an inch in thickness. The heft of the knife is manageable and the utility knives are of excellent quality. This knife is vary utilitarian and quite an impressive knife.
---
See Other Amazing Products Too...