Desert Gorkha Issue Kukri (West Frontiers)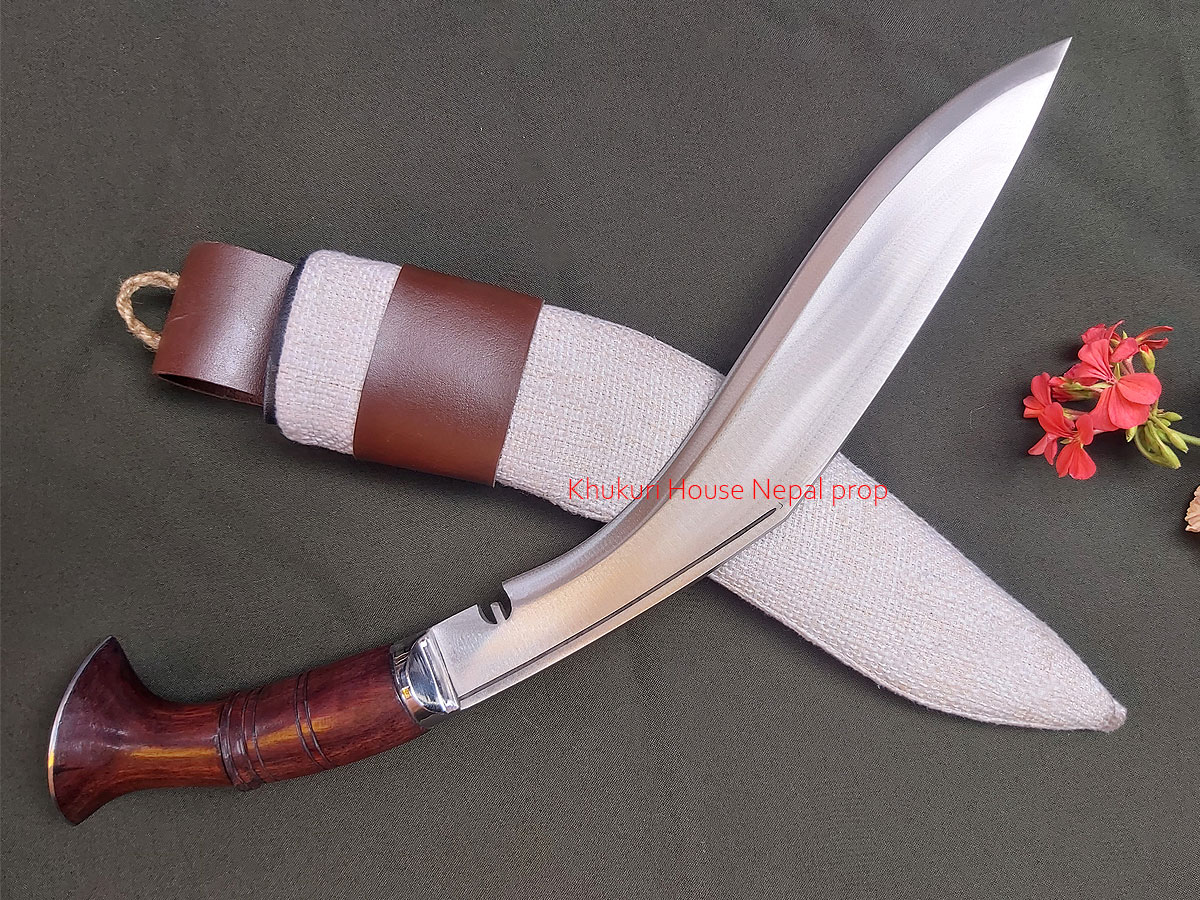 Share
Desert Gorkha Issue Kukri (West Frontiers)
Widely used in the western fronts by British Indian Gorkhas; a lesser known nonetheless an important piece of kukri history..
Blade Length (in): 12
Handle Length (in): 4.5
Blade Steel: 5160
Handle Material: rosewood
Sheath: Khaki + Brown Leather
Actual Weight (gm): 615
Overall weight (gm): 825
Shipping weight (gm): 1175
Blade sharpness: Standard (very sharp)

Blade thickness (mm): 7
Edge grinding: Semi convex
View More
Sheath: Khaki + Brown Leather
Actual Weight (gm): 615
Overall weight (gm): 825
Shipping weight (gm): 1175
Blade sharpness: Standard (very sharp)

Blade thickness (mm): 7
Edge grinding: Semi convex
Edge Hardness: 55-57 hrc
Blade (panel) Grinding: Full Flat
Blade finishing: Unpolished
Handle finishing: Polished
Tang type: Stick
Fixture: Iron
Accompanying knives/B-up: None
Place of Origin: Western India
View Less
The history and importance of Desert Issue Gorkha Kukri in the West Frontiers Wars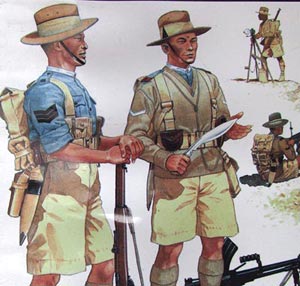 "Desert Gorkha Issue Kukri (West Frontiers)", the khaki sheathed version to blend with the terrains, was used (probably issued) by Gorkhas especially in the deserts fronts (west frontiers) during the war campaigns of British rule (East India Company) in 19th century. It is widely accepted that the practice of wrapping the Kukri scabbard with khaki cloth began sometime in the 1930s. However we believe that this practice dates back to the time much earlier when Gorkhas were called upon to secure the volatile North-West frontier between India and Afghanistan. Documented photos exhibit Gorkhas camouflaging their Kukris in the Middle East and Egypt, against the Ottomans in the First World War as far back as 1915.
Similarly, Gorkhas also wrapped their Kukris when they took part in the North African campaign in 1940-43 and during the invasion of Sicily, which lead to the Italian campaign of 1943-45. This practice continued through to 1945 when Gorkhas played a crucial role in protecting India from the Japanese invasion.
The Kukri sheath, normally black, presented a sharp visual contrast in the desert ambient which could reveal the soldier's position to snipers and artillery spotters. Thus Gorkhas took to concealing the Kukri in khaki fabric to camouflage with their combat uniforms. This helped the soldiers blend into the desert sand of the Sahara and exhibit their military prowess at the finest.
Desert Gorkha Issue Kukri as a knife...
Blade shape is different from the other issue models having a pointed and aggressive profile
Is slender with steep peak and a less pronounced chest
Shape is highly curved with the upper shoulder coming down steeply from the peak
The sleek pointed shape makes this kukri a decent stabber
Has a curved wooden handle with iron fixtures that makes holding easy and comfortable
Black sheath is covered by Khaki fabric and then a frog mounted to carry the kukri (both can be taken off)
No Karda and Chakmak are fitted to the sheath
Well balanced blade and very good reach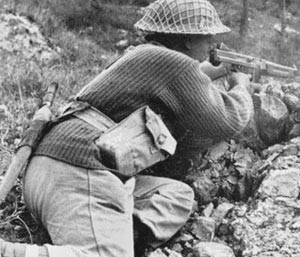 A legendary but sadly neglected kukri knife from the glorious history of the Gorkhas. At both times being an important part of army kukri history, while remaining a true utility knife and personal weapon. Must have for all kukri lovers and collectors.

a treasure lost in time... we are extremely proud of this release. It gives us immense pleasure and satisfaction to find a lost treasure and give back it's glory, and the attention and respect it truly deserves.





Reviews (1)
Write a Review
Give us your valuable review on our items.
| 23rd June, 2023 | Paolo Leone
Naples, Italy
---
L'ho acquistato qualche mese fa, molto bello, forse più di quanto mi aspettassi. Il viaggio è stato un po' lento e travagliato, ma è andato a buon fine. Dopo qualche giorno ho visto delle macchie sulla lama che sembrava ruggine, quindi ho pensato: un'altra fregatura come tutti i prodotti arrivati tramite internet (nonostante tutti i certificati e le garanzie). Niente di tutto ciò: lama pulitissima, tagliente, perfetto in tutti i particolari, ho preferito togliere la copertura del fodero che rimane con la pelle nera di bufalo. Non sono in grado di capire se è stato costruito coi metodi tradizionali nepalesi o fabbricato in serie, ma a questo punto sono convinto della prima ipotesi. Mi sono appassionato ancora di più nello studio di questo popolo fantastico. Grazie Mangaldhan, grazie Usha.
--translated by google
I bought it a few months ago, very nice, maybe more than I expected. The journey was a bit slow and bumpy, but it went well. After a few days I saw some spots on the blade that looked like rust, so I thought: another rip-off like all products arriving via the internet (despite all the certificates and guarantees). None of this: very clean, sharp blade, perfect in all details, I preferred to remove the cover of the scabbard which remains with the black buffalo leather. I'm not able to tell if it was built with traditional Nepalese methods or mass-produced, but at this point I'm convinced of the first hypothesis. I became even more passionate about studying these amazing people. Thank you Mangaldhan, thank you Usha.
---
See Other Amazing Products Too...