Classic Officer's Kukri (British Raj India)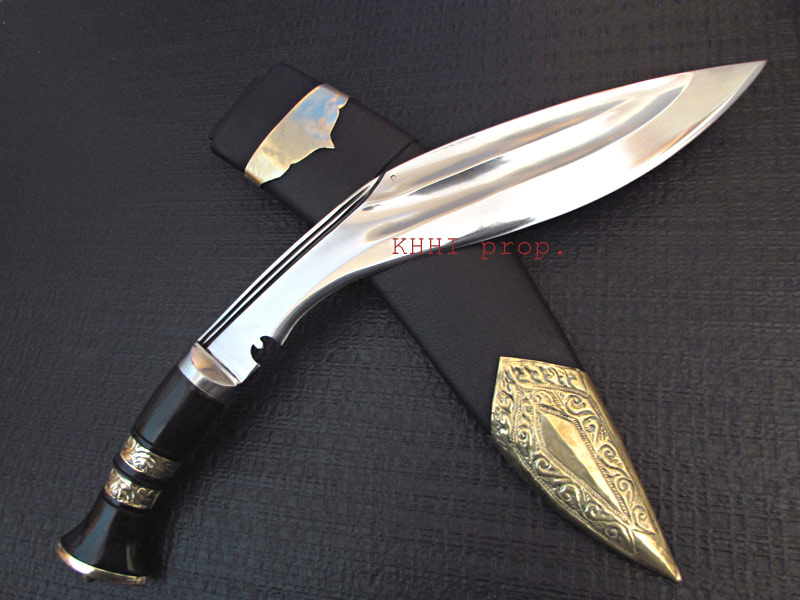 Share
Classic Officer's Kukri (British Raj India)
An important and exquisite piece of kukri history; made available now to the general public by Khukuri House ...
Blade Length (in): 12
Handle Length (in): 4.5
Blade Steel: 5160
Handle Material: Horn
Sheath: Traditional black leather
Actual Weight (gm): 525
Overall weight (gm): 700
Shipping weight (gm): 1000
Blade sharpness: Standard (very sharp)

Blade thickness (mm): 8
Edge grinding: V
View More
Sheath: Traditional black leather
Actual Weight (gm): 525
Overall weight (gm): 700
Shipping weight (gm): 1000
Blade sharpness: Standard (very sharp)

Blade thickness (mm): 8
Edge grinding: V
Edge Hardness: 55-57 hrc
Blade (panel) Grinding: Chirra
Blade finishing: Mirror
Handle finishing: Polished
Tang type: Stick
Fixture: Brass
Accompanying knives/B-up: None
Place of Origin: Khukuri House, Kathmandu, Nepal
Released date: 20th DEC 2017
View Less
Kukri owned by 'British Officers' of the British Indian Army (Raj) during 1920-1935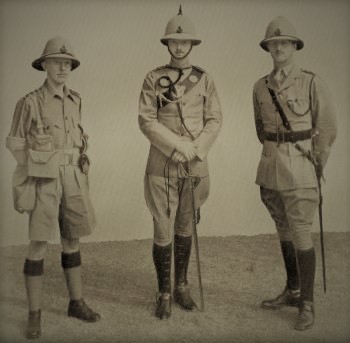 Recreate the elegance and decorum of the past, relive the glory with this masterfully made historic Kukri.
A joint venture between Canadian Kukri expert, Michael Laidlow and Khukuri House.
A remarkable piece of kukri history which was important to reproduce to continue its glory and legacy. Michael provided this unique piece to us so that we could reproduce it and becomes possible for everyone to own this masterpiece. The original one once belonged to a British officer of high class/status in the British Indian army. Most likely it was made during the twilight of the British Raj (1920-1935). The kukri of this sort was specially made for high ranking British officers by very high skilled Kamis (makers) of that time made to honor and credit the British officers. We believe this kukri was first made in Dehradun, India. It has a crescent moon maker's mark on the blade which indicates for the high ranking officers.

Overview of the reproduced version of this kukri >>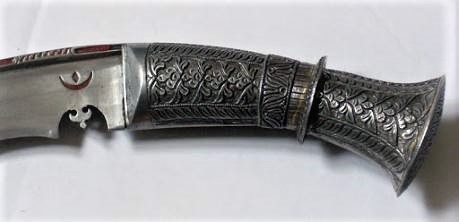 The Chirra or fuller, not to mention, multiple chirras, are extremely rare to have in kukris made in those time. This was meant to be an exclusive item for a British officer to own with pride and something that would distinguish him from the mass. In addition to the exquisite blade, the polished buffalo horn handle itself is special having inlays with detailed brass carvings. A crescent-moon maker's mark is also stamped on the blade to replicate the original. The sheath is also decorated with brass fixtures to compliment the blade. There is an intricate chape on the tip as well as a flat plate by the frog. The unique carved chape is an exclusive feature of the kukri's sheath done to give it a premium look. While this is meant to be displayed, we still made sure that the blade is perfectly balanced and deadly should one require to use it.


Original Kukri owner, Michael Laidlow is a full-time knife enthusiast and collector. He has been studying and collecting historic kukris for many years. Grandson of a Canadian WW1 infantryman, his interest in khukuri grew from studying WW1 and the Gurkha soldiers that fought so bravely alongside their British Commonwealth Allies. Michael currently lives in Ontario, Canada with his wife. He has been a good friend and close associate of Khukuri House for many years now.

the specs in detail >>
HC 5160 hand-made/forged
Blade: 12" approx length
Handle: long about 4.25" Horn, gentle inward curved
Thickness/Spine: 7/8 mm approx. around bolster (distal taper)
widest section of blade = 54 mm approx.
the narrowest section of blade = 28 mm approx.
bolster = 34 mm approx.
weight of Blade and Handle: 525 gms approx (v effective and balanced weight)
Materials / Features: Mirror polished finishing, Decorated traditional black leather sheath with Vertical carriage frog, Horn with carved brass binding handle, 3 x chirra (fuller) blade
Reviews (1)
Write a Review
Give us your valuable review on our items.
khukuri
| 9th August, 2020 | Jemo Dangol
Essex, Maryland, USA
---
100% quality, 100% satisfaction, 100% performance & 100% reliable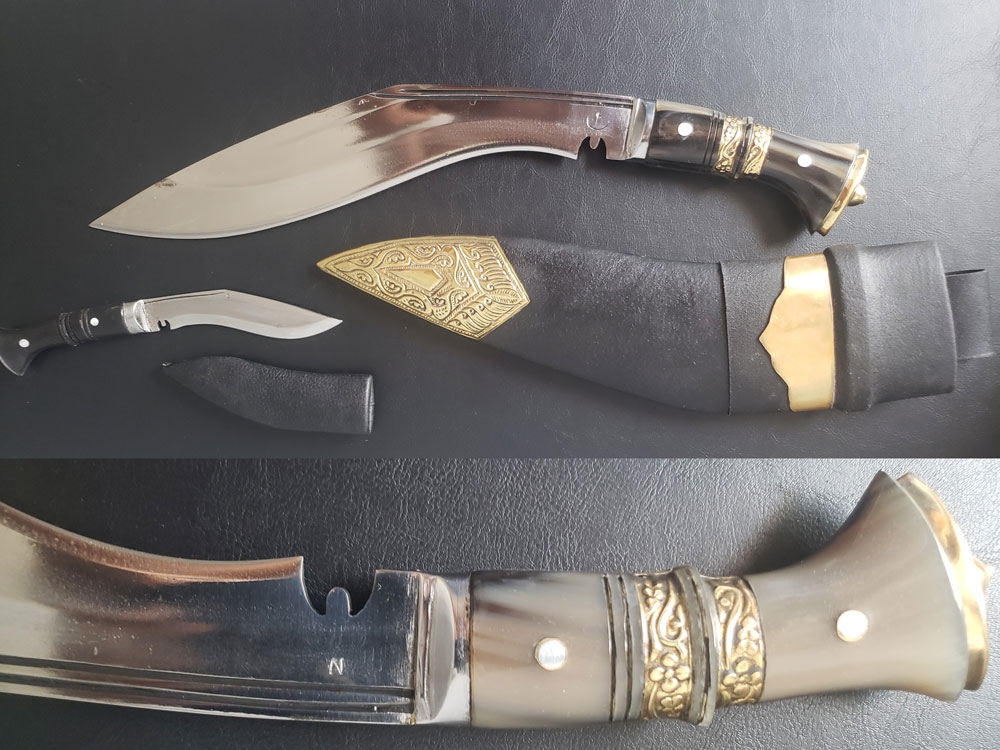 ---
See Other Amazing Products Too...