Gurkha Security Force Kukri (Angarakshak)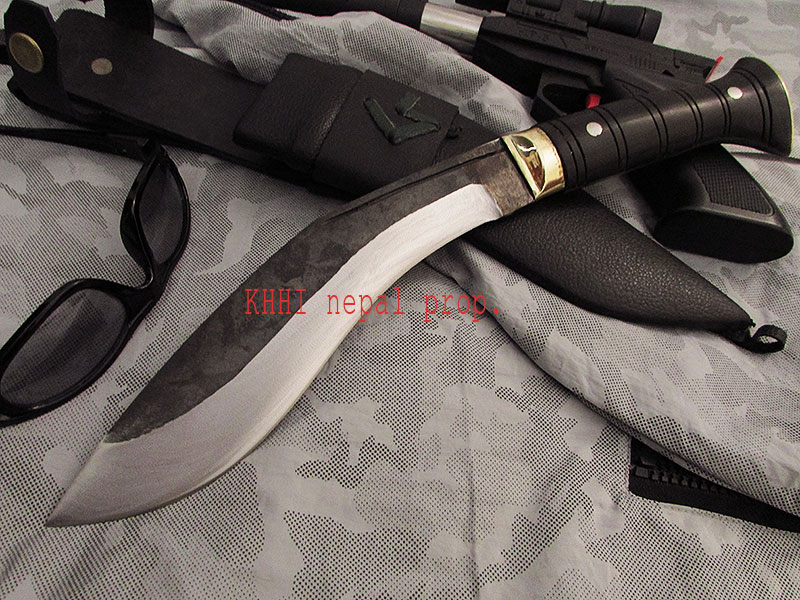 Share
Gurkha Security Force Kukri (Angarakshak)
Dedicated to the world's most trusted, capable and feared personnel, GURKHAS, who are inborn security man..
Blade Length (in): 8
Handle Length (in): 5
Blade Steel: 5160
Handle Material: Micarta (Black)
Sheath: black leather
Actual Weight (gm): 500
Overall weight (gm): 600
Shipping weight (gm): 950
Blade sharpness: Standard (very sharp)

Blade thickness (mm): 8
Edge grinding: Semi convex
View More
Sheath: black leather
Actual Weight (gm): 500
Overall weight (gm): 600
Shipping weight (gm): 950
Blade sharpness: Standard (very sharp)

Blade thickness (mm): 8
Edge grinding: Semi convex
Edge Hardness: 55-57 hrc
Blade (panel) Grinding: Full Flat
Blade finishing: RAW
Handle finishing: Unpolished
Tang type: Full Flat
Fixture: Iron
Accompanying knives/B-up: None
Place of Origin: KHHI, Kathmandu, Nepal
View Less
most trusted, capable, and feared kukri knife for our inborn security man; Gorkhali or Gurkhas or Gorkhas
'Angarakshak' which literally means BodyGuard or SecurityMan in Nepali
Gurkhas are not only great soldiers but also very fine security guards. This kukri is a dedication to the world's most trusted, capable, and feared security personnel known as 'Gurkhas' who are born to perform their duty in the best possible way. When there is a Gurkha Security Force close by one does not need to worry about anything and just freely do what/why he is there for. The man and his surroundings are totally safe and secured as we have Gurkhas around.
In today's context, most of the Nepalese work abroad in the Gulf, the Middle East, and many conflict-hit countries. This kukri is actually targeted for all those brave Gorkhali people out there who are serving as bodyguards, security men, or in non-military security services to save lives, to secure the place so that the world can live in peace and harmony. It is a tribute to all those fallen heroes who have lost their lives performing their dangerous duty.

KUKRI explained, part by part...
Blade: 8inch long blade with RAW finishing. Shape inspired from the historic 'World War' kukris of 1940's but obviously in small size. Also any rust (if any) in the blade is camouflaged by this finish. The blade has large elongated bevel to inflect deep cut and lethal blow. This mini-sized blade makes it easy to carry and use easily and swiftly.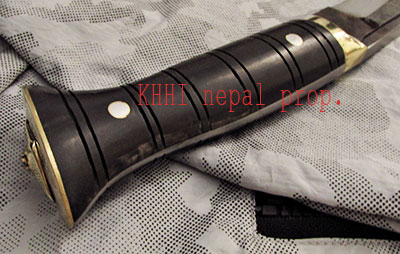 Handle: The handle is like of the typical Panawal version where handle scales are glued to the full flat tang by epoxy and further riveted to strengthen the whole fixture. Thick brass pommel and bolster are used for durability and also for easy maintenance (brass does not rust). The handle has multiple rings all over it to provide strong and sturdy grip even in wet conditions. This makes cutting-hacking very effective. Water buffalo HORN is used to make its handle.

Sheath: It comes in normal black leather to give an aggressive and distinguish look to the man-in-charge. There is a belt loop for dual carriage, lanyard facility to tie around thigh / knee and a frog that has button to hold the kukri firmly in place. All come has extra advantage of the knife over others. There is a distinctive cut throat and "G" farus (frog) to represent Gurkhas.

Raw Materials / Features: Water buffalo scabbard, buffalo horn/black wood ComFort full-flat-tang handle with twin rivets and ridges, "G" frog with belt strap (holder), lanyard string/lace, high carbon compact raw blade
IMP note::
​From November 17, 2022, the default handle material is Black Micarta. also available in Green Leaf and Brown Wood color.
You can choose HORN or BLACK WOOD as handle material depending on availability. Please mention the changes in the message box during checkout. Or email/CHAT with us.
Reviews (1)
Write a Review
Give us your valuable review on our items.
| 8th February, 2023 | Dylan Messick
NC
---
THE BODYGUARD: THROUGH & THROUGH MAJESTIC CUTTING GOODNESS. As purpose built as it gets with top notch attention to detail. BUY IT. ??? NAMASTE GOOD FRIENDS OF KHHI! The ultimate daily carry.
---
See Other Amazing Products Too...