Biltong Advanced Kukri (High Carbon Steel)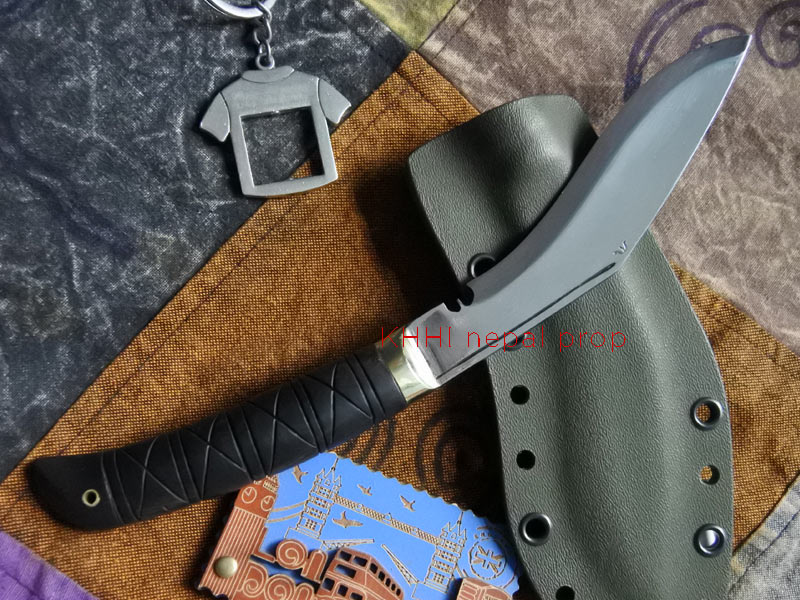 Share
Biltong Advanced Kukri (High Carbon Steel)
You new favorite knife if small size is in your mind/budget; Better, stronger and contemporary version of the regular/classic Biltong Kukri..
Blade Length (in): 5
Handle Length (in): 3.75
Blade Steel: 5160
Handle Material: Horn
Sheath: Army Green Kydex
Actual Weight (gm): 125
Overall weight (gm): 165
Shipping weight (gm): 500
Blade sharpness: Standard (very sharp)

Blade thickness (mm): 6
Edge grinding: V
View More
Sheath: Army Green Kydex
Actual Weight (gm): 125
Overall weight (gm): 165
Shipping weight (gm): 500
Blade sharpness: Standard (very sharp)

Blade thickness (mm): 6
Edge grinding: V
Edge Hardness: 52-54 hrc
Blade (panel) Grinding: Scandi
Blade finishing: Mirror
Handle finishing: Unpolished
Tang type: Half
Fixture: Brass
Accompanying knives/B-up: None
Place of Origin: Khukuri House, Kathmandu, Nepal
Released date: 2018-05-24
View Less
Also Buy These As Set
Biltong Advanced Kukri; Made from high carbon steel; a Smart, Modern, Beautiful & Strong knife
Newly released in 2018, Biltong Advanced is a better, stronger and contemporary version of the regular/classic  Biltong Pocket Kukri. 'Advanced Biltong' is made from 5160 high carbon steel like the bigger kukris (thus the name), well heat treated hence can be freely used for whacking and hacking etc like any hardcore cutting knives despite of its small blade size. Its substantial in-built weight, thick spine, decent reach, easy to carry and well supported by real steel (HC 5160) make the "Biltong Advanced Kukri" worthy and useful to carry just about anywhere be it in the concrete jungle or the green jungle. With all these exclusive features within a knife, the Biltong got listed amongst the best sellers of KHHI nepal in no time, and soon was seen tested and reviewed by many knife experts and users. This mini kukri is a trusted name in the business now.

Why 'Biltong'? a little background..
"Biltong", a word derived from a South African native cutting knife used for cutting dry meats. History has it that indigenous people travelled for days and they carried dry meat as source of food whenever food became shortage. This is where the Biltong came handy. One of KHHI's regular customers from South Africa saw the potential of the small kukri as a good replacer for the Biltong and hence started ordering the kukri as the Biltong knife. It picked the local market instantly and soon became famous as the "Biltong Kukri".
Making & Features  (A new favorite kukri knife if small size is in your mind/budget)
The 5" Highly Polished blade is very well tempered and laboriously made taking long time and great skill as making small ones is actually more complicated than bigger ones.
The Thickness/Spine is 6 mm approx. around bolster (gentle distal taper) / widest = 25 mm approx / narrowest = 19 mm approx
Another main advantage of this mini kukri knife is that it comes with Army Green color Kydex sheath with a belt clip; which makes it very effective and functional
It's modern kydex sheath makes the knife very easy to carry and use, and is completely water proof
The shape of the handle is also modified for easy and comfortable usage 
The handle is about 3.75" Horn including Bolster; with Brass fitting, also a lanyard hole
The upper flared up part at the bottom of the traditional kukri handle is discarded and rounded moving towards the edge. Such contour in the handle provides easy and prick-free hold
Straight and cross ridges in the handle assist in better grip
The handle is totally unpolished to facilitate easier, sturdier and non slippery grip
On the other hand, the blade is highly polished to avoid rusting (easy maintenance) and to look good
 
Reviews (1)
Write a Review
Give us your valuable review on our items.
Just what I needed.
| 5th October, 2020 | Caden Dehaan
Magna, Utah, United States
---
A few years ago, I picked up a full size kukri with a traditional sheath. I love it, but it was rather large and I wanted something specifically to mount on the shoulder of my plate carrier for fast access. Once I finally realized Amazon had a garbage selection, I was tickled pink to find Khukuri house. This knife fits great in the hand and is super low profile. The sheath especially seemed to be made with ease of carry in mind. Speaking of the sheath, it has plenty of grommets to securely anchor it where you want it. When sheathed, the knife is held firmly in place and won't easily fall out. It seems like a well devoloped sheath and not something put together cheaply just to appeal to the tactical crowd. The knife itself seems well made. It was packaged carefully for shipping with the blade carefully wrapped and covered with some sort of protective lubricant. It cleaned up easily with a couple of paper towels and was very sharp out of the box. I want to point out that this is very small for a kukri. It is lightweight and won't have much weight behind it for chopping, so make sure to pick the knife you want. Still, it is a kukri and it is built heavy duty for a knife this size. Rest assured, you're getting your money's worth for this knife. No problems with shipping.
---
See Other Amazing Products Too...