HD Wood Chopper (Kukri AXE)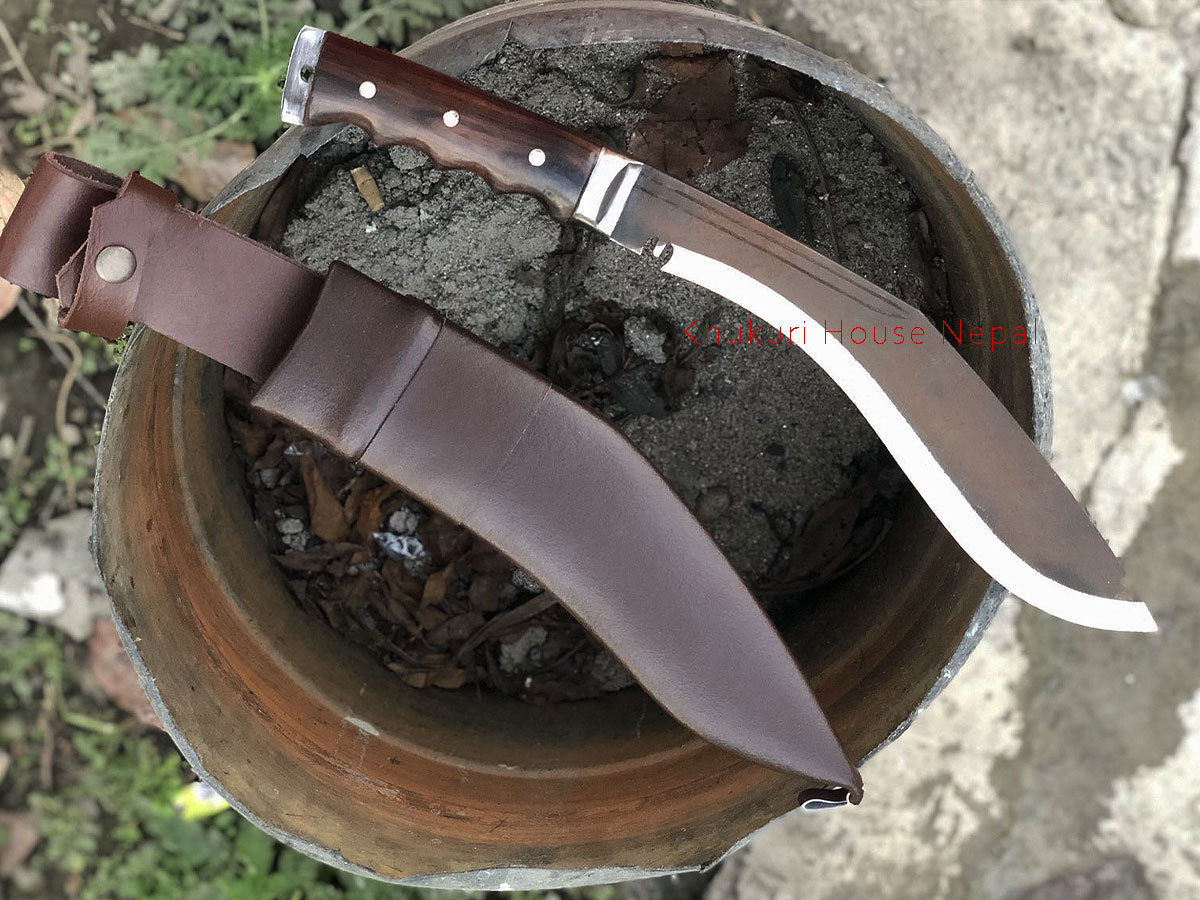 Share
HD Wood Chopper (Kukri AXE)
Kukri AXE for your wood chopping solution; a cutter a splitter..
Blade Length (in): 11
Handle Length (in): 5
Blade Steel: 5160
Handle Material: Indian rosewood
Sheath: Brown leather
Actual Weight (gm): 750
Overall weight (gm): 925
Shipping weight (gm): 1350
Blade sharpness: Standard (very sharp)

Blade thickness (mm): 9
Edge grinding: V
View More
Sheath: Brown leather
Actual Weight (gm): 750
Overall weight (gm): 925
Shipping weight (gm): 1350
Blade sharpness: Standard (very sharp)

Blade thickness (mm): 9
Edge grinding: V
Edge Hardness: 55-57 hrc
Blade (panel) Grinding: Scandi
Blade finishing: RAW
Handle finishing: Unpolished
Tang type: Full Flat
Fixture: Iron
Accompanying knives/B-up: None
Place of Origin: KHHI, Kathmandu, Nepal
View Less
Heavy Duty Kukri like an AXE; a solid n' superb Wood Chopper
Kukri AXE is a knife to embrace and to possess especially for heavy duty wood works
This highly defined kukri is made to cut/chop and to perform in the woods. The scandi grind feature of the blade gives heavy mass and weight like that of an AXE making it very easy and effective for heavy duty cutting works in the forest. The heavy frontage weight provides lethal swing with little force yet huge impact. It also has a special finger-grip feature in the handle for comfortable and secure handling. Both of these unique features support the khukuri's expressive name as the HD Wood Chopper (Kukri AXE); we also often refer it to as the Kukri AXE; a KUKRI with the power and ability like that of an AXE.

Wood Chopper is also an all-purpose utility kukri knife when it comes to edge works and surface tasks like cutting and pounding. Its exclusive name defines a contemporary heavy-duty (HD) Panawal version khukuri built with Scandi surface style and crafted to deliver the best results at no time (quick succession). The Kukri AXE's raw features, solid strength, and stunning look make it a perfect tool for discovering oneself and the wilderness one indulges in.
Give me six hours to chop down a tree and I will spend the first four sharpening the axe. - Abraham Lincoln
Do you want to save that 'one hour'? The best performer of its kind, sharp & strong...

Strong, Durable & Perfect multi-purpose tool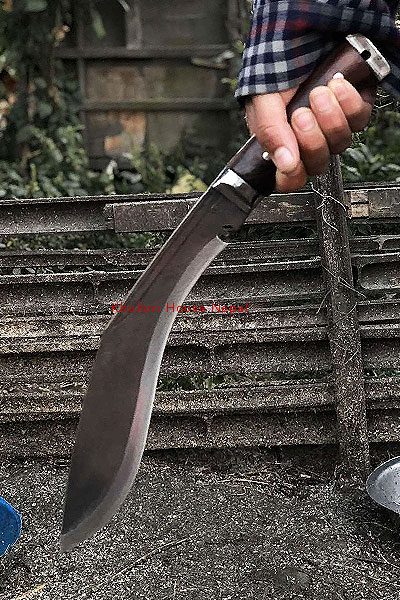 Blade: Kukri is 11inch bladed with raw finishing forged out of 5160 high carbon steel. The raw finishing is for a stronger edge and better temper. The blade is "Scandi Grind" for more power, good weight, deeper impact, faster result, and of course, better outcome. This exceptional grinding of the blade (spine + body + edge) makes the HD Wood Chopper stand out from the herd as it is mainly made to work like an axe; cutter-cum-splitter.
Handle: It is a full flat tang "Panawal" version. This full flat tang can be clearly seen as lines running through the two sides of the handle. The scales are made of rosewood to give a simple classic look. The bolster is made from the thick iron plate but the pommel is not made. Instead, the tang continues beyond the handle and features a lanyard hole where a string can be tied to protect the dropping of kukri away from the hand. The handle also has an added feature of finger grips to rest each finger in each curvature perfectly. This provides a strong and secured grip (hold) which is very important when handling big and heavy knives.
Sheath: It has a reddish-brown leather scabbard. Near the mouth, you can find a brown frog loop for the belt to go through and carry it. The "C" cut in the throat gives it a unique touch. The tip of the scabbard also features a small lanyard loop for a string to tie around the thigh and prevent wobbling while in action.


What is a Scandi Grind ??
Scandi grind is a type of blade profile in which the blade's panel (thickness) is equal from the spine till 1st point of bevel and then the bevel slants to 0* forming a sharp edge. There is no secondary edge in the blade's profile. The steep bevel generated from thick panel (surface) gives strength, support, and toughness to the edge. It cuts while it splits the object at the same time. This cutting-breaking happening at the same time makes work much easier and faster when hitting the logs.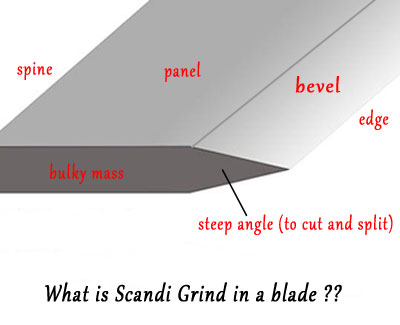 Overall Length: 16 inches
Blade length: 11 inches (27.90 cm) approx
Blade thickness: 9 mm approx
Handle length: 5 inches (12.70 cm) approx
Edge temper = 56-58 RC
Materials / Features: Brown-reddish leather scabbard, Indian rosewood FFT with finger grooves handle

Reviews (0)
Write a Review
Give us your valuable review on our items.
See Other Amazing Products Too...