Battle-Combat Knife (Trench Kukri)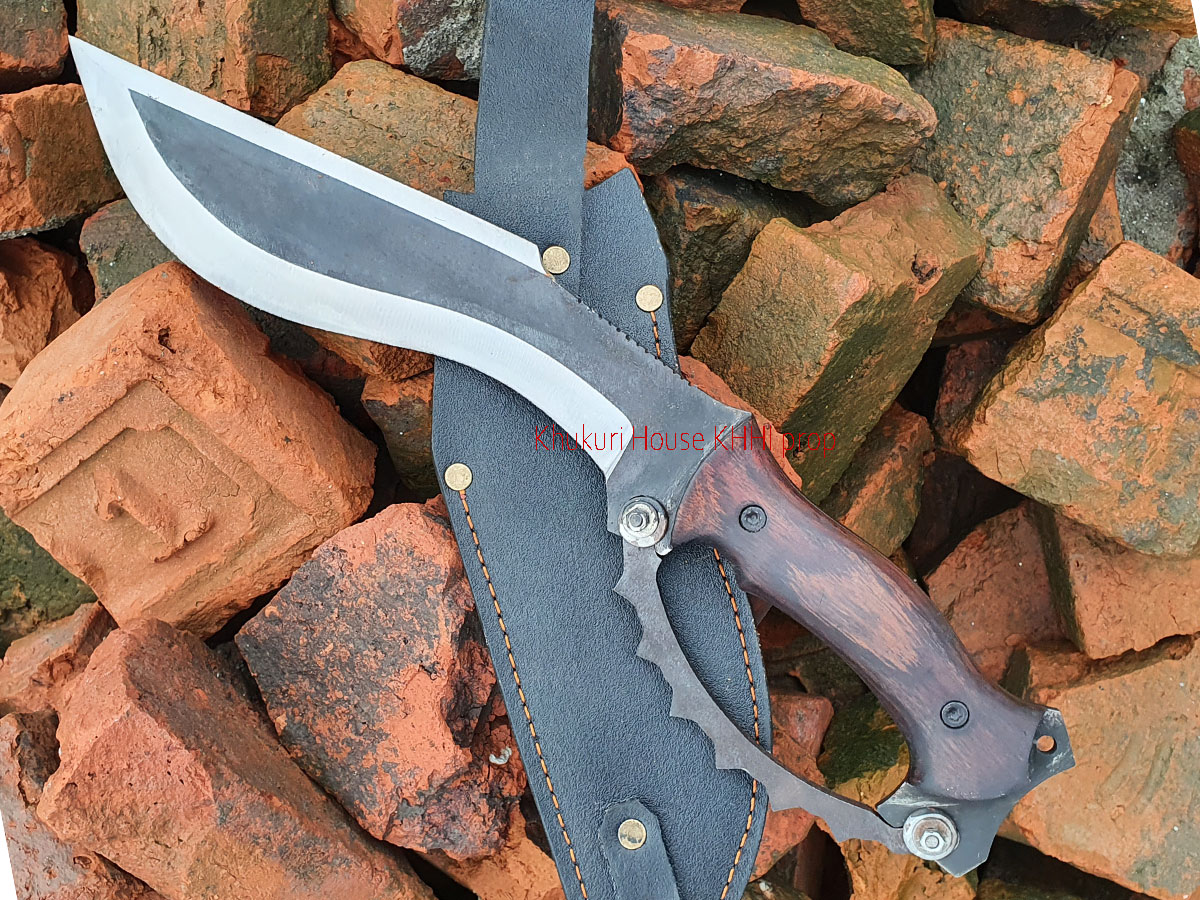 Share
Battle-Combat Knife (Trench Kukri)
The Trench Kukri is a devastating fighting knife, for battle or combat yet a simple re-curve knife...
Blade Length (in): 9
Handle Length (in): 5
Blade Steel: 52100
Handle Material: Rosewood
Sheath: western leather sheath
Actual Weight (gm): 735
Overall weight (gm): 850
Shipping weight (gm): 1250
Blade sharpness: Standard (very sharp)

Blade thickness (mm): 6-7
Edge grinding: Semi convex
View More
Sheath: western leather sheath
Actual Weight (gm): 735
Overall weight (gm): 850
Shipping weight (gm): 1250
Blade sharpness: Standard (very sharp)

Blade thickness (mm): 6-7
Edge grinding: Semi convex
Edge Hardness: 58-60 hrc
Blade (panel) Grinding: Full Flat
Blade finishing: RAW
Handle finishing: Unpolished
Tang type: Full Flat
Fixture: Iron
Accompanying knives/B-up: None
Place of Origin: Khukuri House, Kathmandu, Nepal
Released date: 2016-05-14
View Less
Trench Kukri; a perfect fight/battle/combat/domestic/field knife.
2 in 1 feature; fit the knuckle duster its a deadly fist fight knife; take off the knuckle duster its a simple knife that cuts great
This 'Trench Kukri knife' has been designed with high influence and inspiration from traditional trench knives. The knuckleduster; double-edged blade; kukri-like curve shape make it completely modern, stylish, and unique; made for knife lovers with a new design and features.
In-house designers at Khukuri House have collaborated with time-changing trench knives to give new features and make the knife more functional. The knuckleduster is made more comfortable and easy to use. The blade is made re-curved to give the looks and feel of the kukri. The blade is further made double-edged like Trench knives to keep you alive in close fight/combat situations.
Named it as 'Trench Kukri' to represent it as the modern and new generation Trench knife. The purpose of the knife supports the name; as it is also for aggressive usage making it a complete battle and combat knife thus the unique name; Battle-Combat knife (Trench kukri). It can be simultaneously used both in battle/combat and/or domestic/field knife.
What makes it a perfect Battle/Combat knife?

The sharp blade is 9" long (EDGE only) and comes raw unpolished blade that prevents reflection in combat situations. It has a sharpened upper spine for upper cut/thrust that also helps in stabbing. The thickness of the blade is generally 6-7 mm approx (flat) but may differ in the hand-making process. The blade's weight without the Knuckle-Duster is 650-685 gms approx. which is an ideal weight as a perfect battle-cum-utility knife.

The 5 inch long wooden handle is unpolished; the full flat tang version features a removable knuckle duster/guard highly inspired from the Trench version knives that can be attached or removed easily on need and use. The knuckle duster 'add and remove' feature and function can be done in a matter of a minute. Mostly removing it makes a beautiful handy knife. The removable knuckle duster at will adds a beasty and beauty character to this amazing knife. Also the "Panawal" tang having the L-key set up ensures extreme durability. The pointed extended tang at the back of the handle is 'skull-crusher' and can be used for breaking/smashing hard objects. The blade has zimping in the upper spine as additonal feature for bending wire, etc.

The sheath is made from solid leather like any western style sheath. A modern sheath for a modern kukri knife.


Survival knife during the close encounters...
The purpose of this blade matches with Trench knives; it was made to kill an enemy during close encounters, trenchline, or in the restricted area. The old traditional Trench knives were made sharp and straight aimed for harming and assaults.
With the same purpose, feature, and functionality Khukuri House version of this knife can keep u alive hand to hand fighting situations or close encounters. Made in this modern era the knife is made stylish to give a modern touch who like something new and unique over the old ones.
when the bullets run out its only weapon you can depend on...

Reviews (0)
Write a Review
Give us your valuable review on our items.
See Other Amazing Products Too...