Silver Dragon Carved Khukuri (RARE)
Silver Dragon Carved Khukuri (RARE)
Silver sheath dragon carved khukuri is exclusive and rare collective kukri..
Blade Length (in): 10
Handle Length (in): 5
Blade Steel: 5160
Handle Material: Horn
Sheath: Pure Silver
Actual Weight (gm): 520
Overall weight (gm): 700
Shipping weight (gm): 1000
Blade sharpness: Standard (very sharp)

Blade thickness (mm): 8.5
Edge grinding: Semi convex
View More
Sheath: Pure Silver
Actual Weight (gm): 520
Overall weight (gm): 700
Shipping weight (gm): 1000
Blade sharpness: Standard (very sharp)

Blade thickness (mm): 8.5
Edge grinding: Semi convex
Edge Hardness: 55-57 hrc
Blade (panel) Grinding: Full Flat
Blade finishing: Mirror
Handle finishing: Polished
Tang type: Stick
Fixture: Brass
Accompanying knives/B-up: Karda Chakmak
Place of Origin: KHHI, Kathmandu, Nepal
View Less
What makes it a RARE khukuri? the silver sheath & unique dragon carved blade
The sheath is wood inside covered by fine velvet then the silverwork is overlaid. Different beautiful patterns are carved in the sheath depicting cultural and traditional values using only basic hand tools.
The blade is 10" long made from 5160 steel and the handle is made from water buffalo Horn. Both the blade and handle are highly polished for an attractive look.
After production, the blade is then artistically carved by hand with dragon images on both sides using only basic tools (you can watch our video below of the craftsman in action). This hand carving normally takes a day for a standard blade. The craftsmen who particularly belong to the "Newars" community of Kathmandu have ancient ties of doing such artistic works like carving, sculpturing, etc. However here the Dragon does not have any significance. It is just done as it suits in the blade.

This khukuri is also known by the name 'Kothimora or Kothimoda'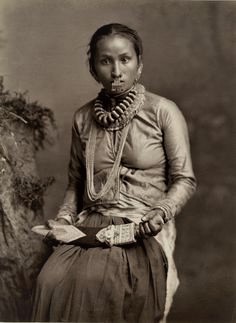 Kothimora in strict khukuri terms means kukri knife with silver scabbard. It has a special place and value in Nepalese culture and society. The exclusive silver scabbard with beautiful carvings also makes it a first choice gift to express one's appreciation and gratefulness amongst Nepalese especially the Gurkhas (Nepalese Army) besides it being a perfect decoration item to adorn a place.
The history of the knife dates back to mid 1800's, when Kings and Generals of Gorkha possessed Kothimora kukri to reflect their rank, status and authority (many historic paintings also show this). People from very high ranks owned Kothimora decorated with gold, precious stones, ivory and diamonds sometimes to demonstrate who is in command. Kothimora then were actually known as "Kothi-Moda", which in Nepalese literature means molding in and around the chape portion of the scabbard; Kothi - Chape, Moda - to Mould. Since silver turned out to be the best materials amongst the other selected materials and also gave a precious and distinct look to the khukuri, it was extensively used; something that exists till today. However Kothimodas then were much different than present ones, much more well expressed.

Social & Historical Usage of Kothomidas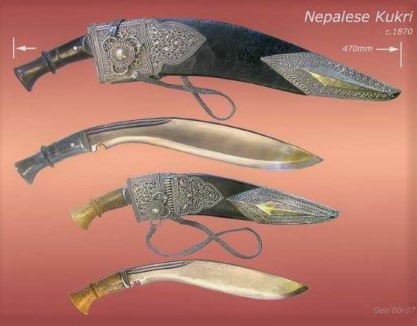 Kothimora is also worn as a part of bridegroom's ceremonial dress in Nepalese marriage custom. The bridegroom tucks his Kothimora in his sash and keeps it throughout the ceremony. This is done in a belief that the Khukuri would safe guard him and protect his new family from evil, sins and bad spirits. The Khukuri would also fill in for him in his absence in ritual practices.
The legendary custom in the British Gurkhas of giving away souvenir pieces to retiring officers for their loyalty and service is only completed by the Kothimora khukuri. Typically "Regimental Kothimoras" (Kothimora with regimental cap badge mounted on it) are presented to retiring officers to mark his long service, dedication, discipline and also as respect shown to him by his comrades.

Available Colors:: Bright Red, Maroon Red, Royal Blue, Dark Green, Pitch Black (Please write your preferred color in "My message" in CheckOut page)

** Price also includes a free foldable wooden display stand **
* All our Kothimoras are made from 100% pure silver. We DO NOT use white metal *
See how the Dragon is carved in the kukri blade >>
Reviews (0)
Write a Review
Give us your valuable review on our items.
See Other Amazing Products Too...