Hilly Region Khukuri (Khotange)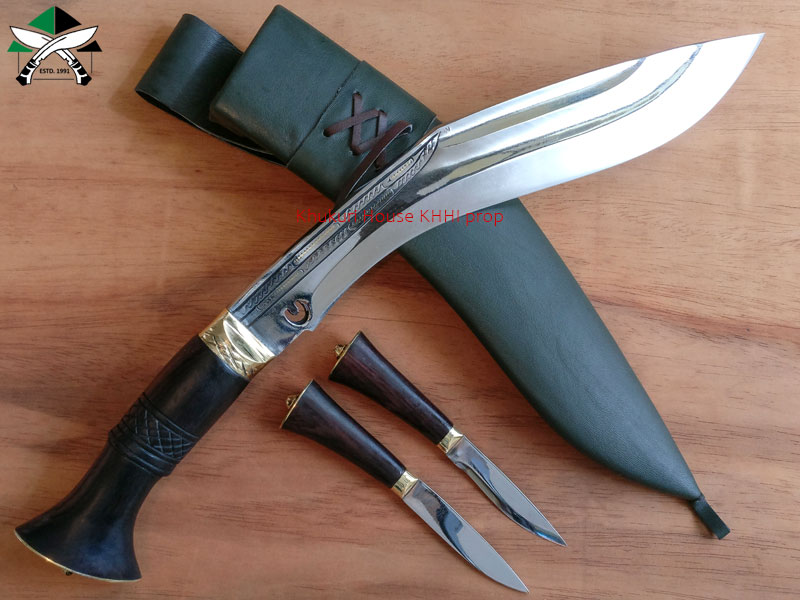 Share
Hilly Region Khukuri (Khotange)
traditional handcrafted Khukuri knife at its best...feel of eastern Nepal, KHOTANG
Blade Length (in): 13
Handle Length (in): 5.5
Blade Steel: 5160
Handle Material: Rosewood
Sheath: Green leather
Actual Weight (gm): 700
Overall weight (gm): 1050
Shipping weight (gm): 1500
Blade sharpness: Standard (very sharp)

Blade thickness (mm): 7
Edge grinding: Convex
View More
Sheath: Green leather
Actual Weight (gm): 700
Overall weight (gm): 1050
Shipping weight (gm): 1500
Blade sharpness: Standard (very sharp)

Blade thickness (mm): 7
Edge grinding: Convex
Edge Hardness: 55-57 hrc
Blade (panel) Grinding: Chirra
Blade finishing: Polished
Handle finishing: Polished
Tang type: Stick
Fixture: Brass
Accompanying knives/B-up: Karda Chakmak
Place of Origin: Khotang, Nepal
Released date: 2019-09-12
View Less
'Khotange Khukuri'; Identity of Khotang & Pride of the Hills
Intro
'Khotang' is a hilly village in the eastern part of Nepal that falls under province No.1, a rural region with the external and internal accessibility very difficult yet widely rich in nature. Khotang is also well known for their handmade items like pashmina, Dhaka, wood carvings, etc however they also take pride in being one of the most popular metal artists in Nepal. Many types of high quality khukuris are made in Khotang and supplied all over to Nepal. The people depend on farming in difficult terrain hence the production is not much. For their daily chores and specially to cut down the bush, trees, and bamboo groves people of Khotang made a khukuri suitable for them. They have been using this khukuri (exact or similar versions) for decades however with the modification over time this khukuri was lesser known to the world. All shapes and sizes of khukuris are made as per the demand and requirement of the job. Some khukuris made in Khotang are inspired from the "Bhojpure" khukuri that originated from their neighboring district, Bhojpur.
This khukuri is reinvigorated by 'Khukuri House' to pay tribute to the older versions hence named as nicknamed as 'Khotange', but with modified chirra, handle butt cap, polished blade, and usable karda chakmak.

Blade:
The blade of Khotange kukri resembles the Chitlange kukri but is bit fatter, the notch is closed like in Chitlange version, it has a chirra for strength and a decor for beauty. The blade is made thinner to maintain well balanced and lighter weight.
Handle:
The handle of this kukri is made from Indian rosewood and is slightly decorated, it has been gently carved to beautify its look. The bolster fixed in between handle and blade is also slightly decorated. The handle has a stick tang with flared butt cap for durability, it also has straight and cross rings with prominent ridges in middle for a beautiful look and sturdy grip.
Sheath:
Khotange for the love of nature has sheath green in color with a lanyard loop tip for tying purpose. It comprises of vertical belt loop with leather stitch. It also holds the housing of karda and chakmak.
Karda Chakmak:
Two small accompanying knives made for actual use - Karda as a utility knife and Chakmak as an emergency sharpener. Unlike others kukris, these are made by the main kami (maker himself) so they come as good as the mother blade. It has about 3.5" long blade, 3" long wooden handle, 4mm thick spine, weighing around 60 gms each, and is made from the same HC 5160 steel as the mother blade.
Major Specs Features:
Overall Length: 18.5 inches approx
Blade: 13" approx, HC 5160 steel , hand-forged ,semi-chirra
Handle: about 6" wood overall (Stick Tang)
Thickness/Spine: 7/8 mm approx. around bolster (distal taper)
Widest = 52 mm approx.
Bolster = 36 mm approx.
Weight: 700 gms (1000 gms complete set with sheath) approx

the 'Gems' of Khotang >> Kamis (the Khukuri Makers)
Kamis or Bishwakarma (BK) is the minority population of Khotang. They mainly live in places called Dorpa, Sholma, Saralung, Mamatim, and Kharmi. Mamatim has the highest population of Kamis where most khukuris are made. It even has an iron-ore deposits and kamis used to extract/make iron from it many decades ago. Kamis still adopt the age old making process and the handed down from a father to son generations for centuries.
Recent Fact:
In the recent road expansion in the above mentioned places many khukuris were found buried with the dead ones (The Rai community has a ritual of burying the dead ones along with his khukuri to honor him and safe guard him after life)
Reviews (0)
Write a Review
Give us your valuable review on our items.
See Other Amazing Products Too...