Military Battle Kukri (Camouflage)
Military Battle Kukri (Camouflage)
An optional military battle-cum-exercise kukri for soldiers, for harsh terrains and rough use..
Blade Length (in): 10
Handle Length (in): 5.5
Blade Steel: 5160
Handle Material: Rosewood
Sheath: Camouflaged, buffalo leather
Actual Weight (gm): 575
Overall weight (gm): 750
Shipping weight (gm): 1000
Blade sharpness: Standard (very sharp)

Blade thickness (mm): 9
Edge grinding: Semi convex
View More
Sheath: Camouflaged, buffalo leather
Actual Weight (gm): 575
Overall weight (gm): 750
Shipping weight (gm): 1000
Blade sharpness: Standard (very sharp)

Blade thickness (mm): 9
Edge grinding: Semi convex
Edge Hardness: 55-57 hrc
Blade (panel) Grinding: Full Flat
Blade finishing: Unpolished
Handle finishing: Unpolished
Tang type: Stick
Fixture: Brass
Accompanying knives/B-up: None
Place of Origin: KHHI, Kathmandu, Nepal
View Less
Also Buy These As Set
Perfect battle-cum-jungle kukri having a camouflage sheath forged for rough-tough usage
Camouflage yourself from the enemy... Give a sudden surprise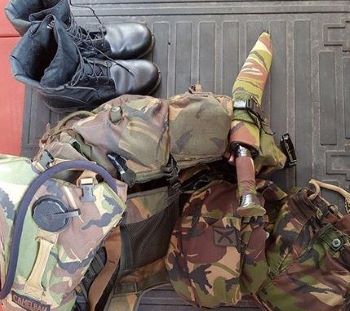 Camouflage Kukri becomes important for soldiers while in war, jungle, or any military mission. The kukri's basic but useful features make it a very effective and efficient lethal kukri. It is actually an optional military battle, training, task kukri for soldiers from any army/regiment who prefer this version. It is very famous with trekkers, hunters, and safari-goers. It is also carried by some British Gurkhas as their NO.2 knife when they go out in fields or for fights. This kukri is Camouflaged to perfectly blend with the jungle ambient and it goes well with the combative dress of the soldiers.

Scabbard: This kukri got its title from its sheath in which a standard camouflage fabric of the Nepal Army is used to cover the sheath. The sheath is traditional but the 2 small knives (Karda and Chakmak) are discarded. It comes with a belt loop to carry the kukri from waist level. It also has a thong loop fitted in the tip area of the fabric for lanyard hole purpose. This prevents the kukri from wobbling when its tide to the thigh.
Blade: The blade is in typical khukuri format and measures 10" in length. It comes with unpolished (matt) finishing since it is made for rough use. The blade is very durable, well heat treated, made from high carbon steel 5160. It is completely hand-forged and handmade made by very skilled Kamis of Khukuri House.

Handle: The traditional handle is made to go with the traditional blade. Its handle is made out of Indian rosewood that compliments well with the overall look of the kukri. The handle is also unpolished to match the blade, and more importantly to provide better grip. The handle color nicely blends with the jungle topography.
ALL these special characteristics in both, SHEATH - to hide from the enemy's vision and get mould with the terrain, and BLADE - designed for rough and aggressive use having a perfect shape, size, and balance; have made this kukri stand out amongst it siblings. It's clearly one of the best sellers of Khukuri House.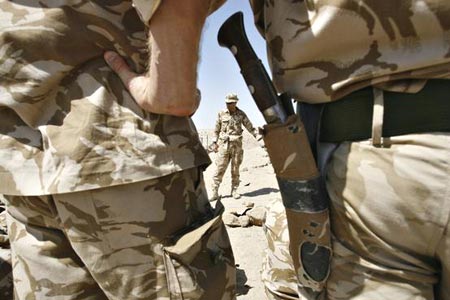 Reviews (2)
Write a Review
Give us your valuable review on our items.
I have to leave a review
| 21st March, 2020 | Erik7
---
I bought this kukri because I wanted a true kukri knife from a reputable maker. This honestly was one of the best yard knive iv ever used. Its heavy duty construction, chops tree limbs, vines like nothing. Blade does not chip or blunt at all. It is easy to sharpen and does not have an issue with rust. The handle is wood not horn so it wont split or crack as easy. I live in a tropical climate so I chop alot of vines in my yard.
---
Awesome Khukuri
| 15th January, 2020 | Waldemar Lemos
Northern Territory, Australia
---
Received Today. Amazing Design. Excellent Craftsmanship. Thank you to KAMI MANGALDHAN BISWAKARMA for this Excellent KHUKURI. The Sheathe is Left Handed as I Requested which is very Appreciated from Me. This KHUKURI will be my Family Now. Thank You KHUKURI HOUSE NEPAL.
---
See Other Amazing Products Too...