Kydex Sheath (Modern Kukri Scabbard)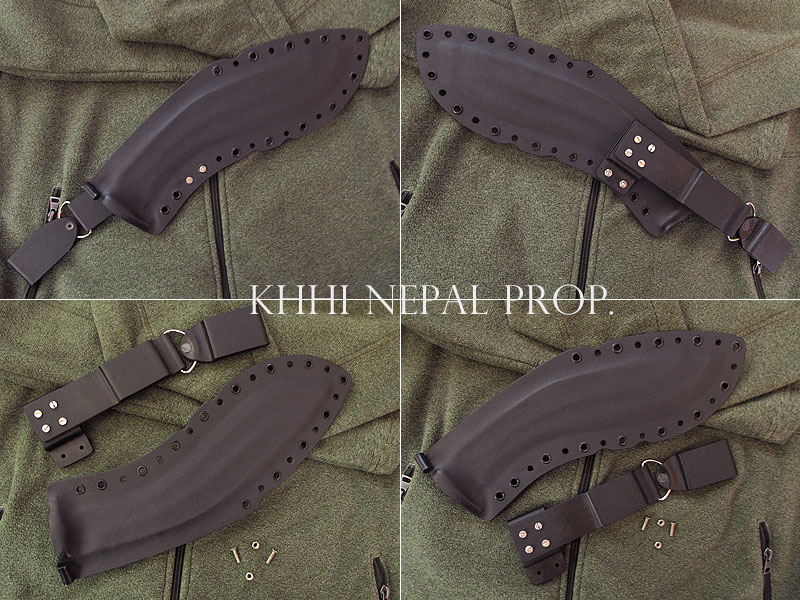 Kydex Sheath (Modern Kukri Scabbard)
kydex sheath; a very good replacer of traditional scabbards for kukris-knives for better handling and durability; its water-proof..
Blade Length (in):
Handle Length (in):
Blade Steel: None
Handle Material:
Sheath: KYDEX
Actual Weight (gm): 150
Overall weight (gm): 150
Shipping weight (gm): 525
Blade sharpness: None

Edge grinding: None
View More
Sheath: KYDEX
Actual Weight (gm): 150
Overall weight (gm): 150
Shipping weight (gm): 525
Blade sharpness: None

Edge grinding: None
Edge Hardness: None
Blade (panel) Grinding: None
Blade finishing: None
Tang type: None
Fixture: None
Accompanying knives/B-up: None
Place of Origin: KHHI, Kathmandu, Nepal
Released date: 2012-01-01
View Less
Kydex sheath made from industrial hard coated plastic sheet gives a perfect option/advantage over the traditional scabbards that uses natural materials like wood and leather. Kydex is much more durable, easier to handle and is water proof which comes as it's main benefit. The fitting it provides is perfect and also comes very compact when its ready.

Kydex we use at KHHI nepal is imported from USA and comes in 0.06-0.09" thickness which is a perfect size to convert it into the desired sheath. Kydex sheet is lighter than the normal leather scabbard. Its better and durable quality and use-wise, water and scratch resistance and holds the shape of the blade very well. It has finger grooves to assist in draw-in draw-out process and also comes with Thumb Push section for easier handling. Another additional benefit of this sheath is that it can be carried both in a horizontal and vertical way. Kydex sheath has a belt holder which is detachable and can be fixed to anywhere within the Kydex. Its made in such a way that it works as a holster for any kukris or knives. Its like a kukri/knife holster. Since the kydex sheath is made in a "molding" process by heating it, it gives out prefect shape/housing which makes the handling very easy (draw in draw out).

The kydex sheath is also very compatible to various army gears and wears. It can easily adjusted/fitted thru the Molle webbing techinique. Kydex sheath is a modern alternative over the tradiitonal one to get out the best usage of the blade. The MAIN advantage of Kydex sheath over the traditional leather scabbard is it is 100% WATER-PROOF. Even in wet conditions and watery situations the sheath is completely usable, works perfectly and continues to serve well.

Available for any size (your preferred size) blade; please mention the product/ size of the blade.
(The offered Kydex comes in BLACK and ARMY GREEN color. Please pick the one you prefer in "My Message" field/box in CheckOut page while ordering online)
Reviews (0)
Write a Review
Give us your valuable review on our items.
See Other Amazing Products Too...