the 18th century Scottish Dirk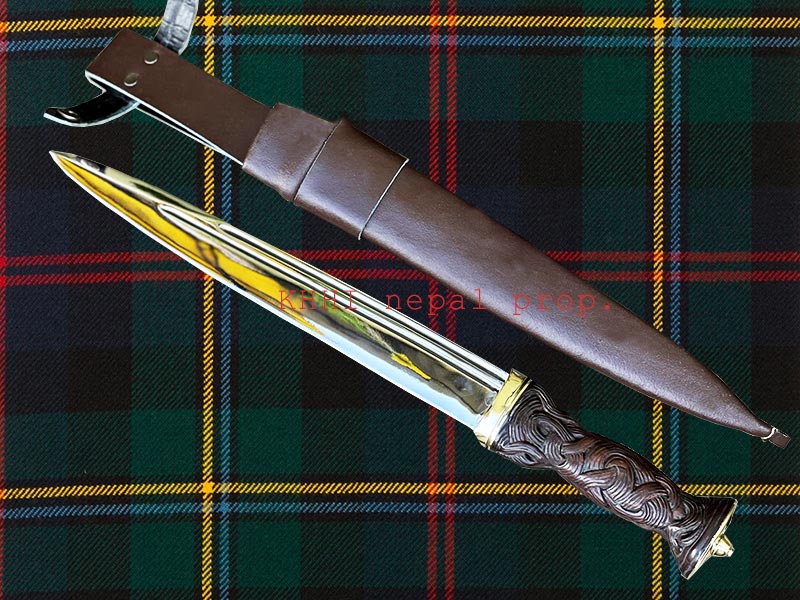 Share
the 18th century Scottish Dirk
An iconic weapon from history. Like the Khukuri to Nepalese, the Scottish Dirk has its own history, significance and nationalism in Scotland..
Blade Length (in): 13
Handle Length (in): 6
Blade Steel: 5160
Handle Material: Rosewood
Sheath: Brown Leather
Actual Weight (gm): 555
Overall weight (gm): 725
Shipping weight (gm): 1150
Blade sharpness: Standard (very sharp)

Blade thickness (mm): 7
Edge grinding: Convex
View More
Sheath: Brown Leather
Actual Weight (gm): 555
Overall weight (gm): 725
Shipping weight (gm): 1150
Blade sharpness: Standard (very sharp)

Blade thickness (mm): 7
Edge grinding: Convex
Edge Hardness: 58-60 hrc
Blade (panel) Grinding: Full Flat
Blade finishing: Polished
Handle finishing: Polished
Tang type: Stick
Fixture: Brass
Accompanying knives/B-up: None
Place of Origin: KHHI, Kathmandu, Nepal
Released date: 2022-01-01
View Less
Fully Functional Scottish Dirk; icon of Highlanders forged in the Himalayas...
Description of Scottish Dirk.
The KHHI's 18th Century Dirk is perfect for anyone who wants an iconic weapon, similar to those used by the Highlanders of Scotland.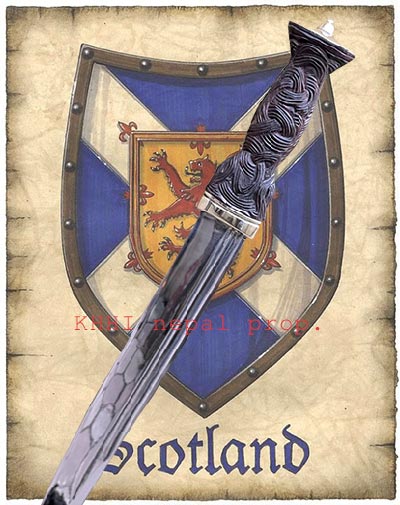 The full tang 13" clip point blade comes with fullers, a thick spine and a sharpened swedge. The sharp blade also has a reliably strong tip and a good chopping weight.
A brass guard and butt complete a carved wooden handle, designed to mimic the Celtic rope patterns found on Scottish dirks. This ornately carved handle gives a non-slip grip as well as looking good enough to wear on formal occasions (Scottish weddings, Highland games etc).
Finally, the18th Century Scottish Dirk comes complete with a brown leather sheath, with a large loop that is suitable for kilt belts.
Important things >>
the blade has a strong spear tip (NOT a curved Bowie clip)

13 inch blade, strong and sharp; a sharp spear tip with two fullers, the spine is thick, sharpened top edge near the tip is about 4-5 inch long

CARRY: the dirk is worn on the right hand side with the sharp edge facing to the back of the carrier when its in sheath
Review of Scottish Dirk by the buyer (orderer)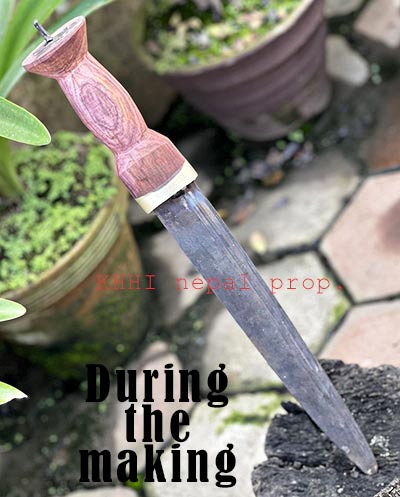 When I first approached KHHI about the possibility of making a Scottish dirk, they were very friendly and helpful. We discussed the style, blade, and handle, and I received photos of every stage of the knife making process. Unlike many factory made knives, the Khukuri House produce traditionally crafted blades, made by a blacksmith and master weapons maker. This added a nice authenticity and a historical touch to the dirk.
When I received the dirk, I was delighted to find the weapon felt light enough to control very easily and strong and sharp enough to take into battle (if I were back at Culloden). I was really surprised at how nice the carved handle was, considering that Celtic designs are not a speciality of Nepalese knife makers.
I have no hesitation in recommending the KHHI 18th Century Scottish Dirk to anyone who wants to add to their traditional weapons collection, or to those who want a good quality dirk for a Scottish themed event.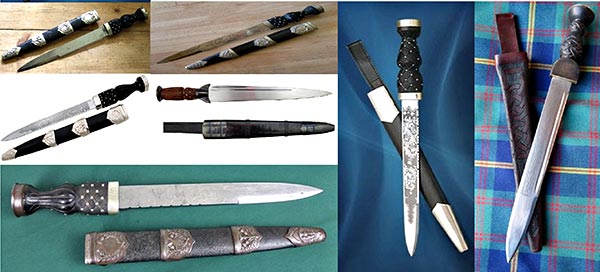 Reviews (4)
Write a Review
Give us your valuable review on our items.
You need this Dirk
| 13th May, 2023 | David Mackenzie
---
I just received my Dirk today, and I am blown away. I have spent quite a lot of time wandering the museums in Scotland and I have to say that this could have been picked up from a battlefield at the end of the 45. It looks to me like a dirk that may have been made from a broken back sword, which was not uncommon back then as good steel was not in ready supply. The blade is thick and sharp, Very sharp. The handle isa wonderfully carved with an interesting Celtic knot design. The bolster and end cap on the handle are highly polished brass. The whole construction is superb. The scabbard is a wood covered leather. This would not be out of place on the belt of a Highlander, such as I am. Just buy it.
---
my favorite dirk
| 18th March, 2023 | Robert Tucker
Bozeman City, Montana, USA
---
The main stay side arm of highland men for century's. Until Culloden this was a common site a multi use tool, a well suited thrusting weapon. After Culloden the dirk turned into near useless piece of kit for parade. THIS IS NOT WHAT THIS DIRK IS. Khukuri House has made something very special here for the mass market, a very functional dirk in scottish highland fashion. Mine came fully sharpened on the false edge as well wich actually worked great for feather sticks. The main blade came in really handy processing a deer this year making short work of the joints and spine. And it still retains its original hair shaving sharpness after a year of use. The grip is very comfortable and the knot work helps keep your hands from slipping even when wet with blood. The whole assembly is peened very nicely with no rough edges. I have cut water bottles, tatami mat, and aluminum cans. This weapon tracks and handles quickly. It thrust with authority and recovery is extremely easy. This has to be the nicest dirk on the market in this price range. I wish this blade had a more prominent page on Khukuri House website its kind of hard to find, and thats the only negative I can think of really. This has become one of my favorite dirks to carry everyday because the sheath is so beautiful as well it really brings the whole package together and when I can't wear it on me it's in my work pack not far from me. Mine came with some tip damage I filed it off. These are hand made items I would love another one just see if the same Kami created it or if I get another. Wonderful item if you collect knives and don't have a dirk, get it, if you have a couple dirks, and want another buy with confidence.
---
the favorite of my entire collection...
| 15th September, 2022 | Darren Raleigh
Iowa, USA
---
Dear Yumitra,
I have received my custom dirk from your shop and I have a few comments about it. Before explaining my comments, I would like to let you know that I am trained in blade combat more than most people have been. After my years of training I have settled on my own hybrid technique, which I have drawn from several blade-combat disciplines.
Also, I am an avid collector of Scottish dirks. They work well for my combat style, and as I am a person aware of my heritage I like to participate in historical gatherings at which I am often dressed in Scottish historical clothes. It is nice to know that the dirk on my belt is more than ceremonial; it is a reliable friend if there were to be a situation in which I must defend myself or others.
I told you all that so that you would know that what I am about to tell you about the Dirk I received yesterday are from a qualified opinion.
Now, to my critique of this dirk: it is faultless. It is suddenly the favorite of my entire collection. As you may be aware, this is a custom piece; I wanted the grip a little bit different from the standard ones your company makes, and this grip could not fit my hand better if I had come to Nepal to visit with the Kami.
The blade handles more like a short sword than a long knife. Though I never expect to do violence with it, I am sure that it is more than the equal of any weapon of comparable size that it might meet. If I suddenly had to take one of the dirks from my collection and fight with it, this is the first one I would reach for.
I would appreciate it if you would let Milan Biswokarma know my opinion of his work. I would also like to ask for a personal favor: would you please see that whatever notes, dimensions, specifications…which were used to create this weapon are preserved under my name? Because if this were ever to be stolen I would want another just like it. In fact, I may want several more to give as gifts.
And I have an idea for another weapon, which I would ask no other person but Milan Biswokarma to make, at some time in the future.
I will soon order the leather and other materials to make the scabbard for this dirk; as I mentioned in my initial contact I make all my own blade-leather. Please let me know if you would like a photo of the completed scabbard when I have finished it. This will be a while; I do not rush my own craftsmanship.
Namaste,
Darren Raleigh (he/his)
---
amazing 18th century scottish dirk
| 27th May, 2022 | michael strait
Santa Fe, Texas, USA
---
i ordered this dirk with a few personal specifications. this weapon is the best quality knife i ever bought! you could pay alot more somewhere else and get alot less! ii told my wife to make sure that i am buried with this thing!
---
See Other Amazing Products Too...