The Himalayan Kukri (YETI)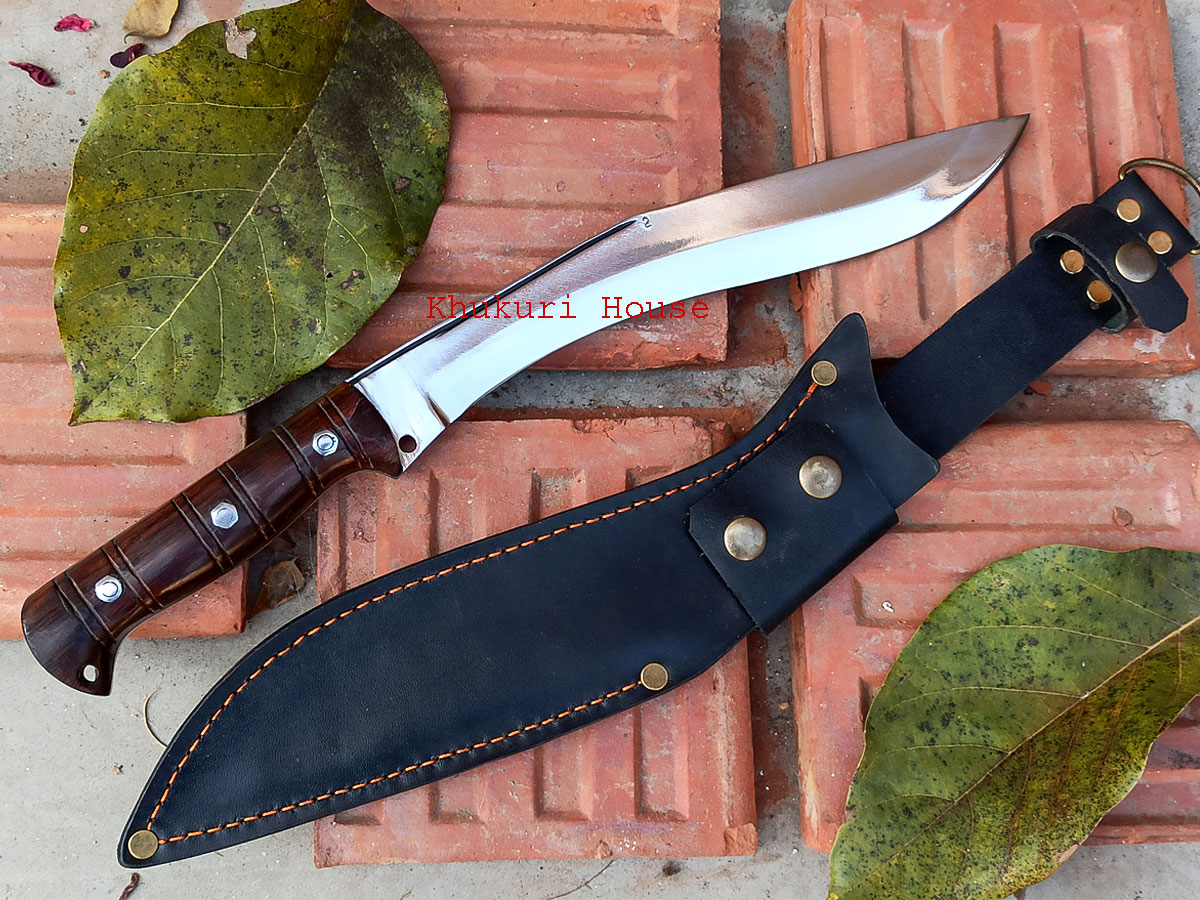 Share
The Himalayan Kukri (YETI)
The name says it all; dedicated to the living beings & nature surviving in the isolated remote region (Himalayas of Nepal) ...
Blade Length (in): 10.5
Handle Length (in): 5
Blade Steel: 52100
Handle Material: Rosewood
Sheath: New ALL Western Leather (black)
Actual Weight (gm): 600
Overall weight (gm): 750
Shipping weight (gm): 1000
Blade sharpness: Standard (very sharp)

Blade thickness (mm): 7
Edge grinding: Convex
View More
Sheath: New ALL Western Leather (black)
Actual Weight (gm): 600
Overall weight (gm): 750
Shipping weight (gm): 1000
Blade sharpness: Standard (very sharp)

Blade thickness (mm): 7
Edge grinding: Convex
Edge Hardness: 55-57 hrc
Blade (panel) Grinding: Full Flat
Blade finishing: Mirror
Handle finishing: Polished
Tang type: Full Flat
Fixture: None
Accompanying knives/B-up: None
Place of Origin: Khukui House, Patan
Released date: 2017-03-29
View Less
Dedicated to Everyone in Great Himalayan Range >> Don't go into the Himalayas without one.
The story behind the name >>
The kukri is nicknamed after the legendary Abominable Snowman of the Himalayas, YETI. Although it may be a myth belief or anything, this kukri represents everyone in the wild snow lands. This khukuri represents the endurance of the people and animals who live so closely in the harshest wilderness to make a living and go about their everyday life. This kukri is dedicated to the wild creatures in the Himalayas/Mountains of Nepal who are on the verge of extinction. A kind of solidarity from us to SAVE and make the CHANGE.

The Designer >>
This kukri is designed by outdoorsman and knife enthusiast Daniel Linstromberg. Daniel tried for years, with many different blades, each with their own merits, but each with their own downsides. Instead of bringing a bushcraft knife, hatchet, and saw, he wanted a single working knife he could take with him to the woods. The designer himself nicknamed it YETI. Khukuri House later expanded and explained the name and dedicated to the 'Himalayan' and released on 29th Mar 2017, at Khukuri House, Kathmandu, Nepal.

Making & Composition >> (blade, handle & Sheath)
Starting with the Sirupate style blade, Daniel decided to improve the handle. The unique shape of the handle protects the hand from sliding forward with a guard at the top, and a swell at the bottom keeps the blade firmly in the hand. Rings have also been carved in the handle to further secure the hand from slipping. For durability and extra secure fixture, the handle has L-key set up (better and stronger than regular rivets). There is also a lanyard hole at the base, to secure it even more. It's a full tang; with 5inch rosewood handle
The 52100 steel blade is marginally increased to 10.5 inches, along with the blade thickness to 7 mm to make it better and strong. The final product (blade+handle) weighs 600 grams making it a good weight knife. In a further attempt to reduce weight, the traditional wood and leather scabbard is replaced with a western-style sheath, made from high-quality leather, sewn, and secured with brass rivets making it more flexible to carry on.

The best use, purpose, and effectiveness>>
The combination of the super-comfortable handle, the excellent sheath, and the lightweight makes Yeti a blade you can chop comfortably with, all day. It's entitled as so, to showcase it as the closest thing to the equally legendary 'one tool option'. If you are into the Himalayas or Mountains; this can be a lifesaver kukri knife in any difficult/ weird situation, where the rocks and snow are piled over more often. This knife is more than useful for mountaineering, treks, or rock climbing, where low-quality and tampered knives fail to give a high-performance result. It's your reliable companion for surviving the solitary of the Great Himalayas.
** Knives and weapons are for self-defense/ protection for your survival only. Don't use it as a killing/destroying tool. Save the nature, living beings and for future (upcoming generations)**

Reviews (0)
Write a Review
Give us your valuable review on our items.
See Other Amazing Products Too...