Hand Forged Original Nepali Khukuri (Bhaktapur)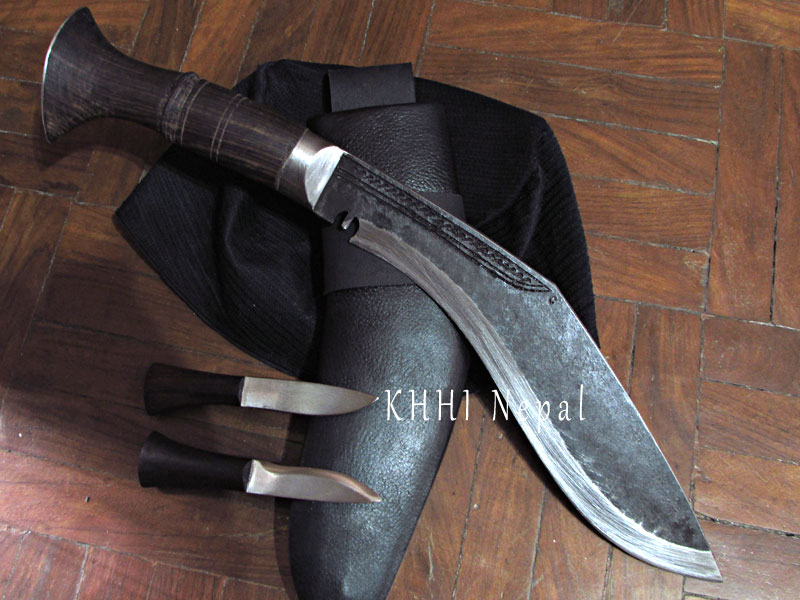 Share
Hand Forged Original Nepali Khukuri (Bhaktapur)
A creation from nothing but a pair of expert hands, great skill, dedicated heart, lots of sweat and hard labor...
Blade Length (in): 10
Handle Length (in): 4.5
Blade Steel: 5160
Handle Material: Indian rosewood handle
Sheath: Water buffalo leather
Actual Weight (gm): 600
Overall weight (gm): 850
Shipping weight (gm): 1150
Blade sharpness: Standard (very sharp)

Blade thickness (mm): 10
Edge grinding: Convex
View More
Sheath: Water buffalo leather
Actual Weight (gm): 600
Overall weight (gm): 850
Shipping weight (gm): 1150
Blade sharpness: Standard (very sharp)

Blade thickness (mm): 10
Edge grinding: Convex
Edge Hardness: 55-57 hrc
Blade (panel) Grinding: Full Flat
Blade finishing: RAW
Handle finishing: Unpolished
Tang type: Stick
Fixture: Iron
Accompanying knives/B-up: Karda Chakmak
Place of Origin: Bhaktapur, Nepal
Released date: 2012-12-28
View Less
Hand-forged and Handmade typical Khukuri from Nepal
An authentic and original version of the local Nepali kukri is made by Khukuri House's master craftsman, Mr. Chakra Bk and first released on 28th Dec 2012. The name of the khukuri itself defines and explains all of its features. It is completely made by hand, from basic tools and in very traditional method. A typical Nepali kukri in the villages used for day to day work is mostly of this type and made in similar manner. The "Bhaktapur" kukri resembles the original format of Nepalese villages and thus the name 'Original Nepali Khukuri'. The blade, handle and sheath all are all made by hand. The kukri comes completely raw and unpolished like the traditional Nepali khukuri.
The title Bhaktapur
Back in 2012, in Bhaktapur, Mr BK started making these handmade blades for Khukuri House. It got very famous in short time popularly as 'Bhaktapure Khukuri'; although it has no historic or any background connection between Bhaktapur (historic touristic hub) and this khukuri. We have nicknamed it 'Bhaktapur' to address the origin place of the khukuri.

The making process (hand-forged & handmade)
A true piece of handcrafted khukuri to showcase the craftsmanship from a born-talented craftsman (kami). Here we have tried to explain the hard work the bare hands; how they can convert a piece of steel into a masterpiece.
Hand forged/finished Blade: The blade is 10inch long with raw finishing. The shape of the blade resembles the classic kukris where the blade is forged wider at the head/upper portion than the lower section. This is done for better swinging capability and to produce immense force when used. For the final finishing, flat and round files are used to get the job done, and no grinders. Even the final quality test is achieved by files (so no machine is used at all - right from the start till the very end).

Rosewood Handle: The handle is same of the original classic parawal kukris where the rat-tail tang goes through the handle and remains hidden. In the exterior part of the handle, the middle section has rings for extra grip. This handle is further secured by metal bolster at the top and metal pommel at the bottom. It's made from the Indian Rosewood.

Scabbard: The scabbard is made from normal black leather of water buffalo. The interior has wooden pieces shaped like the blade to provide easy fit and draw. The top section features a frog loop (belt holder) for the scabbard to be carried around from waist level. Accompanying Traditional Knives: Karda (small utility knife) and Chakmak (emergency sharpener) are included along with the 'Bhaktapur' khukuri.

Benefits of having an Original Handmade Khukuri
Typical working kukris are made for sheer force and raw power
Owning an authentic piece of craft; makes you proud and gratified. A great souvenir to take back home from Nepal
Confidence and satisfaction as its pure hand done which is very rare these days
Durable and trusted kukri from the master craftsman
An iconic and historic thing of/from Nepal
A symbol of the Gurkhas; respect and honor
A knife, weapon, tool; as you use it - your friend, your companion
Buying it will support the makers financially

Bhaktapur; a city that takes you back to ancient Nepal ..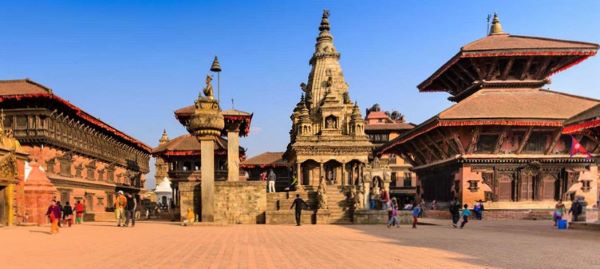 It is the most popular tourist destination of Nepal. Its a MUST visit. Sadly Bhaktapur was badly damaged in the 2015 Nepal Earthquake but still you can see and feel the place even after the disaster. The renovation works continue in full swing to bring back the city to its full glory.

BHAKTA means devotees and PUR means place hence it is the place for devotees, Bhakta-Pur. It is an ancient Newari city that lies in the eastern part of Kathmandu about 13 km from the capital city. Historically speaking, the city was first founded by Ananda Dev Malla from the powerful Malla dynasty in 12th century. Many rulers played key roles in building the palaces, temples and monuments throughout the city particularly in Durbar Square. Bhaktapur was one of the major cities of Nepal then until it fell to King Prithivi's Gorkha kingdom's flagship in mid-18th century. It is a perfect blend of history, heritage and hospitality and great people. It is believed that god resides in this historic place. It exhibits the outstanding craftsmanship of the Newari people, their culture and belief.

Bhaktapur however does not have any direct tie to the Khukuri. The product name was given so because one of our workers used to live and work in that place. The name followed to honor the historic place.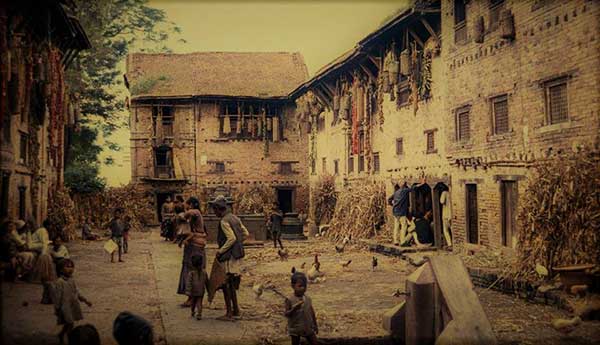 Reviews (0)
Write a Review
Give us your valuable review on our items.
See Other Amazing Products Too...