KH Original Bowie Knife (Invader)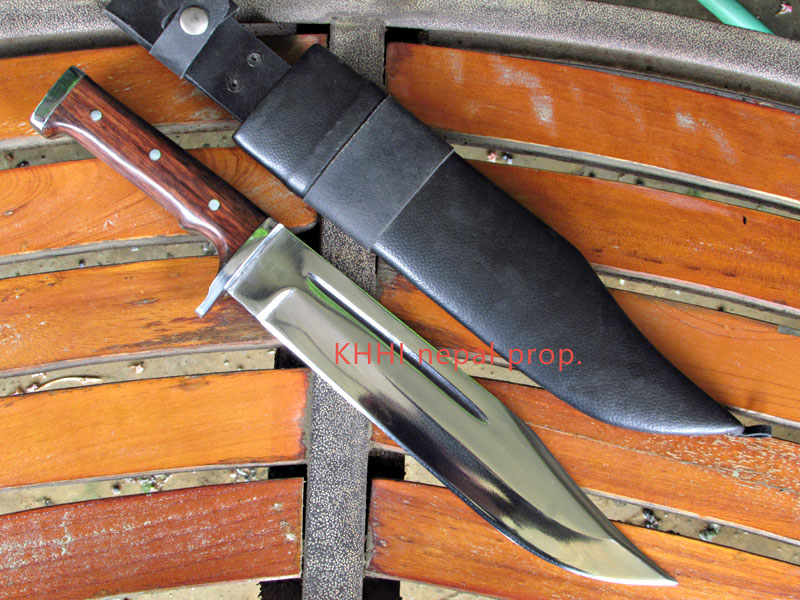 Share
KH Original Bowie Knife (Invader)
an awesome cutting tool to have in hand while out in the woods, treks or just about anywhere...
Blade Length (in): 11
Handle Length (in): 5.5
Blade Steel: 52100
Handle Material: Indian rosewood
Sheath: Black Leather
Actual Weight (gm): 800
Overall weight (gm): 975
Shipping weight (gm): 1350
Blade sharpness: Standard (very sharp)

Blade thickness (mm): 7
Edge grinding: Dual
View More
Sheath: Black Leather
Actual Weight (gm): 800
Overall weight (gm): 975
Shipping weight (gm): 1350
Blade sharpness: Standard (very sharp)

Blade thickness (mm): 7
Edge grinding: Dual
Edge Hardness: 55-57 hrc
Blade (panel) Grinding: Scandi
Blade finishing: Polished
Handle finishing: Polished
Tang type: Full Flat
Fixture: Iron
Accompanying knives/B-up: None
Place of Origin: Khukuri House, Kathmandu, Nepal
Released date: 2014-03-24
View Less
Invader: Khukuri House (KH) Original Bowie knife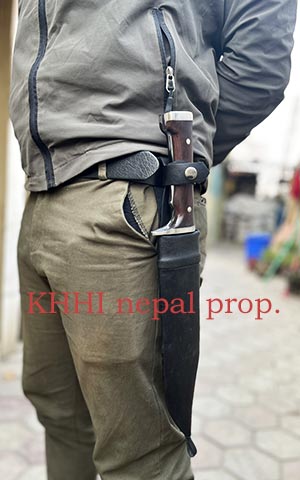 Invader Bowie is the never ending exploration by Khukuri House, nepal to bring out the best knife in the market; a dependable tool for worst case scenario. Here we present you our outstanding creation that is completely different from our main re-curve product line of kukri knives. The "Invader Bowie" is the result of years of experience, knowledge, and the utmost desire to give something new to the people. This straight knife with a clip point and newly introduced and useful "Power Hammer" handle is the knife to behold in critical situations, difficult terrains, and ambitious motives. The Bowie is an awesome cutting tool that is just great to have while out in the woods or jungle, trek or safari or just about anywhere where cutting is involved.
A popular Bowie among the knife collectors and lovers. Its main strength and recognition is the POWER HAMMER feature like no other knives..
Power Hammer: A thick chunk of solid steel is strongly wielded to the base of the tang. It is so strong that it can be used as a real hammer. Bottom face is left raw to avoid slipping off while hammering. The Power Hammer feature NOT only hammers but also gives much needed counter balance to the blade. The equilibrium is adjusted around the Ricasso area by it, which means using becomes easier, well balanced feel, as the weight is well distributed within the knife.

Blade: The blade is 11inch long - a very good range. This shape is inspired by the famous Alamo Bowie or Jim Bowie but unlike it Invader's blade goes narrower and narrower as it goes towards the handle. Such blade profile provides better weight at the front section and thus effective and lethal blows. It is straight with double edge at the front section which makes it easy for hacking and stabbing. The well polish finish looks beautiful and it protects the blade from rusts, making maintenance much easier. Overall, it has a good weight and feel to serve as a kukri.

Handle: The 5-5.5 inches long handle is full flat tang and is made from Indian Rosewood. The power hammer at the end of the handle is a real hammer and also works as balance distributor for effective use as illustrated above. The vertical steel wielded just in front of the handle is the "Guard"; a divider between the blade and handle. This protects the using hand from slipping towards the sharp edge and avoids accidents especially in stabbing movement. It also works as a barrier and saves hand from hitting an object accidentally when cutting goes wrong.

Scabbard: It has a normal black leather sheath with a frog for the belt to go through to carry from the waist. A lanyard loop tip is also fixed for a thigh string to tie around thigh portion which prevents wobbling even in speed motion. A strap button in frog also assists in easy carriage.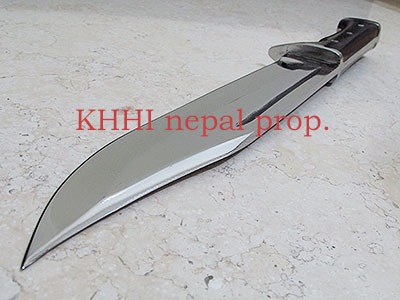 Reviews (0)
Write a Review
Give us your valuable review on our items.
See Other Amazing Products Too...