Gorkha Issue Military Kukri (MK1)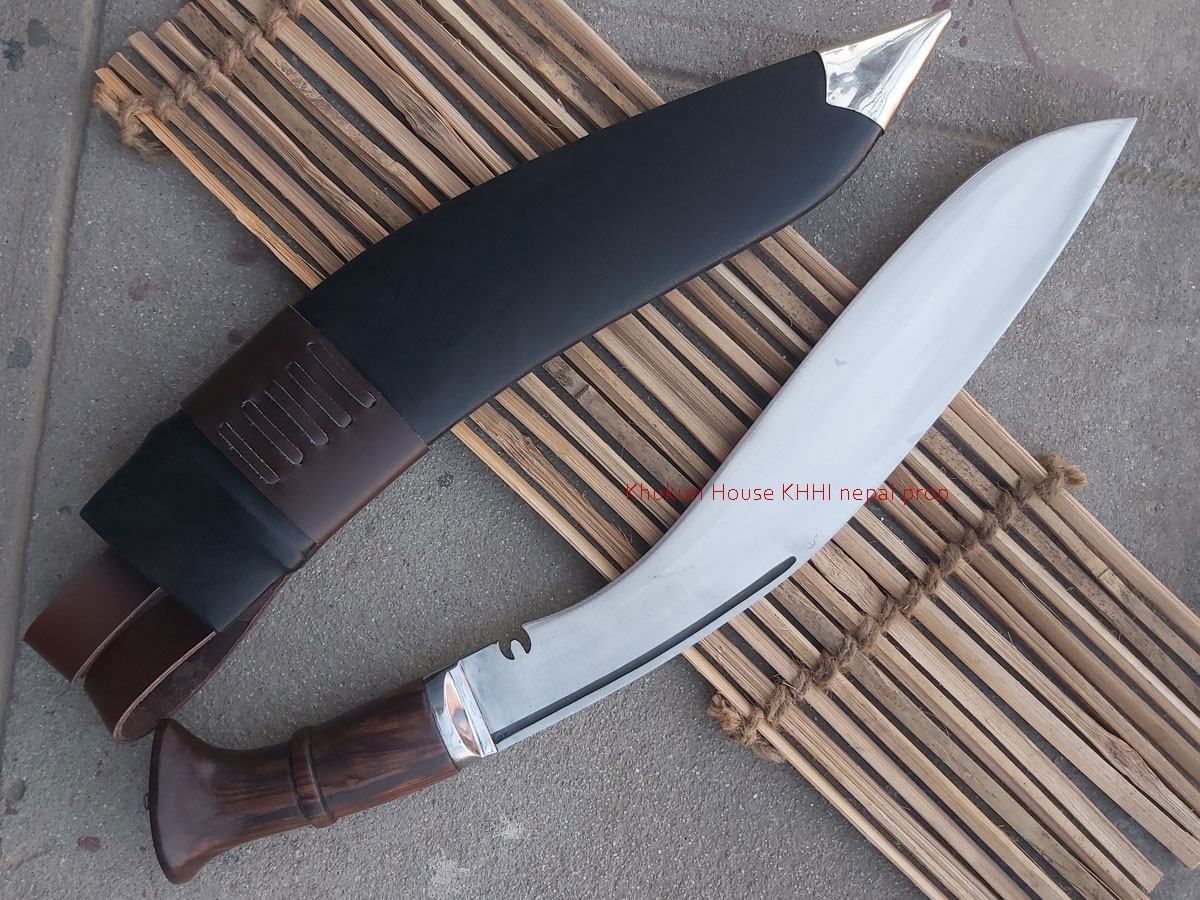 Share
Gorkha Issue Military Kukri (MK1)
a recreation of the kukri used by Gorkhas during the early 1900s / WW1 period; an offensive weapon for close-quarter combat common in First World War...
Blade Length (in): 15
Handle Length (in): 4.5
Blade Steel: 5160
Handle Material: Rosewood
Sheath: Water buffalo leather
Actual Weight (gm): 830
Overall weight (gm): 1030
Shipping weight (gm): 1500
Blade sharpness: Standard (very sharp)

Blade thickness (mm): 8
Edge grinding: Semi convex
View More
Sheath: Water buffalo leather
Actual Weight (gm): 830
Overall weight (gm): 1030
Shipping weight (gm): 1500
Blade sharpness: Standard (very sharp)

Blade thickness (mm): 8
Edge grinding: Semi convex
Edge Hardness: 55-57 hrc
Blade (panel) Grinding: Slope
Blade finishing: Unpolished
Handle finishing: Polished
Tang type: Stick
Fixture: Iron
Accompanying knives/B-up: None
Place of Origin: Khukuri House, Kathmandu, Nepal
View Less
A brief look into the MK1 kukri.. (History & Use)
Must-have for diehard Gurkha admirers and Kukri enthusiasts...
"MK1; military kukri the 1st)" is a one-of-a-kind which represents an essential point in both Gorkha and Military history. It is also an important part of the development of service kukri of the Gorkhas. It's amazing to know how kukris were part of our history and its legacy still continues and amazes the newer generation.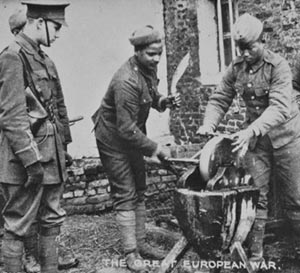 The Great Indian Mutiny of 1857, the turning point for the Gorkha development, brought the British and Gorkhas closer than never before. British realized the significance of having Gorkhas by their side and a decision was made to better treat and equipped them. The MK1 kukri offered by Khukuri House, Nepal, is actually the recreation of one of the variants of the original MK kukris used/issued to Gorkhas during the early 1900s. This kukri was also seen being used well into the First World War 1914-1918. During the war, the recruitment of Gorkhas was heavily increased to accomplish the army objectives spread out on many fronts. This influx of new recruits meant that they needed to be provided them with uniforms, rifles, equipment, and of course the Kukris. Thousands of kukris were made to meet this demand. MK1 is likely to be the first standard kukri issued to Gorkhas early in the 20th Century by the British Army. These kukris have been documented being used by Gorkhas on the western fronts in France, against Germany, all the way to Egypt and Palestine, against the Ottomans. The MK1 is rarely marked, but some can be found with an FW inspection stamp. This was imprinted on blades inspected at Fort William, in Bengal, India.
MK1's unique features as a kukri knife >>
Service Knife of Gurkhas during WW1; reproduced by Khukuri House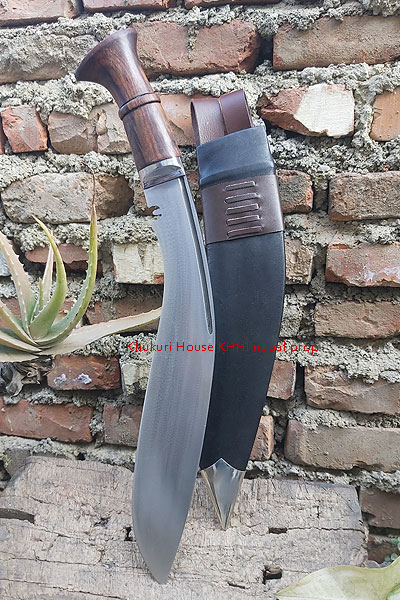 Measuring around 15 inches long (blade), MK1 is heavy when compared with other kukris. A large, relatively straight, flat-bellied blade, used extensively as an offensive weapon in the close-quarter combat common in the First World War rather than a defensive weapon. It does not have a distinguish bevel, unlike other kukris. The panel is full flat with a steep angle from the spine right to the edge. When compared to the large blade, the handle is very short and has no butt cap. The handle was made small probably to suit the small hands of the Gorkhas. The flare at the bottom and the ridge in the middle is the only feature on; otherwise quite a simple handle. The sheath on the MK1 is made of two flat pieces of wood and covered by black buffalo leather and a brown frog. Like other military Kukris, there is no Karda or Chakmak. MK1 was basically targeted as a prime/main weapon for the soldiers. There were limited guns and ammos, let alone the technology so when you have run out of your limited assets then the only thing that will last is your kukri. That was the mindset when the kukri was first created/issued.
Despite its historic pedigree, this Kukri is a classic field tool and holds it's own value against newer designs. It's a great massive chopper that shows no mercy to anything. Just BRING IT ON!!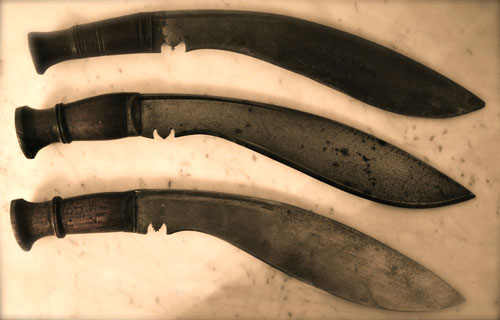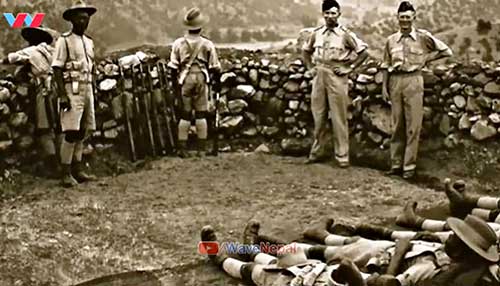 Reviews (0)
Write a Review
Give us your valuable review on our items.
See Other Amazing Products Too...