Villagers no.1 Khukuri (Pahade)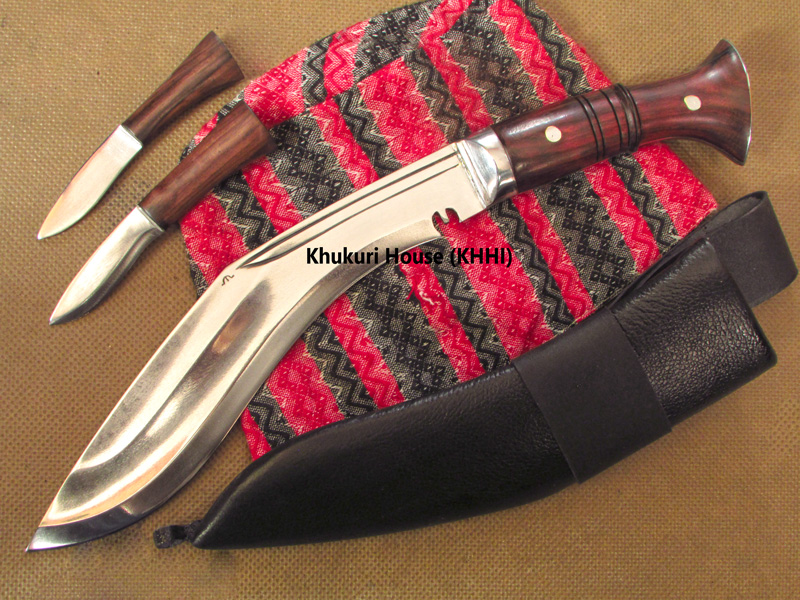 Share
Villagers no.1 Khukuri (Pahade)
Source (origin) of all modern Panawal khukuris produced by Khukuri House since 1993; Pahade is first choice Khukuri in the villages of Nepal..
Blade Length (in): 10
Handle Length (in): 5.5
Blade Steel: 5160
Handle Material: Rosewood
Sheath: Water buffalo leather
Actual Weight (gm): 675
Overall weight (gm): 950
Shipping weight (gm): 1250
Blade sharpness: Standard (very sharp)

Blade thickness (mm): 10
Edge grinding: Semi convex
View More
Sheath: Water buffalo leather
Actual Weight (gm): 675
Overall weight (gm): 950
Shipping weight (gm): 1250
Blade sharpness: Standard (very sharp)

Blade thickness (mm): 10
Edge grinding: Semi convex
Edge Hardness: 55-57 hrc
Blade (panel) Grinding: Chirra
Blade finishing: Polished
Handle finishing: Polished
Tang type: Full Flat
Fixture: Iron
Accompanying knives/B-up: Karda Chakmak
Place of Origin: Dharan, Eastern Nepal
Released date: 1993-02-24
View Less
PAHADE; a hardcore working Khukuri; its new PANAWAL handle back then was its identity and strength
Called as the 'Pahade Khukuri' due to its close relation with the hilly regions of Nepal and its people
the famous 'Panawal' (full flat tang riveted version of handle) type kukri >> SEE PHOTOS
the first of its kind produced by Khukuri House, Nepal


Giving the distinctive name 'Pahade'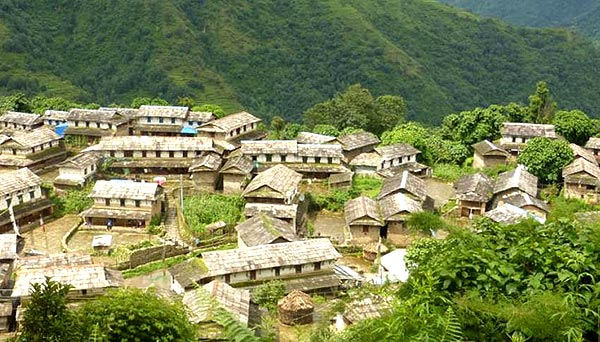 Basically, we have nicknamed 'Pahade' with a respect to the people from 'Pahad' who use it.
It is derived from the word "Pahad" in Nepalese literature meaning 'hills' or 'highlands' with lush greeneries. The word "Pahade" denotes 'from Pahad'; or 'from the hills or mountains'; means 'belonging to the hills and rural'.
Little harsh to say but in a typical Nepali term (slang), 'Pahade' also refers to the people living in the hills or mountains, especially the Aryan ethnic group of people separating them from the rest ethnic groups.
Villagers from the hills/mountains always preferred this type of kukri for their daily use. As they highly depend on their knife and of course can't afford to have various khukuris, they simply chose a permanent solution; the Pahade Khukuri. It's a knife, it's a tool, its bread and butter...
Pahade Khukuri is believed to have existed a long time back in history, but since it was only used in the villages mostly by farmers it didn't come into limelight. The popularity was limited in the rural countryside only. And perhaps of it being on the heavier side, soldiers may not have picked it up to not burden themselves.

Well balanced Blade + strong Handle = Pahade kukri (a simple equation)
Blade: Pahade khukuri has a special blade forged to withstand any rough and tough treatments. The blade is 10inch long with polished finishing. A semi-fuller layer (chirra) runs over the main panel which adds to the strength and durability of the blade. This semi-fuller helps to cut down the unnecessary weight of the blade and evenly distributes the impact force generated when striking against a target. The overall blade is well-balanced for easy use and well-designed to withstand huge impacts. This blade is also a display of true craftsmanship as it is very hard to craft.

Handle: It is 'Panawal' type which in strict kukri term means 'full-flat-tang' handle. This is the major feature and ID on this khukuri. The kukri's handle is full-flat tang in which two wooden handle scales are glued together by epoxy and further riveted to strengthen the handle. The tang simply follows the shape and size of the handle. Then the whole fixture is completed by fixing iron bolster and butt cap at the two ends of the handle. The special and unique riveted handle is very strong, durable and is a true performer; highly efficient for hardcore knife works.

Scabbard: Has a traditional normal black leather scabbard. Near the mouth of the sheath, you can find a frog loop for belt to go through and carry it. While the tip of the scabbard has a lanyard loop for string to go through. This helps to avoid unwanted movement of the sheath when carrying.

Karda and Chakmak; two small backup and utility knives are included with Pahade Khukuri. Karda is a small pen knife and Chakmak is an emergency sharpener.
The common use of khukuri in village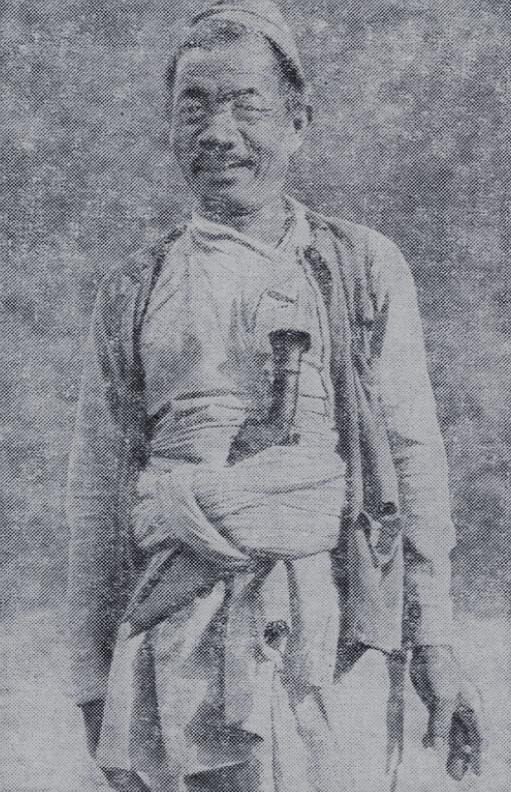 Villages in Nepal are remote and the lifestyle is far away from the comfort zone. Khukuri plays an important role in day-to-day life; it's a tool through the day and a safeguarding weapon in the nights. A common villager keeps his khukuri hanged on his hip for domestic works while sleeps keeping the same khukuri under their pillow for safety and security. Even the women love to keep them in the kitchen as a household tool, and also as a security weapon when they are alone.

Khukuri is used for any tasks or activities that involve cutting, slicing, hacking, etc. Anything that requires a sharp edge from collecting firewood, clearing the bush, chopping meats and bones, preparing shelters, food, etc, a khukuri comes handy. It is an indispensible part in a villager's life. It is something they must have to make a living.
Reviews (2)
Write a Review
Give us your valuable review on our items.
Superb
| 16th July, 2023 | John keith lockyer
Birchington, UK
---
First of all very good communication from Khukuri House! Very speedy delivery! Well packed! The item itself is a work of art but built to work and last! I am so happy to have this original made Khukuri in my collection. Thank You.
---
Great craftsmanship
| 6th January, 2023 | Terrell Bergeron
Arnaudville, Louisiana, USA
---
Very pleased with this Khukhri. Great combination of beauty and functionality.
---
See Other Amazing Products Too...