Historic Ang khola Kukri (Braveheart)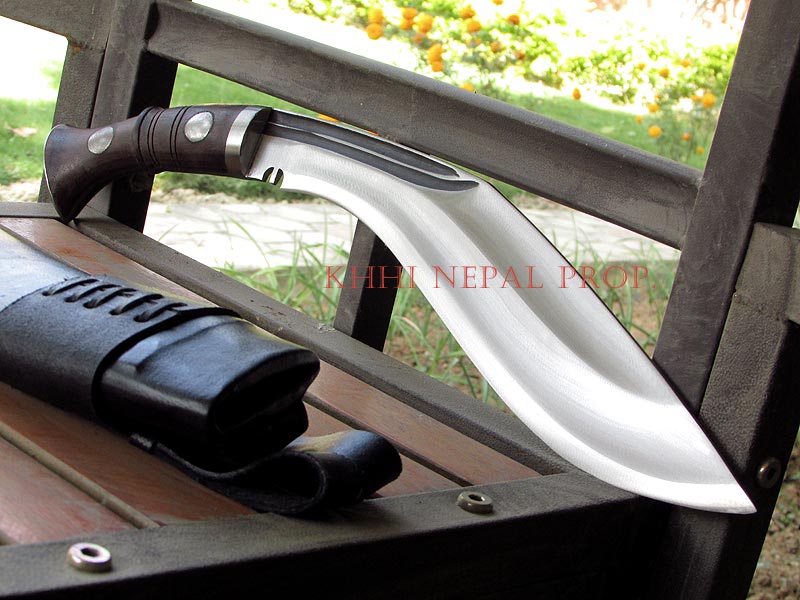 Share
Historic Ang khola Kukri (Braveheart)
One of the phenomenal pieces from history; a way ahead knife of its time...hence it had to be made to keep its presence, essence, and worth alive.
Blade Length (in): 12.5
Handle Length (in): 5
Blade Steel: 5160
Handle Material: Rosewood
Sheath: Black leather
Actual Weight (gm): 650
Overall weight (gm): 825
Shipping weight (gm): 1250
Blade sharpness: Standard (very sharp)

Blade thickness (mm): 6
Edge grinding: Semi convex
View More
Sheath: Black leather
Actual Weight (gm): 650
Overall weight (gm): 825
Shipping weight (gm): 1250
Blade sharpness: Standard (very sharp)

Blade thickness (mm): 6
Edge grinding: Semi convex
Edge Hardness: 55-57 hrc
Blade (panel) Grinding: Chirra
Blade finishing: Semi Polished
Handle finishing: Matt finishing
Tang type: Full Flat
Fixture: Iron
Accompanying knives/B-up: None
Place of Origin: Khukuri House, Kathmandu, Nepal
Released date: 2020-07-06
View Less
Braveheart, the Historic Ang Khola kukri, an EXCELLENT & EXOTIC knife
a true blend of the finest craftsmanship and natural materials makes a perfect outcome of power, impact & beauty...
the amazing legacy of the kukri continues with this incredible knife...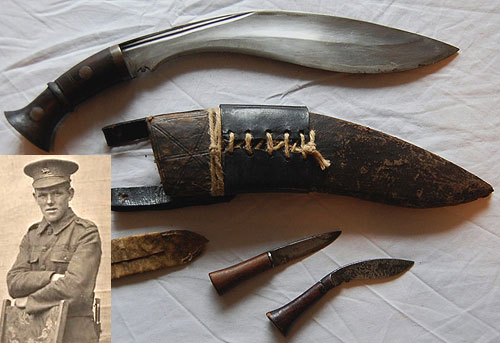 The "Historic Ang Khola Kukri (Braveheart)" is a knife that is highly inspired from a historic piece owned in around 1910 and used by a British Officer who served in India during the British Raj. The original kukri was a private collection/purchase of the brave officer and was widely used in his service time including few wars. It was truly a unique knife of that time from the magical skill of a master craftsman. A remarkable piece from the history and development of the kukri so it had to be re-created to save it from vanishing and being forgotten forever. It's not only an incredible knife but also an important portion of the amazing legacy of the kukri.
Main features >>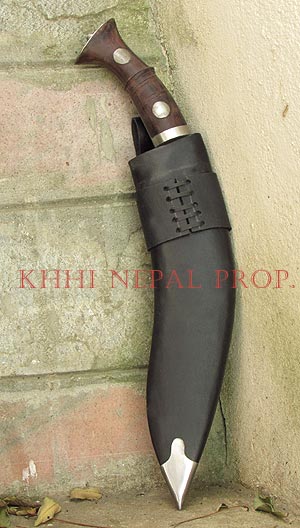 12.5" bladed, matt finishing
Dui Chirra Ang khola (fuller) special feature
Typical and robust body frame
Well-done tapered spine
Twin fullers along the lower spine
5" rosewood handle, matt finishing
Comfortable and durable Panawal handle (full flat tang version)
Typical shape with curved butt portion
Steel fixture in both ends of the handle
Large steel rivets
Black leather traditional sheath
Flat and comfortable sheath
Military style frog
Rounded steel chape

'Ang khola' explained...
It is one of the main features of the kukri. Here the panel of the blade is grinded and its mass is taken away in a long elongated path (shallow) as seen in the images of the kukri. The blade is forged and grinded in such a way that two chirras (fullers) are created that are divided by a hump (hill) that runs across the blade. This is also called a dui chirra (double chirra/fuller) format.
In typical kukri term its called "Ang Khola or Ang Kholnu". Ang means the panel (body) and Khola or kholnu means the opened version or to open. The mean reasons for such type of blade is to reduce the weight of the blade and to give a balanced feel. It also works as a shock absorber for the edge when smashed against any hard object. Here the pressure (shock wave) felt by the edge is reduced by working as a cushion for the edge. The tension created in impact is normalized. It also gives a beautiful look which is possible only from a master craftsman. The two dark grooved in the upper spine of the blade adds beauty.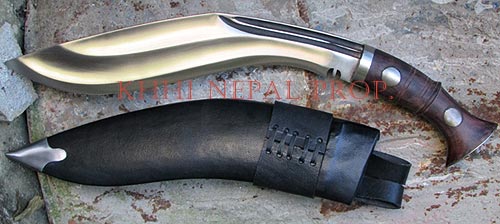 Bolster (dhaal) … in detail
It is one important and unique aspect of this kukri. Unlike the regular types here a piece of steel is welded to the tang. The steel is first cut into the required size and welded to the tang from all sides then shaped into a bolster. This type of bolster is very strong, durable, and looks really excellent. The fear of crush is also never there.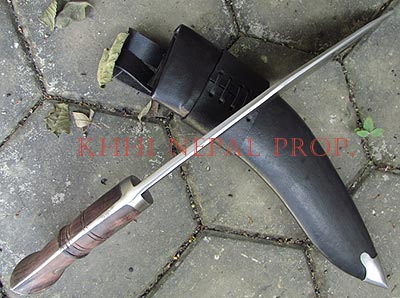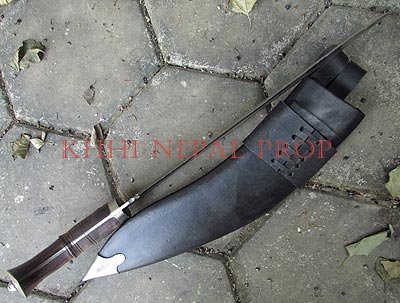 Worth, Usage, and Significance of this 'Historic Ang Khola Kukri (Braveheart)' as a knife …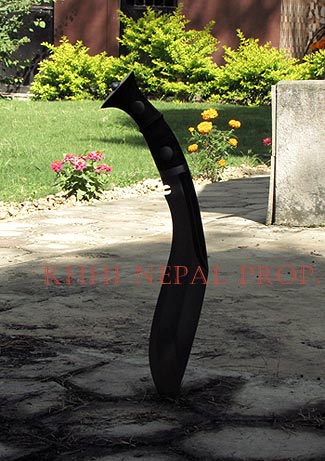 When we talk about it simply as an object then the first word that comes in mind is SUPERB. It is complete not just as a kukri but also as a knife. The power, feel, balance, strength, reach, and just about anything about it makes it one DAMN FINE knife. The knife is worth every means by every penny. Its usage range from varieties of works from home to fronts, from the garden to forest and domestic to warfare. Although it is full 12.5 inches long it's very handy so any small or light works, no problem. It's light yet comes with good throw power so any field cutting works, you will just love it. The kukri has the right weight ad feel to it hence does not burden or slow a user at all. You can work for hours or walk miles with it. It's very good reach also benefits in aggressive usage like attack or defend (save). The "Historic Ang Khola Kukri" definitely deserves a top 10 spot in your must-have things. Its what you seek for in a Perfect Knife. It certainly demands the attention even to a lethargic and appeals for the ownership.
Reviews (2)
Write a Review
Give us your valuable review on our items.
| 18th June, 2022 | Rob Shemenske
Orient, Ohio
---
Gentlemen,
Received my order today of the Historic Anghola (Braveheart). Wow, what a beautiful blade! Craftsman Arjun Baraily did a really wonderful job on this piece. Fit and finish are excellent and his attention to detail shows. And of course the sheath is perfect and of the usual high quality. This is my third order from you, and I've been very pleased with all of them.
Many thanks to all for your continuing good quality and great service!
Sincerely,
Rob Shemenske
Orient, Ohio
---
| 24th January, 2021 | Graeme Germond
​South Africa
---
Dear KHHI Nepal
Thank you for your mail.
I just received and unboxed this beaut from KHHI! It's their repro of the Classic MK military Ankhola! This khukri is superb! Fabulous balance in hand, very tough but light and fast and cuts like a razor! A specially made small edition with dui chirra. Fabulously crafted by KHHI! THANKS GUYS!
As to feedback on your services;I found your service excellent!
Your products are fantastic and have great value for money with outstanding workmanship and attention to detail producing tough, sharp well balanced knives of the highest order!.
Shipping delivery went off without a problem and I received my order within 5 days of purchase!
I would recommend KHHI Nepal to anyone who wants to purchase an original well made Khukuri albeit traditional, military or special custom order.
Thank you again.
You're the Best!
---
See Other Amazing Products Too...