Khukuri Accessories Set (5 in 1)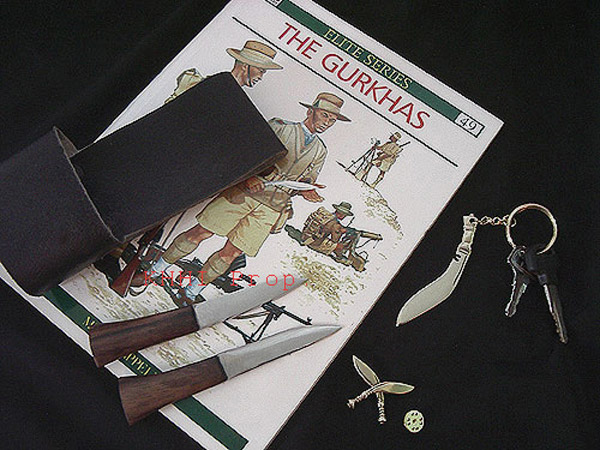 Share
Khukuri Accessories Set (5 in 1)
A good collection of backup items and collectible kukri items. We also included a book on the Gurkhas..
Blade Length (in):
Handle Length (in):
Blade Steel: None
Handle Material:
Actual Weight (gm): 350
Overall weight (gm): 350
Shipping weight (gm): 550
Blade sharpness: None

Edge grinding: None
View More
Actual Weight (gm): 350
Overall weight (gm): 350
Shipping weight (gm): 550
Blade sharpness: None

Edge grinding: None
Edge Hardness: None
Blade (panel) Grinding: None
Blade finishing: None
Tang type: None
Fixture: None
Accompanying knives/B-up: None
View Less
Complete pack of Kukri accessories...
We have included a collection of handy backup items, with some favorite accessories that will strengthen your bond with Kukris, in everyday life.
Whats included in 5 in 1 set?

Karda, Chakmak
We have included this pair; Since they are small, the Karda and Chackmack are quite often the first thing that people lose after they buy a Kukri. The Karda is the small accessory (utility) knife, and the Chakmak (often anglicized as Chackmack) in is the sharpener. Both are from 5160 steel as it's mother blade hence very strong and durable. Both are oil quenched.

Frog
We have included a new frog since it is very often worn out as well. People also lose it a lot.

Crossed Kukri Pin
The crossed Kukri are an iconic symbol of the Gurkhas, going back centuries. This Crossed Kukri pin is the insignia of the British Gurkhas Nepal (BGN) Security personnel. It can be worn on your hat, lapel, or just about anywhere. It is made from brass and white metal. Wearing this will honor the legendary Gurkhas.


Kukri Key Ring
Make the Kukri a part of your everyday life. While most places will get you in big trouble for wearing a Kukri in public (like going to the grocery store, or the bank), this keychain allows you to carry one, almost anywhere. This hand-made white metal Kukri is based on the shape of our classic and famous "World War" Kukri. Never be caught without a Kukri again.


Gurkha Book
"The Gurkhas" by Mike Chappell, is, in our opinion, one of the most comprehensive, and readable books ever written on the subject of the Gurkhas. Beautifully illustrated, and filled with plenty of black and white photos, this book details the history of all the Gurkha regiments, from their early history with the British East India company and their role in the Indian Mutiny of 1857, to their exploits in both world wars, through the partition of India and into the modern day. This book is a must-read for anyone interested in the Gurkhas. It showcases the important contribution that the Gurkhas made to military, and world history.
Reviews (0)
Write a Review
Give us your valuable review on our items.
See Other Amazing Products Too...