National Tribute 2015 (Native Khukuri)
National Tribute 2015 (Native Khukuri)
a khukuri forged to dedicate to the dreadful incident of 'April 2015 Nepal earthquake'; a tribute to the nation and her people..
Blade Length (in): 13
Handle Length (in): 5
Blade Steel: 5160
Handle Material: Rosewood
Sheath: Reddish-Brown leather
Actual Weight (gm): 650
Overall weight (gm): 800
Shipping weight (gm): 1100
Blade sharpness: Standard (very sharp)

Blade thickness (mm): 6
Edge grinding: Semi convex
View More
Sheath: Reddish-Brown leather
Actual Weight (gm): 650
Overall weight (gm): 800
Shipping weight (gm): 1100
Blade sharpness: Standard (very sharp)

Blade thickness (mm): 6
Edge grinding: Semi convex
Edge Hardness: 55-57 hrc
Blade (panel) Grinding: Full Flat
Blade finishing: Unpolished
Handle finishing: Unpolished
Tang type: Stick
Fixture: Iron
Accompanying knives/B-up: None
Place of Origin: KHHI, Kathmandu, Nepal
Released date: 2016-05-14
View Less
Also Buy These As Set
From the hearts of Nepalese; Tribute to the Nation; a Native Khukuri; we will RISE again.. JAI NEPAL!!
Remembering the dreadful moment, 25th Apr 2015 (Sat) ...

"When things came crashing down over our heads shattering our lives and our beloved country. May your soul rest in peace and be free forever in the land of angels. Our deepest thoughts and condolences go to all who lost their near and dear ones in the disaster. May the Lord give you the strength and courage to carry on. We will forever remember this day and those how perished".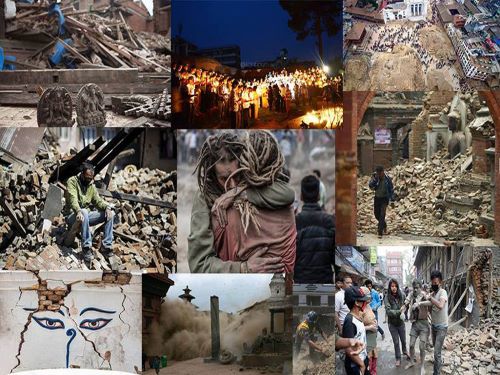 When "All is lost, HOPE remains, when "Night falls, dawn breaks" - we as a country can still "RISE from the RUBBLE"… we just have to stay UNITED and FOCUSED. We would also like to thank all the international communities for their support and generosity. We would NOT have come this far without you. You guys ROCK!!

This kukri has great sentimental and patriotic meaning to the people of Nepal. We named this Kukri 'National Tribute' as a tribute to the country of Nepal and to honor the more than 10000 victims of the terrible 2015 earthquakes. We forged this kukri to respect and salute the strength and resilient of the Nepalese people during the aftermath of the disasters and the unlawful border blockade by the Indian government. Both tragic incidents set our beloved country back economically and socially but we will rise and fight back like our ancestors. Our khukuri will NEVER loose it's edge and worth no matter what..

This kukri is objected as a symbol to always remind us of the dreadful year 2015 and how we endured, fought, and rose above the incident, and how we came out as a better, bigger and stronger nation. It represents the passionate love for our country, the unwavering respect for our fellow men, our resolute and optimistic high spirit and attitude, a desire and ability for prosperity, and our strength and honor. Above all, it represents believing in yourself and doing it.
Features: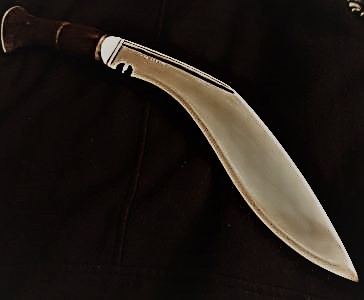 Kukri: Blade is inspired from the classic version with a broader, more curved and lighter blade. The blade is hand forged with great skill and craftsmanship. With accordance to its grand name, the historic and celebrated blades that are the pride of nation have been chosen for this model. Much like it's classic counterparts, the blade is original, gentle, very handy, light and agile and has a full flat tang wooden handle with metal fixtures (bolster +butt). The Native Khukuri is the reproduced version of some of the very old models from 19th century. It is made to be used, so will not disappoint even a harsh user and an extreme survivalist. The kukri's blade and handle are both unpolished. The knife has great feel which allows for easy and prolong usage.

Dab (Sheath): Sheath is a unique, appealing and powerful aspect of this kukri. Special care, attention, and skill have been put into the sheath. KHHI, considering its grand name and noble purpose, has tried to make the sheath look as typical as possible yet have a class of its own. More importantly to urge the feeling of patriotism and self dignity. A special binding "V" shaped white metal chape is fixed in its tip for strength, style and striking look, something new by KHHI. The unique chape gives an extraordinary and classic look and also adds status to the kukri.

Likewise, the frog is the best part of the sheath that represents the national flag hence emphasizes nationalism. Nepal's unique triangular flag with Sun and Moon is designed, also clearly seen in the photos. The frog in the national flag's outline adds value to the kukri and signifies the patriotic feelings and spirit of fellowship. Similarly, the crossed kukri badge just below the frog is an iconic symbol that has always been a part of Nepal and its culture for generations. It symbolizes power, status, culture, devotion, and nationalism. In summary, this exclusive sheath (dab) gives a striking look that denotes the undying love for the country and emphasizes respect to fellow citizen and zeal to do something great for the nation.


Engraving: By default, Native kukri comes with the following hand engraving >>
NEPAL 2015 MOTHERLAND …. As a reminder of the dreadful year.
(Note: it can be discarded on request)

Reviews (0)
Write a Review
Give us your valuable review on our items.
See Other Amazing Products Too...