Mini Angkhola Kukri (Herdsman)
Mini Angkhola Kukri (Herdsman)
one of the most wanted mini version of Full Angkhola series of kukris...
Blade Length (in): 8
Handle Length (in): 4.5
Blade Steel: 5160
Handle Material: Horn
Sheath: Water buffalo leather
Actual Weight (gm): 425
Overall weight (gm): 575
Shipping weight (gm): 825
Blade sharpness: Standard (very sharp)

Blade thickness (mm): 8.5
Edge grinding: Semi convex
View More
Sheath: Water buffalo leather
Actual Weight (gm): 425
Overall weight (gm): 575
Shipping weight (gm): 825
Blade sharpness: Standard (very sharp)

Blade thickness (mm): 8.5
Edge grinding: Semi convex
Edge Hardness: 55-57 hrc
Blade (panel) Grinding: Chirra
Blade finishing: Unpolished
Handle finishing: Unpolished
Tang type: Stick
Fixture: Iron
Accompanying knives/B-up: Karda Chakmak
View Less
Also Buy These As Set
Mini Angkhola Kukri; used by the Herdsman (Gothala) in Nepal
Mini Angkhola is the one of the most wanted mini version of 'Full Angkhola' series of kukris. With fierce demand from the customers, this mini-sized kukri with rough but smooth finishing was born. This kukri can carry out toughest and roughest task thus as it is RAW version for its sheer raw power. It is found used widely by the 'Gothala' (herdsman of Nepal ) due to its small size but big strength and power, effective design hence nicked as 'Herdsman'.
The lifestyle of Gothala's and use of this Kukri
In the highlands of Nepal, where agriculture is a major occupation, people keep a lot of domestic animals for food, meat, and money. Lads from the family take them for grazing in the lush green fields away from home to Goth (a remote home made for animal farming; where animals and people live together). Normally they live for 3-1 months or whole year round. They produce cheese and cheddar send to the market nearby. They also collect medical herbs and plants and sell them. Anyone doing this is peculiarly called 'Gothala' in Nepal.
They carry khukuri (only available weapon) for their safety from wild animals and bad mates who trouble them grazing the cattle. They often quarrel and fight for the open grassland to feed their yaks, cows, goats and buffaloes. Gothalas use the same kukri for collecting/ making firewoods and collect grass to feed their cattle. This medium-sized khukuri is seen mostly used by them and locally; and is popularly known as the 'Gothale Khukuri'. Check some images below :
KHHI proudly presents this khukuri for the western world where modern animal farming is done, this knife comes handy as a day-to-day tool.

Let it serve the 'Herdsman' as well.
Making more useful & practical Knife; Lifesaver & Survival Tool
This mini angkhola khukuri has been popular since decades due to its size over feature advantage. A small but stubborn kukri knife. Learn more how Khukuri House has made it more strong and durable for the world.
Blade: The blade is 8inch long with unpolished finishing. This unpolished feature represents the traditional kukris used by farmers and villages in Nepal since the blades were hardly polished. In today's day the unpolished version is done to enhance the cutting ability and durability of the blade. The two fullers that is crafted from tip to notch area on the surface panel of the blade is to withstand the beating and impact during excessive use. It also gives support to the flat surface by absorbing the direct impact done on the blade. The blade of this kukri is made heavier unlike its siblings so that powerful strokes can be accomplished to get the maximum result.

Handle: The handle of this kukri is like that of the traditional parawal kukri's where a rat-tail tang coming from the blade goes through the horn handle and comes out of another end which makes the tang completely hidden. The upper part of handle is covered with metal bolster and bottom part is covered with metal pommel. While the exterior has rings in the middle section of the handle which provides extra grip. The handle of this knife is also made totally unpolished so it's not slippery and thus strong grip can be maintained.

Sheath: It has a normal black leather scabbard made from water buffalo mostly found in South Asia region. The interior has wood pieces shaped like the blade to provide strength to the scabbard. Near the mouth, a frog loop is attached where belts can go thorough and the scabbard can be carried around. Two small knives Karda (small knife) and Chakmak (sharpener) is included with this kukri.

Accompanying Knives: Karda comes handy for small works and Chakmak can easily sharpen the kukri knife.
Some images of goth (home), gothala (herdsman) and their daily life in upper hilly remote areas of Nepal (Himalayan Mahabharat range) :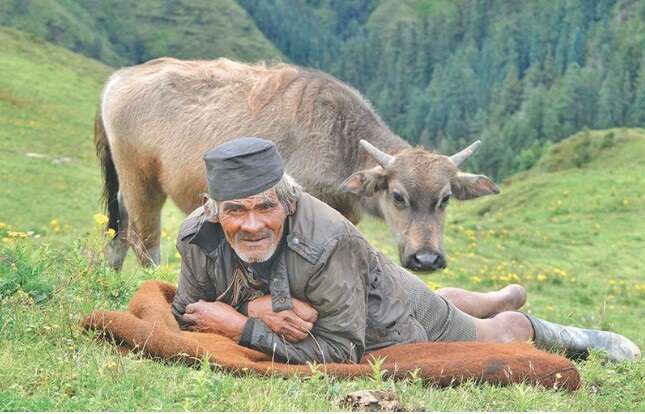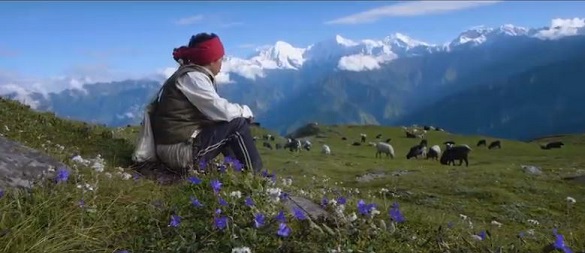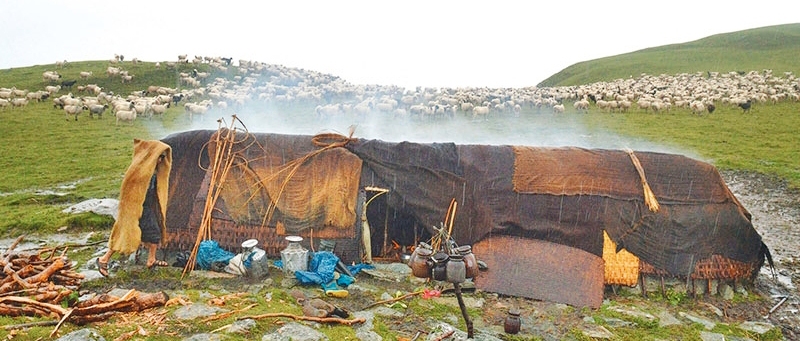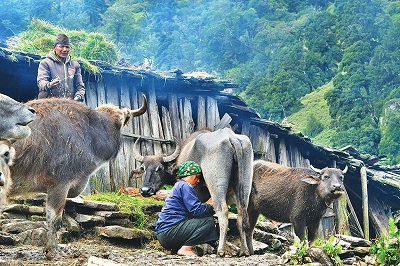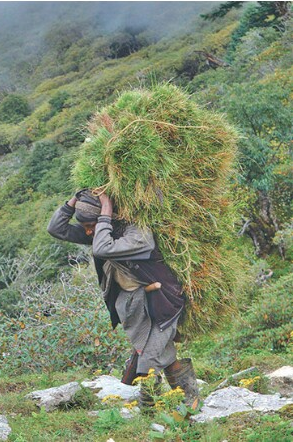 (P.S. Images copyright to respective owners.)


Reviews (0)
Write a Review
Give us your valuable review on our items.
See Other Amazing Products Too...