17inch bladed Kukri Sword (ECHO)
17inch bladed Kukri Sword (ECHO)
A lethal combination; designed by knife expert + crafted by born kukri makers = forged for hardcore users..
Blade Length (in): 17
Handle Length (in): 7.5
Blade Steel: 5160
Handle Material: Rosewood
Sheath: Special Black Leather
Actual Weight (gm): 885
Overall weight (gm): 1100
Shipping weight (gm): 1700
Blade sharpness: Standard (very sharp)

Blade thickness (mm): 8
Edge grinding: Semi convex
View More
Sheath: Special Black Leather
Actual Weight (gm): 885
Overall weight (gm): 1100
Shipping weight (gm): 1700
Blade sharpness: Standard (very sharp)

Blade thickness (mm): 8
Edge grinding: Semi convex
Edge Hardness: 55-57 hrc
Blade (panel) Grinding: Full Flat
Blade finishing: Polished
Handle finishing: Polished
Tang type: Full Flat
Fixture: Iron
Accompanying knives/B-up: Back up knife
Place of Origin: KHHI, Kathmandu, Nepal
Released date: 2018-09-21
View Less
Also Buy These As Set
Echo, a lethal 17inch long Kukri-Sword; Designed by Daniel Murray-Lake, Australia & forged by Kamis of Khukuri House, Nepal
A friendship kukri between two great countries, NEPAL and AUSTRALIA; "ECHO" is a joint collaboration between Khukuri House, Nepal (maker) and Daniel Murray-Lake (knife enthusiast and designer from Australia). One of the most challenging and satisfying projects ever taken by us. It's not only the mother blade but also the babies and the sheath were a BIG ask and to successfully pull it off (nail it) brought immense contentment and opened a new chapter. Be it in the Jungle, mountains, fight or combat zone, kill or defend situation; Echo is prepared for them all as a complete and functional package.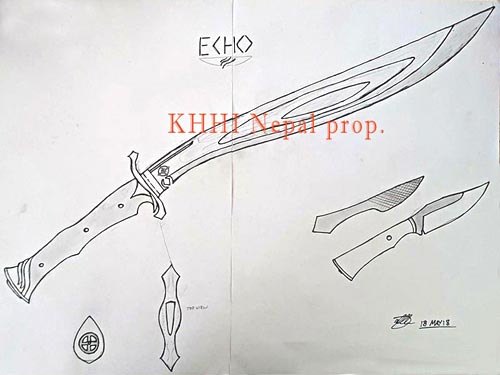 "Echo" is a true east meets west blade to be a savage bush blade and a brutal weapon when needed. It has a very long blade (17 inch full), extra range advantage, that can be efficiently used as a lethal or defensive weapon. The primary focus with Echo is in being a powerful and durable bush blade, capable of felling small trees, splitting them down and processing for either firewood or shelter. Capable of battening and digging when required. The extra long full tang riveted handle featuring a special "S" steel guard allows for one or two handed operation allowing the user a larger variety of grips and access to both power and control as needed depending on what the task requires. The long handle also gives a good counter balance to the long blade making it very easy and fast to weld. The guard on the other hand gives a much needed protection when the knife is used aggressively like a sword.

As the main blade is quite large the inclusion of smaller blades complete the set, objected to do finer utility work. While the Karda is a very handy knife perfect for carving, small games, meal preparation and other utility tasks that need a sharp edge, the Chakmak was fashioned out of a file for sharpening and honing both the main blade and the Karda.

Finally, the Ambidextrous sheath of the Echo kukri sword enhances the application, worth and beauty of the knife. The creatively done frog allows for left or right handed carry which can also be taken off when not needed to travel light. The small knives are housed in a perfect position thats very easy to access. The frog also lets you carry them separately away from the big sword. You can also opt for a special back carry frog setting on special order (Costs extra). The brass tip gives a fine look which also protects the exposed leather tip.

[Different blade grinds available on request (Heavy duty, standard, and combat)]
all figures in approx >>
Overall length: 610mm /24 inches (blade +handle)
Weight: 850-900 grams
Blade length: 430mm (17 inches) to guard
Blade width: 42mm
Spine thickness: 8mm at bolster, 2mm at tip
Handle length:190mm from guard
Handle width: 30mm (32mm and 35mm at swell points)

Karda
Blade length:95mm
Blade width:30mm
Handle length:100mm

Chakmak
140mm

Reviews (0)
Write a Review
Give us your valuable review on our items.
See Other Amazing Products Too...